May 15, 2019 - Author: Cameron Rudolph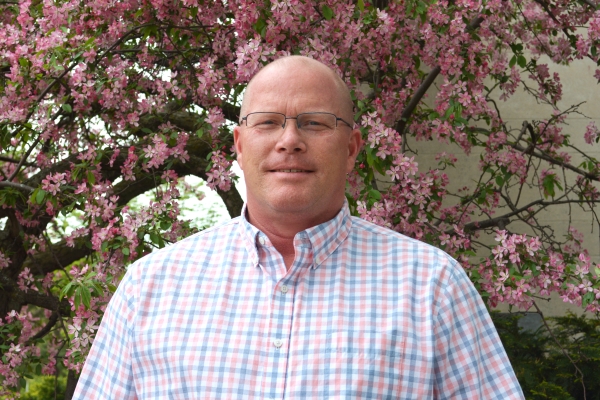 Ben Darling has been named the assistant to the director for field operations and infrastructure for Michigan State University (MSU) AgBioResearch.
He replaces Brian Graff, who is retiring after 35 years with the university. Graff has spent the past three years with MSU AgBioResearch and nearly 30 years as the farm manager for the MSU Agronomy Farm.
"Ben (Darling) has a wealth of experience at MSU, and I look forward to his contributions," said Doug Buhler, director of MSU AgBioResearch. "Brian (Graff) did a fantastic job in what was a new role in our office. As we congratulate Brian on a wonderful career, we're all excited to see what innovative ideas Ben brings to the table."
Darling was most recently the assistant director of the MSU Land Management Office (LMO), handling agricultural construction and related infrastructure projects at the south campus farms and off-campus research centers.
In his new position, he is responsible for working with MSU AgBioResearch leadership to define short- and long-term strategies for effective operations, management and maintenance of research facilities around the state. Darling will work with each research center, collaborating with faculty, staff and industry stakeholders to lay the groundwork for innovative research to take place.
"My goal has always been to take care of things behind the scenes so that research can take place unimpeded and without significant difficulties," Darling said. "In my new role, I hope to continue that type of service to all MSU AgBioResearch activities, bringing a historical perspective along with critical thinking to meet our mission."
Darling led several notable projects while at LMO. He was an integral part in bringing the Agricultural Education Center to the Saginaw Valley Research and Extension Center in Frankenmuth, Michigan, in 2016. The center hosts industry meetings, workshops, trainings and other community outreach events.
Starting in 2013, Darling oversaw construction and operation of the anaerobic digester on MSU's south campus. The anaerobic digester reuses waste from campus farms and dining halls to generate energy.
Darling has been around MSU for most of his life. His father, Bary Darling, was the university farms manager for more than 40 years. Darling attended MSU and graduated with a degree in agricultural engineering.
Prior to joining LMO, Darling worked for the Pesticide and Plant Pest Management Division of the Michigan Department of Agriculture and Rural Development.
---