New food access funding opportunity
The Community Foundation of Southeastern Michigan announced Healthy Food Connect on March 30.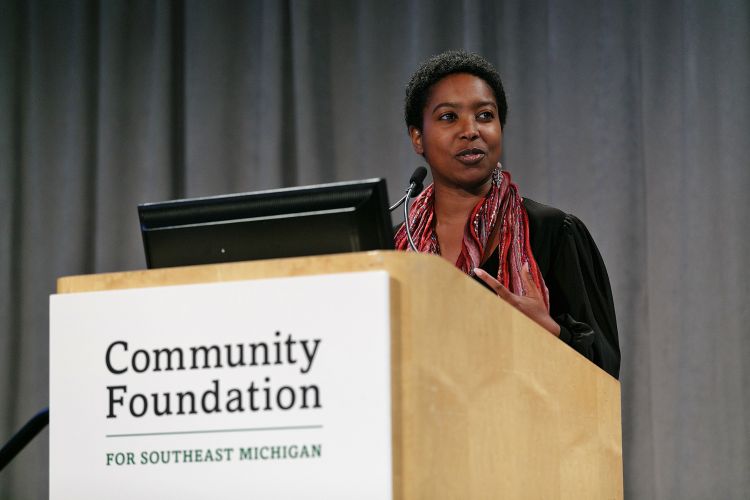 On March 30, the Community Foundation for Southeastern Michigan (CFSEM) announced a new funding and educational initiative to support healthy food access for children and seniors. Efforts to increase access are targeting Wayne, Oakland, Macomb, Monroe, Washtenaw, Livingston and St. Clair counties. To kick-off this initiative CFSEM hosted an innovative learning and networking event in Dearborn. A group of more than 200 attendees participated, representing organizations from all of the seven targeted counties. The event featured two national keynote speakers and numerous local representatives that have already built a strong foundation to work towards improving healthy food access.
The theme of the day was equity. Amanda Navarro, director of PolicyLink, spoke about her organizations' work on a nationwide level to demonstrate what local efforts are successful in changing policy, focusing on efforts that are led by low-income communities and communities of color.
The second keynote speaker was Nikki Silvestri, co-founder and CEO of Silvestri Strategies, and former Executive Director of People's Grocery and Green for All. Nikki spoke about her personal food story as being rich, deep and varied. In a compelling and authentic talk, she also reflected on her personal and professional challenges in pursuing equity in her various roles and posed a number of questions for attendees to consider in their own work of moving towards healthy food access.
If the theme of the day was equity, the underlying theme of the day was collaboration. This was demonstrated by the line-up of local speakers that spoke about their work and numerous networking breaks. Organizers of the event were explicit in sharing that one of the goals of this event was to create more opportunity for collaboration for the grant program portion of the new initiative.
The CFSEM encouraged attendees and potential applicants to partner with other organizations to expand the reach of their programs or to innovate their work. There are two types of grants available through this program. One is a Leadership Grant, which will support larger, regional partnerships working on system-wide change. Only three or four of these grants will be awarded, up to $200,000. The other option is a Local Impact Grant, which will fund innovative projects on a community level, in between 20-30 of these grants will be awarded, up to $75,000.
More specific information about Healthy Food Connect's funding opportunities can be found online.. The grant application deadline is June 1, 2016 at 5 p.m.
Michigan State University Extension supports efforts to increase healthy food access to promote healthier futures for all Michiganders.