Community partnership results in "Shared Abundance"
Northwest Lower Michigan has developed into a thriving food system—the book "Shared Abundance" details the community partnerships that made it happen.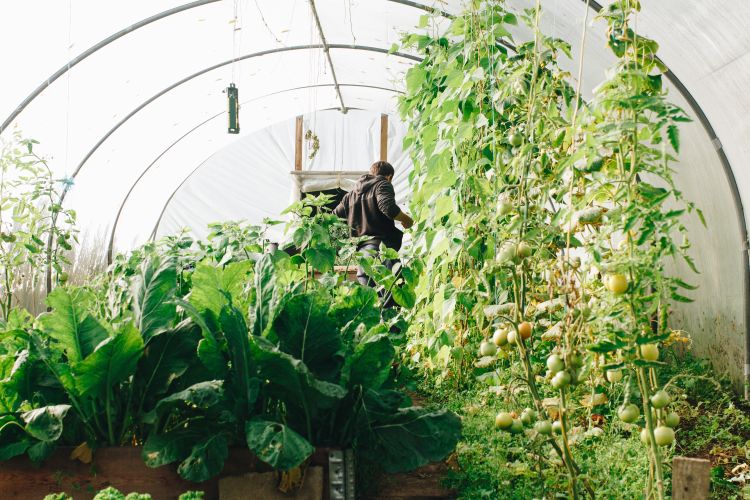 Northwest Lower Michigan has developed a dynamic and resilient food system. The region fostered the state's first local food marketing agency, launched a locally focused food distribution company, and piloted the now renowned 10 Cents a Meal program. All of this was accomplished while fostering authentic relationships between community members, farmers, and the land. This progress, however, was not preordained. This is the story of how community partnerships came together to build a more diverse and equitable food system, as featured in a newly released book, "Shared Abundance".
Shared Abundance
Written by Diane Conners, the publication details regional accomplishments through a series of interviews with the collaborators, while also offering suggestions on how other groups can impact their own food system. Shared Abundance collects real stories from across the food system, touching on economy, marketing, health, infrastructure, community, and policy. It's an approachable playbook for how to create a more resilient and equitable food supply. Shared Abundance was published by the Groundwork Center for Resilient Communities to celebrate the change made possible through partnership, including with Michigan State University Extension.
Entrepreneurial agriculture
It began in the early 2000's. A Traverse City based non-profit, the Michigan Land Use Institute (MLUI), now Groundwork, convened organizations that were interested in preserving farmland in Michigan. While land conservation strategies were popular at the time, the group instead began to focus on the economics of smaller-scale farming. One can't preserve farmland without farmers. Led by MLUI's Patty Cantrell, the group also included Jim Bardenhagen, Leelanau County Extension director, and Wendy Wieland, MSU Product Center innovation counselor. Together, they started investigating more profitable opportunities available to growers. The results were captured in an MLUI publication, The New Entrepreneurial Agriculture.
Educational capacity
Business model innovation was one answer to the issue of farmland preservation. Now the challenge was to reach, and prove to farmers, that entrepreneurial agriculture was a viable business strategy. One means was through education. In 2000, a group of MSU Extension agriculture agents held a conference tailored to small scale farming, which is known as The Northern Michigan Small Farm Conference. It quickly became known as "the largest gathering of small farmers" in the state, attracting over 1,000 participants each year.
Coalitions were another means of enacting this change. In Northwest Lower Michigan, MSU staff helped establish the NW MI Food and Farming Network comprised of farmers, non-profit organizations, governmental representatives, conservancy staff, economic and community developers, food insecurity agencies, and citizens, all who were concerned about keeping agriculture a vibrant part of the local economy. This coalition built resilience within the community and between organizations. For example, one member, Crosshatch Center for Art and Ecology, stepped forward to continue managing the Small Farm Conference when MSU Extension shifted resources to other priorities.
Structural change
Grass roots engagement has paid off over the last 20 years, perhaps no more so than with the 10 Cents a Meal program. It began as a pilot project to provide funding for Traverse City Area Public Schools to purchase local, healthful food from growers. The MSU Center for Regional Food Systems (MSU CRFS) and Groundwork Center helped to catalyze this program, working with the Michigan Department of Education, school officials, and legislators to offer the program statewide. In 2022-2023, 10 Cents a Meal received $9.3 million in funding, enabling 257 school districts across the state to bring farm fresh food to over 500,000 Michigan children.
The MSU CRFS became a pivotal convener to catalyze more collaborations towards a more regional food system. The Center hosts statewide coordination and learning networks across the food system, like the Michigan Incubator Kitchen Network. Their work resulted in the Michigan Good Food Charter, a statewide framework for collaboration on broad food systems goals.
MSU Extension community food systems educators facilitated first bringing FoodCorps to the region. The program brings service members directly into area schools to teach lessons to children and to aid in Farm to School efforts. MSU Extension food and nutrition educators have also played a central role in creating environments, like gardens, that support healthy choices across the state. Since 2001, MSU's Student Organic Farm has incubated over 20 beginning farmers annually; some of whom, like Lakeview Hill Farm, moved to NW Lower Michigan, purchased land, and started growing crops themselves. It's thanks to the dedicated work of many that we share in an abundant food system.
MSU Product Center
The MSU Product Center is an organization that brings together on-campus expertise in the sectors of food, agriculture, and natural resources to help entrepreneurs define and launch innovative products. Field-based innovation counselors advise entrepreneurs on business planning, regulatory requirements, and product development needs. To access business development assistance, select the request counseling tab on the MSU Product Center website or call 517-432-8750.