New paddling guide available for Detroit River
Map of Detroit Heritage River Water Trail will help you plan your next adventure.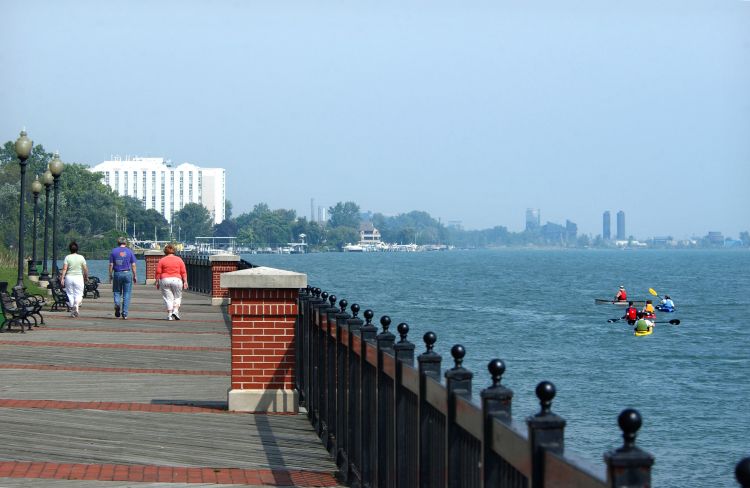 A new user guide makes it easier than ever for outdoor enthusiasts to plan paddling trips along the Detroit Heritage River Water Trail.
The 2015 Detroit River Paddling Guide, unveiled May 19 at an event on Belle Isle, a can be downloaded at the Downriver Linked Greenways Initiative website. The publication of the guide is the result of a partnership between the Metropolitan Affairs Coalition (MAC), Downriver Linked Greenways Initiative (DLGI), Michigan Sea Grant, Riverside Kayak Connection and more.
The new guide offers detailed descriptions of each location, a key feature in designing your outdoor adventure. The guide also detailes the newest launch sites, updated information on existing locations, safety suggestions, and resources for local paddling groups. Recommended paddling routes are also highlighted, presenting not only mileage, but water time and possible conditions as well.
"This map is an amazing resource to help you explore the untapped blueways that metro Detroit has to offer," said Aaron Rosen, a local paddling enthusiast who has seen the new guide. "The trail itself stretches from the Eastern edge of Lake St. Clair and meanders all the way down the Detroit River and western Lake Erie, offering a plethora of paddling options.
"With such a great resource in your hand you are sure to have an amazing summer on the water," Rosen said.
The paddling guide is the result of a multi-organization collaboration that started in 2006 when MAC, DLGI, Michigan Sea Grant, the Riverside Kayak Connection and other partners came together to develop a vision plan for the Detroit Heritage River Water Trail with funding from Michigan's Coastal Zone Management Program.
The 2006 vision document included guidance for local municipalities who were interested in developing paddling amenities and highlighted opportunities for infrastructure improvements along the Detroit River. As a result of the original vision document, new launches have been installed, interest in paddling in southeast Michigan has increased, and the time had come for a user guide to be produced. MAC played an integral role in the project, including providing funding to Hamilton Anderson Associates to transform the 2006 vision plan into the Detroit River Paddling Guide.
One of those partners, the Riverside Kayak Connection, said they believe the user guide will go a long way in helping the business expand its tour offerings along the Detroit Heritage River Water Trail, according to Anita Twardesky, a community outreach manager.
Learn more about water trails and their benefits here. To obtain your free copy of the new user guide, contact Mary Bohling or Riverside Kayak Connection.