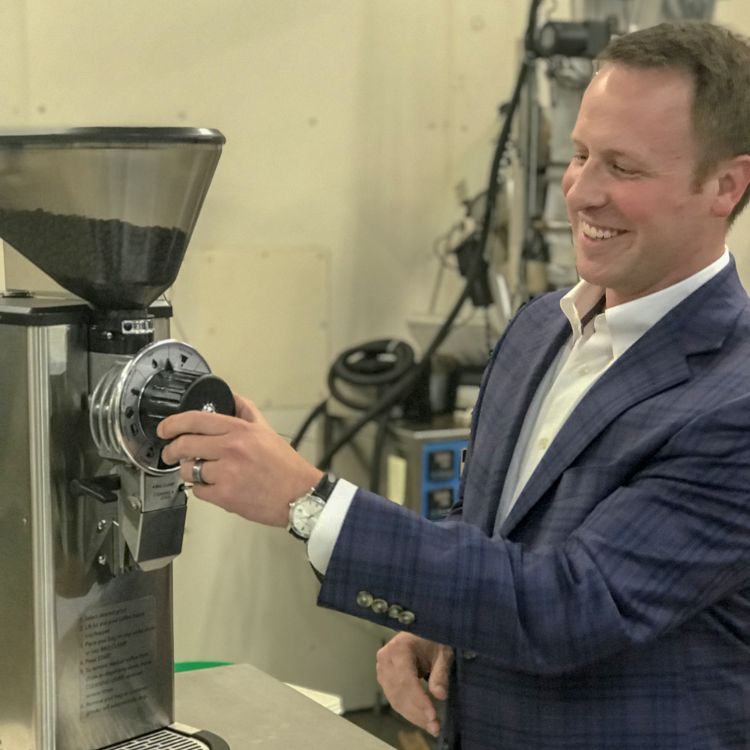 Food Industry Management (FIM) alumnus Zach Olsen came to MSU as an Evans Scholar. Through his early academic achievements and excellence as a golf caddie, Olsen earned four years of tuition and fully-covered living space, which brought him to MSU. After arriving, he cultivated his passion for the food industry, that he's since turned into a meaningful career at Paramount Coffee and BUNN.
"When I worked at country club as I caddie, I also gained experience in food service by working in the dining rooms and bars. That's when I knew I wanted a career in food," said Olsen. "But first, I was focused on learning the business from top to bottom, and FIM was the best way to do that."
"As soon as I started my classes in FIM I knew I had found the right place," said Olsen. "There were so many great professors with real life experience, on top of the amazing department resources available from instructors and advisors."
Throughout his time as an FIM student, Olsen narrowed in on what he wanted his career to look like, and started networking to find a role in sales or management.
"I began my search by attending FMA meetings," said Olsen. "And that's where I met the President and the CEO of Paramount Coffee." Just a few months later, Olsen became Paramount's first college intern. The position and fit was perfect, as his initial role extended into several semesters. After graduation in 2008, Olsen became a full-time sales manager at Paramount.
For seven years Olsen oversaw initiatives to increase Paramount's presence throughout the Midwest and strengthen relationships with retailers and food service organizations. "My time there really let me dive head first into the industry, and understand just how much goes into something as simple as coffee."
In 2015, Olsen decided to move back to Michigan from Chicago and take on a new challenge in his current role at BUNN as a regional account manager. Olsen is now in a professional sales role responsible for the commercial equipment side of the business, where he serves as the key point of contact for BUNN's customers through Michigan, Indiana, and Ohio.
"It's a collaborative, competitive, exciting, challenging, and rewarding role," said Olsen. "I get to travel to my customers, meet with them, find solutions to fit their needs, grow BUNN's share of the market in my region and try to step into new markets."
Olsen said each day he has an "opportunity to truly make a positive difference with people," through his outreach work. "Working for a family-owned global business that truly cares not only for their employees and customers, but for the people in the communities they serve is an exceptionally refreshing business approach and company culture that I'm proud to be a part of."
Not only proud of his current organization, Olsen said he wouldn't have gotten to this point in his career without MSU and AFRE. "My experience at AFRE gave me the foundation and contacts I needed to succeed," said Olsen. "Some of what I learned was in class, but most came from those extra experiences — having alumni come back and talk to us, going to trade shows, and meeting real professionals in the industry was what gave us the edge."
Olsen hopes to continue to grow within the food industry, create positive impact for those in his communities, and keep striving toward greater professional and personal success.
"I've learned that if you want something, you have to make it happen for yourself," said Olsen. "I started as a caddie, am currently a Regional Account Manager, and have no plans on slowing down."