Packaging master's grad drafted to the NFL
Spartan football and MSU School of Packaging alum, A.J. Arcuri, was drafted by the Los Angeles Rams.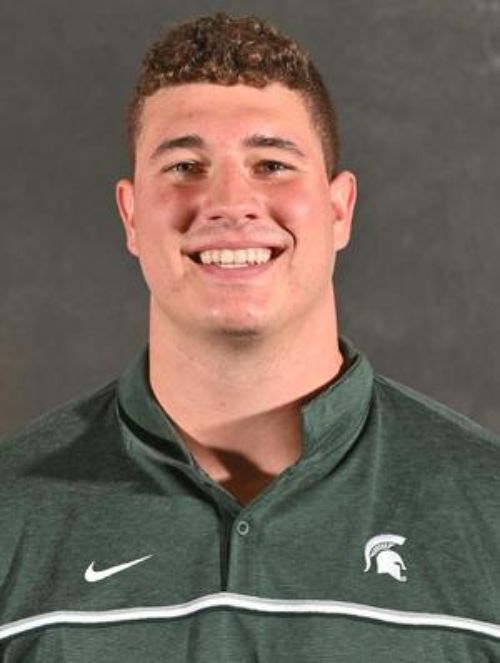 A.J. Arcuri, a recent MSU School of Packaging master's graduate, was drafted by the Los Angeles Rams, the 2021 Superbowl Champions. Arcuri played both left and right tackle for Spartan football and, as a four-year letter winner, played in 40 career games with 25 starts.
Arcuri earned a bachelor's degree in packaging in December 2020 and a master's degree in 2021. He was named to the Academic All-Big Ten five times, joining a group of just five Spartans in program history to earn that distinction. He was also named to the 2022 National Football Foundation Hampshire Honor Society.
Michigan State began recruiting Arcuri in his sophomore year of high school. He met with both engineering and packaging on his visits and once he saw Michigan State's campus, "he was hooked." Although he started his college career as an applied engineering major, he later decided that he wanted more hands-on research and development. According to Arcuri, "I felt packaging was the best fit for that. So, the summer after my freshman year, I switched over to packaging and just loved it ever since."
Arcuri came in as an offensive and defensive lineman out of high school and then ended up doing the scout team defensive line. He was injured in his freshman year and had hip surgery during his sophomore year causing him to be out the whole season.
"One of the things that I took away most from that season was that I took advantage of that time off. It allowed me to also focus more on school. I took the hard classes, like calculus and physics, while I wasn't able to play."
In 2018, he started on the field goal team but in 2019 ended up with a double high ankle sprain resulting in surgery again. Fortunately, this time he only missed the first six games. In 2020, the pandemic came and then Coach Dantonio retired. Finally, Coach Tucker arrived and Arcuri was back in the game.
"The Big 10 is a strong league and you go up against great D-lineman every week, so I think that's played a huge role in preparing me for this next opportunity ahead," Arcuri said.
When looking back over his time at MSU, Arcuri commented, "My path hasn't always been the easiest, and I've gone through some adversity. But I've always known this is the sport I want to play, and this is something I want to do."
As for being drafted by the L.A. Rams, Arcuri said, "It was surreal. I'm fired up about this opportunity. It's something you dream about as a child, and I'll remember it for the rest of my life."