Pollinator science "on tap" draws a crowd
Over 100 people attended the new pollinator event, Beez and Brewz, on June 21, for a fun evening of short presentations about the current status of bees in Michigan with a fermented beverage angle.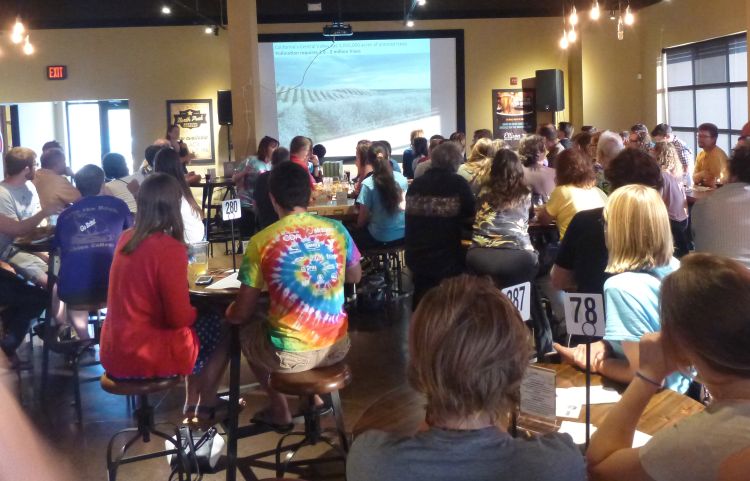 Rufus Isaacs' lab annually hosts a successful National Pollinator Week event called Bee Palooza that draws families to a fun, educational day in the MSU horticultural gardens. With an eye on reaching a new, millennial audience, lab technician Julia Brokaw proposed and organized Beez and Brewz, held June 21, 2016, at the Lansing Beer Grotto. This "Science on tap" concept followed the spirit of Astronomy on Tap, a series of events hosted by a group of MSU researchers. Over 100 people attended the new pollinator event, likely launching a new tradition for Pollinator Week.
The evening included three bee experts – Jason Gibbs, Meghan Milbrath and Rufus Isaacs – who presented factual, light-hearted information about native bees, what Michigan is doing to protect our pollinators, and the role of bees in some of our favorite drinks. Following the presentations, entomology graduate students answered audience questions ranging from what flowers to plant for bees and general bee biology, to beekeeping regulations in Lansing. There were also special bee-related drinks on tap for the night and many received raffle giveaways including photo prints of wild bees taken by Jason Gibbs, pocket guides for identifying bees and plants that attract them, local honey, native bee hotels, t-shirts and a Beer Grotto gift certificate. View images from this event.