Standing watch: Protecting Michigan crops from dangerous pathogens
Michigan State University (MSU) AgBioResearch plant pathologist Mary Hausbeck is giving vegetable growers the tools they need to safeguard the food supply.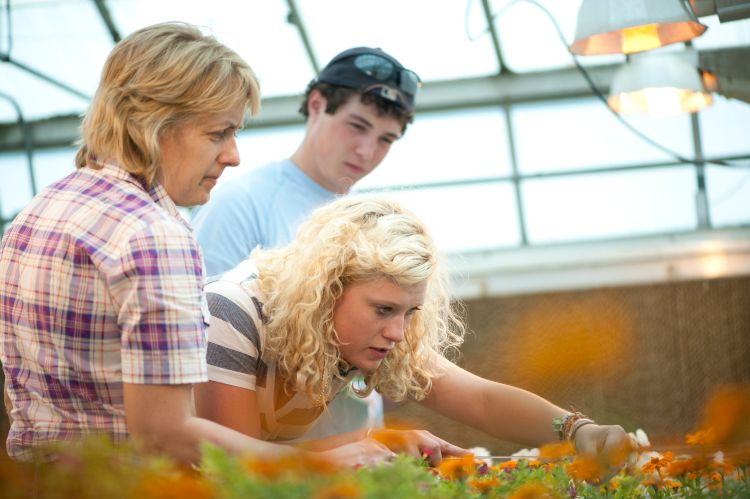 With more than 112,000 acres across nearly 3,000 farms* dedicated to growing vegetables for fresh consumption and processing, Michigan ranks as one of the largest vegetable producers in the nation. It is the top producer of cucumbers for pickling and ranks in the top four for asparagus, squash, carrots, green beans and others. Vegetable production is a $255 million industry that helps feed the people of not only the state but the entire country.
This prosperity does not come without risk. Vegetable growers must contend with an increasing number of bacterial and fungal pathogens that threaten to contaminate their fields and destroy their crops. Michigan State University (MSU) AgBioResearch plant pathologist Mary Hausbeck is giving them the tools they need to safeguard the food supply.
"We're dealing with an influx of new pathogens, and it's up to us as field biologists to serve as the frontline defense for agricultural industries," said Hausbeck, a professor in the MSU Department of Plant, Soil and Microbial Sciences and an MSU Extension specialist.
Beginning in 2005, Michigan cucumber growers encountered a new threat — downy mildew, a fungus-like pathogen that causes a damaging blight on the vegetable foliage. The mildew cannot withstand the bitter cold of a Michigan winter, but is thought to be brought into the state from warmer southern regions such as Florida and Mexico. It can also overwinter in the climate-controlled environment of a greenhouse.
"In the grand scheme of things, it's a relatively new problem, but it's one we have to manage consistently every year," Hausbeck said. "We have to stay on top of it."
The management challenge recently intensified as Hausbeck's team observed that the mildew had developed resistance to several key fungicides used to control it. Her team is developing a management program that does not use many of the treatments previously relied upon.
"We've gained a better understanding of the pathogen itself, and we've developed early alert and control systems for growers that have worked quite well," Hausbeck said. "We're coming into 2015 with new challenges, but we're devoting a lot of our attention to solving them."
Confronting new challenges is nothing new for Hausbeck and her team. In 2010, a fungal leaf spot, called anthracnose, that had not been reported anywhere else on the planet, was detected in Michigan onion plants. Hausbeck's team developed a management program for the pathogen, and now anthracnose is no longer considered a serious threat.
"We feel we have things handled there," Hausbeck said.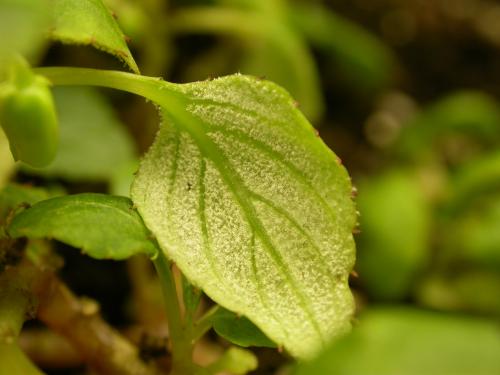 Hausbeck's team is currently tackling another issue: leaf blight in onions, caused by the bacterium Pantoea agglomerans. It afflicted an estimated 35 percent of Michigan onions last year. First detected in 2011, this new pathogen is the target of intensive study by the scientists in Hausbeck's lab.
"A lot of our effort has been in surveying the Michigan onion industry to get a better understanding of this disease," Hausbeck said. "Once we understand it, we can develop mitigation strategies to protect our crops."
The mission of protecting crops does not stop once strategies are in place. About 15 years ago, Hausbeck developed and implemented a highly successful forecasting system to help growers manage foliar diseases in asparagus. This system assesses disease risk by using weather equipment to measure the amount of time that the asparagus leaves are wet and combines that information with the average temperature for that time period. Once the risk exceeds a certain threshold, the system triggers a fungicide spray. The result provides optimal disease protection while minimizing spray amounts. Hausbeck and her team are working to update the system to take into account the latest advancements such as new treatments and cultivars.
"Part of what we do is to make sure growers have the latest cutting-edge tools, and keeping these systems up-to-date is part of that," Hausbeck said. "It's a great example of an industry that has been really good about adopting new technologies."
Hausbeck has also been instrumental in revitalizing Michigan's impatiens industry from downy mildew (different from the mildew afflicting cucumbers). This new pathogen was capable of surviving through the winter in gardens, contaminating the soil and preventing impatiens from producing full flowers.
In response, Hausbeck, with support from industry leaders and Project GREEEN, developed a treatment protocol that could be applied in the greenhouse and protected the plants from the pathogen even after they were planted in consumer gardens. Applying a combination of fungicides during its early growth stages keeps the plant protected for nearly the entire season.
"This type of work is a crucial role fi led by MSU as a land-grant university," Hausbeck said. "Without this aspect of the university, plant diseases could take a heavy toll on the state's economy."
*2012 Census of Agriculture