School Food System Innovation Hub to Bring Innovative Supply Chain Solutions to the Lake Michigan Region
MSU CRFS will serve as the state lead for the Lake Michigan School Food System Innovation Hub which will improve access to nutritious, locally grown food in the Great lakes region, along with partners in Wisconsin, Illinois, and Northern Indiana.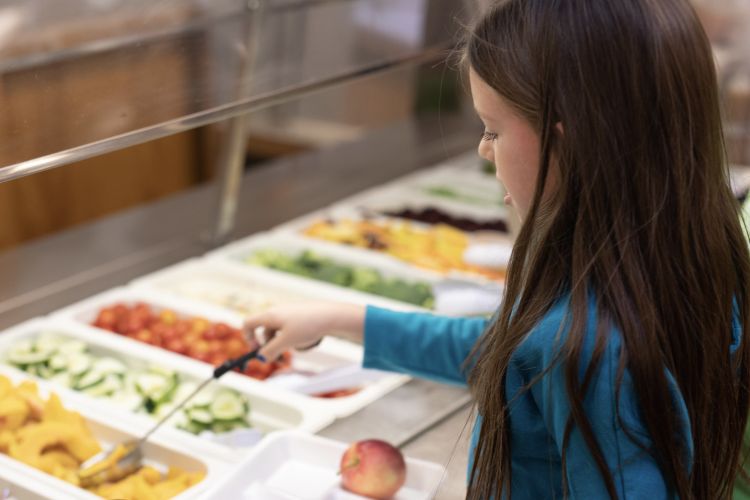 East Lansing, MI – Michigan's schools will benefit from a new multi-state initiative to develop innovative solutions for sourcing nutritious foods in school meals. Michigan State University Center for Regional Food Systems will receive funding to serve as the Michigan lead for the Lake Michigan School Food System Innovation Hub (Innovation Hub). Last Wednesday, the US Department of Agriculture (USDA) announced it will award $16 million over the next five and a half years to the Illinois Public Health Institute (IPHI) and its partners, a consortium of organizations across Illinois, Michigan, Wisconsin, and Northern Indiana. IPHI is one of four lead organizations to win a combined total of $50 million from the USDA School Food System Transformation Challenge Sub-Grants initiative.
The Innovation Hub will strengthen the K-12 school food supply chain, improving access to nutritious, locally grown, and culturally relevant foods for children in the Lake Michigan region. The new funds will primarily be used for sub-grants awarded to collaboratives between schools, farms and food business, and other partners in the four participating states. Sub-grants are designed to help schools address challenges such as increased food purchasing costs and limitations with staffing, training, physical space, and kitchen equipment. The first round of sub-grants, called Spark Awards, are anticipated for the fall of 2023. The Innovation Hub will also offer assistance, for small and emerging farmers to increase and shift their production to accommodate school districts' food needs, and to school districts on how to develop procurement relationships with local food producers.
"Michigan has a long history and deep experience with farm to school, including through the state-funded 10 Cents a Meal program administered by the Michigan Department of Education. That means that school food service professionals already have a strong awareness of what they need to better support their food programs, and Michigan farms and food businesses have been working to respond to their food-related needs," Colleen Matts, Director of Farm to Institution programs at CRFS, said. "Food service directors have always led the way with innovative ideas to purchase and serve more locally grown and culturally relevant foods, and these new funds can be leveraged in exciting ways to take their healthy school meals to the next level."
IPHI will oversee the management of the initiative in collaboration with Seven Generations Ahead (Illinois); Michigan State University Center for Regional Food Systems (Michigan); Kids Forward/healthTIDE (Wisconsin) and the Northwest Indiana Food Council (Indiana) to make sure each state benefits from local knowledge, expertise, and relationships. Action for Healthy Kids will provide crosscutting support and evaluate the program. In addition, the National Farm to School Network and the Chicago Food Policy Action Council will provide support for program design and outreach.
"In addition to working with underserved schools, the Innovation Hub will build opportunities for farmers and food producers that have experienced economic or social disadvantage with special attention to racial equity," Janna Simon, director of IPHI's Center for Policy and Partnership Initiatives, said.
The national USDA initiative is designed to foster innovation in the school food marketplace to get a wider variety of healthy, appealing foods into the marketplace and onto kids' lunch trays. "Continuing to make school meals healthier and available to more students are some of the best ways we can help our children thrive early in life," said Agriculture Secretary Tom Vilsack. Stacy Dean, deputy undersecretary for Food, Nutrition, and Consumer Services added: We're hopeful that these grants will accelerate and expand innovation in the school food marketplace, so that schools – and ultimately our children – have better access to healthier food products." In addition to IPHI, the other recipients of these funds are Boise State University, Chef Ann Foundation, and Full Plates Full Potential.
For more information about this initiative, contact Megan McManus, Farm to Institution Specialist, at mcmanu60@msu.edu or Colleen Matts, Director of Farm to Institution programs, at matts@msu.edu.
---
MSU Center for Regional Food System's Michigan Farm to School and institutional food procurement work is conducted in collaboration with MSU Extension and is also funded by the W.K. Kellogg Foundation, Kresge Foundation, Michigan Department of Education, and Michigan Department of Agriculture and Rural Development Specialty Crop Block Grant Program.
The Michigan State University Center for Regional Food Systems advances regionally-rooted food systems through applied research, education, and outreach by uniting the knowledge and experience of diverse stakeholders with that of MSU faculty and staff. Our work fosters a thriving economy, equity, and sustainability for Michigan, the nation, and the planet by advancing systems that produce food that is healthy, green, fair, and affordable. Learn more at foodsystems.msu.edu and connect on Twitter and Facebook: @MSUCRFS.