School of Packaging celebrates 2023 student scholarship recipients
Congratulations to the School of Packaging 2023 student scholarship recipients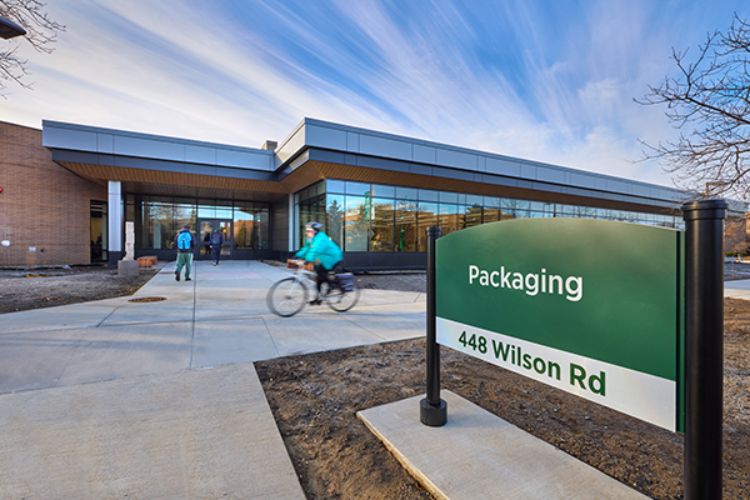 Congratulations to the 2022-2023 School of Packaging student scholarship winners. These students have worked hard through the year and have shown dedication to the packaging program.
"We are very excited to provide scholarships to these students have worked hard and have gone above and beyond to earn these awards," said Matt Daum, School of Packaging director. "These students are dedicated to the packaging program and represent the future of the packaging industry."
Allied Trades of the Baking Industry (ATBI) Scholarship
For current junior standing or higher at time of application and intending to work in the food packaging industry.
Boeing Scholarship
This is for a student majoring in Packaging. Must have high scholarship merit, strong leadership and communication skills with interest in the aerospace/defense or cyber security industry. Boeing scholars are encouraged to apply for Boeing internships.
Robert S. Bower, Jr. Memorial Packaging Scholarship
Established in Memory of Robert S. Bower Jr., with gifts from the National Beverage Packaging Association, this scholarship is intended to help prepare students for the packaging industry by financially assisting with their education.
Chemical & Allied Industries of Northwest Ohio Endowed Scholarship Fund
A student who is passionate and excited about the field of packaging.
Muhammad Masood
Hayden Whisenhunt
Crandell Family Scholarship
A Michigan upper classman who is a high achieving student, with the intention of a packaging career.
Mark Ewing Endowed Scholarship
Undergraduate students pursuing a degree in the School of Packaging.
Graduate Office Fellowship
Anurag, Ganapathi
Bhutada, Harsh
Desphpande, Anusha
Duguma, Humnessa (Haile)
Esfahanian, Shiva
Gu, Juan
Hao, Menglin
Kedar, Purtha
Khule, Purva
Limsukon, Wanwarang
Mayekar, Pooja
Mestry, Jayesh
Mohite, Margika
Motamarri, Goheth
Neralla, Shashank
Parviziomran, Irandokht
Shirzad, Khadijeh
Tavasoli, Mahsa
Wonthanaroj, Dangkamol
Xu, Dian
Luke and Diane Faulstick Packaging Scholarship
Funded by the Luke and Diane Faulstick Packaging Endowment, this scholarship recognizes graduate students in good academic standing.
Founders Packaging and Technology Integrated Solutions (PTIS) Endowed Scholarship Fund
This scholarship was established by School of Packaging alumni Brian Wagner, Dr. Michael Richmond (honorary alumni), and Phil McKiernan from Packaging and Technology Integrated Solutions (PTIS). Recipients are at the junior level or above who have exhibited passion and excitement for the field of packaging and are in good academic standing.
Tyler Hilgendorf
Hayden Killgrove
Fuji Seal Scholarship
Highly motivated, academically talented, Sophomore or Junior applicants who pursue studies in applied chemistry (especially plastic product), mechanical engineering, electrical or electronic engineering, polymer science, packaging or design related and have a recommendation from university. Winners are students who have high motivation to take on new challenges and have global understanding and high potential to contribute to international friendship
Brooke Bannon
Trent Krause
Alec Respecki
Stephanie Spehalski
Owen Syrek
Cheryl Gilliam Scholarship
A second-year student who intends to go into a packaging career.
Gregory A. And Kathleen R. Hayes Endowed Scholarship
Emily Macina
Kamal Rizal
Jack Schaecher
Yuvraj Shah
Jillian Shaman
Antonia Suchy
Jamie M. Hill Endowed Scholarship for the School of Packaging
Jamie Hill graduated from the School of Packaging in 1993, received an MBA in MSU and started his own packaging company with a colleague. When Jamie passed away in 2013, his family created this scholarship in his honor. Eligible students are those who demonstrate financial need and have high academic standings.
Kadra Balla
Karinne Ehni
Emily Macina
HJ Heinz Company Endowed Scholarship in Packaging Science
Students who are majoring in packaging, have at least a 3.5 GPA, and have attained at least sophomore status.
Claire Cassar
Isabel Stauffer
*James Houchens Endowment Scholarship
International Society of Beverage Technologists (ISBT) Scholarship
The International Society of Beverage Technologists have partnered with the School of Packaging to fund a scholarship aimed toward students who have an interest in a career in the beverage industry.
Institute of Packaging Professionals (IOPP) Connecticut Chapter Scholarship
Each year the Connecticut Chapter of The Institute of Packaging Professionals donates scholarship funds to students at the School of Packaging. This scholarship is aimed to help support packaging education and the future leaders of the industry. Member of Coalition of Packaging Professionals and Academic Connections (CoPPAC) and have a minimum 3.0 cumulative GPA.
Hanna Cho
Brandon Coleman
Emma Dayton
*Institute of Packaging Professionals (IOPP) West Michigan Chapter Scholarship
Juice Products Association Scholarship
Every year the Juice Products Association funds a scholarship for Packaging students at MSU. These recipients must be a full-time student with a minimum 3.0 GPA, have interest in the food or beverage industry, be a junior or senior, and involved in student organizations.
Maggie Dwyer
Lauren Ruzylo
Kimberly-Clark Corporation School of Packaging Endowment
The Kimberly-Clark Corporation has funded an endowed scholarship for MSU Packaging Students who are involved in student organizations, active in community service, and have maintained a 3.0 GPA or higher.
Jake Stevelinck
Brynn Werner
Layfield Lewis Endowed Packaging Scholarship
A student studying packaging, with residency in Saginaw, Michigan, there is special consideration to African American students.
Mackson Scholarship
This scholarship is in memoriam of XXX Mackson and supports School of Packaging students.
Mary Ann Merrill Packaging Fellowship
Mary Anne Merrill began working as a secretary for the School of Packaging in 1984. She was promoted to be the School's Accounting Clerk in 1988, a position she held until 2004. For twenty years she "kept the books," keeping projects under budget, making sure expenses were approved, and that university accounting practices were followed. She always came to work with a smile and helpful attitude. Mary Anne passed away in 2016 and the Mary Anne Merrill Packaging Scholarship was established in 2017 by Dr. Paul Singh, professor emeritus of CANR to honor Mary Ann. The scholarship supports graduate students studying or working in medical packaging and who have had someone in their lives affected by cancer.
Menasha Corporation Endowed Scholarship
As one of the oldest privately held manufacturing companies in the United States, The Menasha Corporation, produces corrugated containers, printed products, labels and more for the packaging industry, this endowment seeks to encourage students to succeed in their academic goals by providing a scholarship to undergraduate students in Packaging with at least a 3.0 GPA.
Graduate Office Fellowship (GOF)
MSU School of Packaging graduate students play a major role in supporting the research mission of the School. The School of Packaging gives back to these students by awarding funds through our graduate committee to support their masters and PhD degrees.
*NJ Packaging Executive Club Scholarship
Harsh Bhutada
Madeline Henneman
Nicole Kelly
Emma Morath
Samantha Seelinger
Obolewicz/Debuck Family Endowed Fellowship Scholarship
Established by Paul and Lenore Obolewicz. Paul, a 1973 graduate credits his success to his MSU Packaging education and established this scholarship to give back to the School.
Paperboard Packaging Alliance Scholarship
An upperclassman who has expressed financial need, who is majoring in packaging, and has academic achievement.
Paul L. and Joanne L. Peoples Scholarship
An adult returning to higher education with preference to those with interest in packaging and to those reentering due to the death of a spouse or divorce. Consideration to single parent applicants.
Laura Anne Polakowski Endowed Scholarship in Packaging
his award is designed to encourage high-achieving female undergraduate and graduate students to pursue a career in packaging. A female student who is earning a degree in packaging, with higher consideration to a student who is a member if Sigma Kappa Sorority.
Dwight Schmidt Endowed Scholarship Fund
Awarded to high-achieving incoming freshmen based upon academics, community service, and school involvement. Schmidt was a 1968 graduate of the school and held a career in packaging for over 50 years.
Kadra Balla
Eve Salenbien
Selig Group Scholarship
A student who has a GPA minimum of 3.0, who are not graduating in the next fall.
Paul Singh Endowed Fellowship
The scholarship will be awarded to the most deserving candidate pursuing a PH.D. Degree in Packaging with preference to given to students conducting research in the area of shock and vibration/distribution packaging.
PPG Foundation Grant
This award is presented to two students who have a GPA of 3.0 or higher and have completed their first semester in the Fall of 2021. These students will contribute to the intellectual and cultural enrichment of the university through diversity of thought and background and/or promoting an inclusive scholarly environment.
*Ron's Study Abroad Scholarship
Antonia Suchy
Samantha Woodland
Noah Wool
Jax Zielinski
Society of Manufacturing Engineers Endowed Packaging Scholarship
A full-time upper classman student, who demonstrates academic achievement.
Rodney Cancler
Michael Lauth
Gail Tavill Endowed Scholarship in Packaging
A packaging major, preference to someone who is a member of the Diverse Leaders in Packaging student organization.
Mark A. Toton Endowed Memorial Scholarship in Packaging
This scholarship is awarded to students majoring and pursuing careers in packaging. Preference is given to students from Troy, Mich. or Oakland County.
Mark & Catherine Walchak School of Packaging Endowment
A student who is interested in environmental aspects of packaging and has overcome significant obstacles in their lives.
Lauren Bartos
Juan Gu
Martin Hunt
Emma Savage
Lul Shoble
Katherine Woloson Study Abroad Scholarship
Bradley Bunch
Sara Downs
Karinne Ehni
Benjamin Gratsch
Lindsay Kukla
Annmarie Lockwood
Abigail Ludtke
*PAA/ WestRock Study Abroad Scholarship
Packaging Alumni Association Scholarship
Students are selected based on their education, professionalism and passion for packaging at MSU.
Hanna Cho
Brandon Coleman
Emma Dayton
Trent Krause
Yuvraj Shah
Krishnaa Ventaktesan
Ella White