Scientists say non-native zooplankton species spreading in Lake Erie
More research needed to determine if crustacean causes any harm to Great Lakes ecosystem.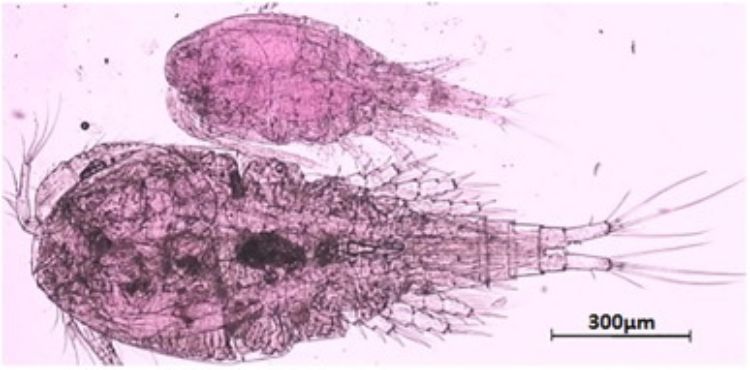 Freshwater scientists from around the world gathered in Detroit in May 2017 to focus on problems and solutions for the world's large lakes. More than 1,000 scientists attended the International Association of Great Lakes Researchers conference, the largest attendance in the 60-year history of such gatherings. More than 800 oral and poster presentations featured topics including algal blooms, microplastics, habitat restoration and fisheries research.
A presentation by Joseph Connolly, Cornell University Department of Natural Resources, revealed the 2014 discovery of a new non-native copepod, Thermocyclops crassus, in western Lake Erie. The discovery was made aboard the Lake Guardian, a research vessel operated by the U.S. EPA. Since the 2014 discovery, water samples from 20 Lake Erie sampling stations have been collected twice a year, with Thermocyclops crassus being detected each year at several stations in the western portion of the lake.
Copepods are a group of small crustaceans found in nearly every freshwater system. They serve an important role in food webs around the world. They are usually the dominant species of zooplankton and major food source for small fish and other crustaceans.
Thermocyclops crassus has a wide geographic native distribution across Eurasia and Africa. The 2014 finding in western Lake Erie was only the fourth occurrence in the western hemisphere. The first was in 1983 in Costa Rica, the second incident was in the Great Lakes region in 1991 in Lake Champlain and the third in 1998 in Mexico.
Thermocyclops crassus is similar to several other native copepods that are found in the southern United States. Its closest relative here in the Great Lakes is the native copepod, Mesoclops edax.
How did it get to the Great Lakes?
Researchers don't know. There are many different potential pathways of introduction including transfer from areas previously introduced by birds, recreational boats and bait, or from their native range via ballast water, aquaculture and horticulture.
Should we be alarmed?
While the species is not native to the Great Lakes or North America, it is not yet known what impact the introduction may have on native ecosystems.
More research is needed. In the near term, Connolly and others will be looking to see if the range is expanding in Lake Erie and possibly reassessing Lake Champlain to see if the species is still present. Future research on genetics is also a possibility.
Additional information about the discovery can be found in the Journal of Great Lakes Research article.
Michigan Sea Grant helps to foster economic growth and protect Michigan's coastal, Great Lakes resources through education, research and outreach. A collaborative effort of the University of Michigan and Michigan State University and its MSU Extension, Michigan Sea Grant is part of the NOAA-National Sea Grant network of 33 university-based programs.