Seeking Breakfast on the Farm hosts for 2019
Since 2009, Michigan State University Extension has been working with farm families who host on-farm tours designed to showcase modern agriculture.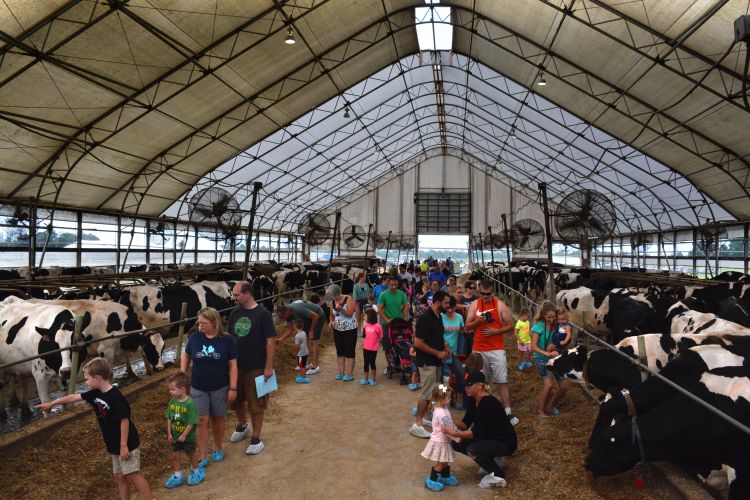 MSU Extension's Breakfast on the Farm (BOTF) program showcases Michigan farms and introduces the non-farm public to modern agriculture. To date, 40 farm families have hosted events that have attracted over 89,000 visitors. The events have been held on dairy, beef, crop and fruit farms throughout Michigan.
Increasing transparency in modern food production is important to bridging the ever increasing gap between farmers and the non-farm public. BOTF events include a free breakfast that is followed by a self-guided tour of the farm. Educational signage, activities and resource professionals are located throughout the tour to engage visitors in the entire farm experience. If you have an interest in opening your farm to the non-farm public, this program is just for you.
With over ten years of experience, Extension staff members are available to assist with the entire planning process from start to finish. Staff will help the host family establish a local planning committee which will also assist in the planning process. Throughout the years, tools have been developed to make the planning process smooth, efficient and rewarding.
Breakfast on the Farm continues to increase awareness of modern agriculture and to put a face on the farmers who strive to provide safe and nutritious food. Farmers interested in hosting a BOTF event are encouraged to visit the program's website at www.breakfastonthefarm.com. To find out if BOTF is a good fit for your farm, please contact Ashley Kuschel at kuschela@msu.edu or 586-469-7616 or Mary Dunckel at dunckelm@msu.edu or 989-354-9875. We hope you will consider joining us in this educational effort to educate consumers about Michigan agriculture!