Southeast Michigan vegetable update – July 29, 2020
Farm markets across the region are opened.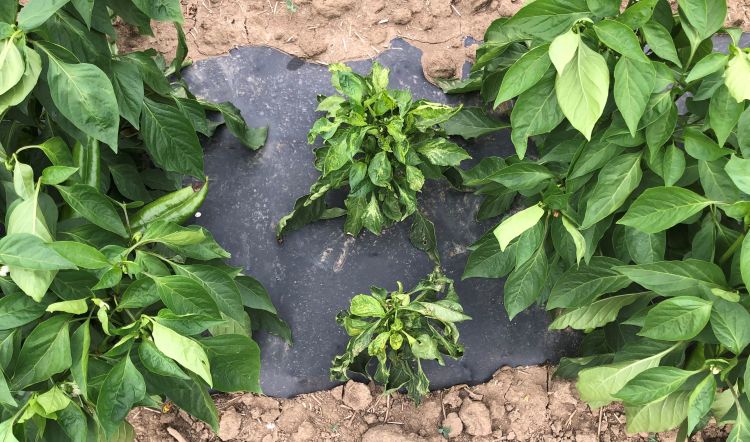 Weather
Parts of our area received a half-inch or less of rain in the last week, though some areas received none. Rain was very localized. The most southeastern portions of our region are being categorized as being in moderate drought by the U.S. Drought Monitor.
We have entered an unusual weather pattern, the kind we typically see in the fall as opposed to early August. We will have a reprieve from summer heat, as a cooler front moves through the region today, July 29. We will have seasonable temperatures with highs in the low 80s and fair, sunny and dry days. Our next best chance of rain, beyond some scattered rain Wednesday, July 29, is Sunday into Monday.
The table below shows rainfall totals for the Michigan State University Enviroweather stations in southeast Michigan, as well as degree-days calculated using the Baskerville-Emin Method. Degree-day average for Commerce and Hudson is over five years, while Deerfield is over four years. Rainfall is in inches. For a refresher on degree-days and how to get this information in your area, see "Accessing growing degree days with Enviro-weather" from MSU Extension.
Rainfall and degree day totals as of July 22, 2020

Station

Degree days (base 42)

Degree days (base 50)

5-year degree day average (base 50)

Rainfall since April 1

Commerce

2380

1589

1530

10.19 (+0.02)

Deerfield

2574

1742

1757.1

9.65 (+0.07)

Hudson

2387

1592

1615.8

11.92 (+0.06)
Crop reports
In cole crops, cabbage looper has been found in our area. The third caterpillar in the brassica caterpillar complex, this pest is migratory and not found in Michigan year round. Caterpillars reach up to 1.5 inches in length but are smooth, as opposed to the velvety appearance of imported cabbage worm. Current cabbage looper caterpillars/pupae will likely have one to two more generations this season.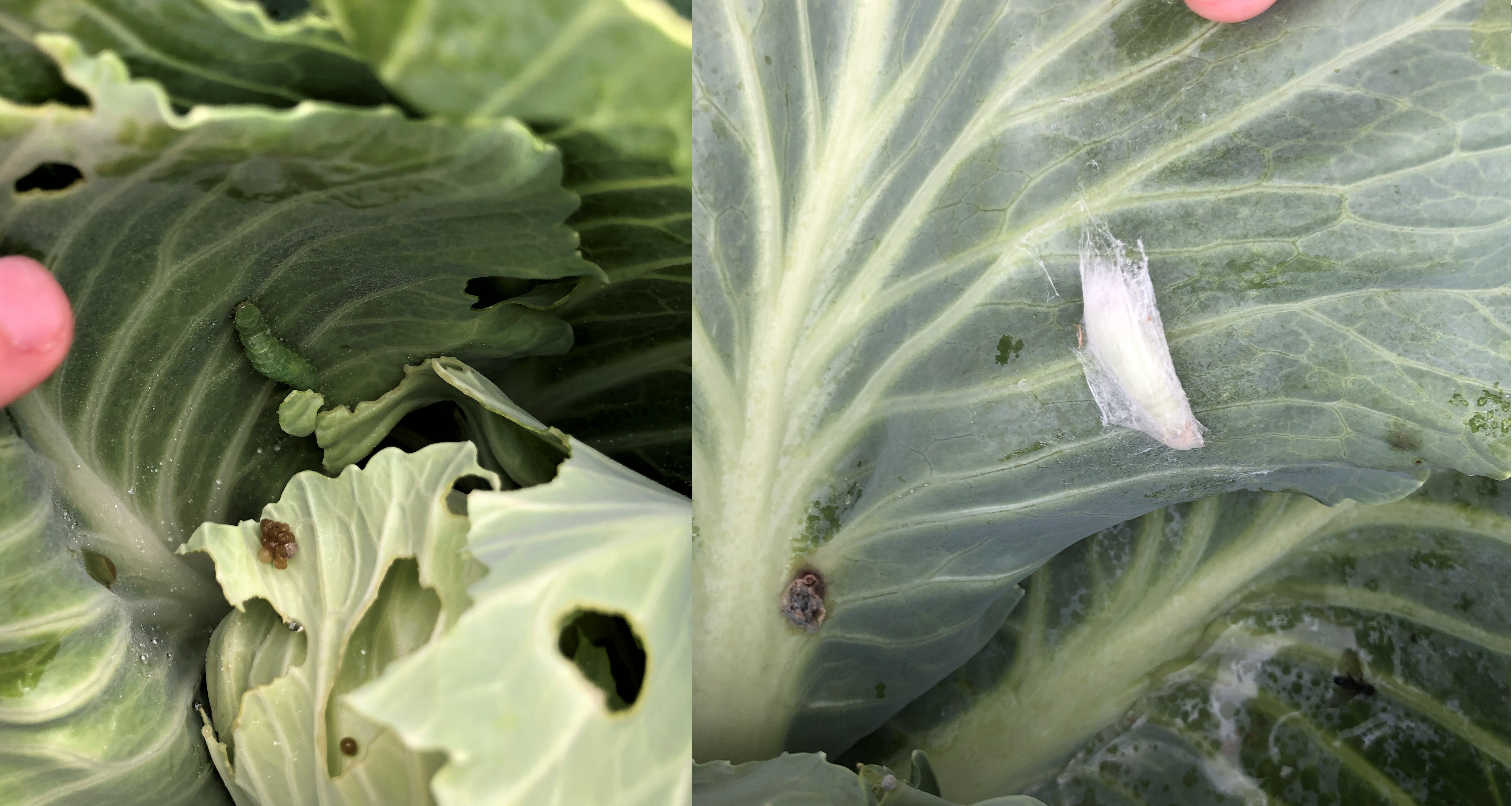 On organic farms with limited control options, downy mildew is starting to take down cucumbers. The plants may still produce, but as leaves die things will slow down and fruit will get scorched by the sun. To figure out if downy is causing your plantings to crash, visit the planting early in the day. On the upper surface of the leaf, there will be distinct yellow blocks bounded by the veins. If there is still some moisture from dew, the underside of the leaf will have areas with a gray/brown fuzz, which will correspond with the distinct yellow areas.
Peppers continue to set and size up fruit. At this point in the season, minimal disease control measures are needed. If you aren't seeing any signs of bacterial leaf spot at this point in the season, copper sprays likely aren't necessary. The second generation of European corn borer is flying and laying eggs according to Enviroweather stations in the area.
There have been instances of viral diseases in peppers and tomatoes. Viruses in solanaceous crops are often tied to transplant production. When transplants are grown in the same greenhouse as ornamentals, thrips can vector a variety of diseases from ornamentals to the solanaceous transplants. The viruses cause plant and fruit deformities and reduce yield.
I saw my first bit of powdery mildew this week in spaghetti squash. Squash bug nymphs are hatching and feeding in pumpkins and winter squash. The strain of downy mildew that infects pumpkins and winter squash was detected in Tennessee, but hasn't been picked up in any Michigan spore traps.
Sweet corn harvest continues, with good quality and sales being reported. Corn earworm catches remain low (an average 0.85 moths a night in Monroe County, 1.14 moths a night in Lenawee), and while western bean cutworm moths counts rose slightly, we have not reached peak moth flight yet. The second generation of European corn borer is flying and laying eggs according to Enviroweather stations in the area.
Tomato plants in the region are loaded with fruit at varying stages of ripeness. Hoop house tomato harvest is ongoing, and field tomatoes are almost ready. There are sporadic incidence of bacterial disease, as well as fungal diseases like early blight and Septoria leaf spot.
For bacterial spot, which is oftentimes resistant to copper, Actigard is something that is labeled and often recommended. Research in Florida has suggested that Actigard can be somewhat effective if applied regularly at a low rate from the time the plants are in the greenhouse. In Michigan trials, it has been an inconsistent performer. We truly don't have good tools to manage this disease, so if you are having issues, get aggressive with management in the greenhouse, where streptomycin can be used and infected plants can be rogued.
COVID-19 corner
Executive Order 2020-114 requires Michigan businesses to prepare a written COVID-19 Preparedness and Response Plan. In response, Michigan State University developed an e-tool, the COVID-19 Hazard Assessment and Mitigation Plan (CHAMP), to assist the Michigan agriculture community in assessing risk for the spread of COVID-19 in their operations. The tool is an editable Excel file that helps growers identify and implement exposure control strategies, as well as comply the with the State of Michigan requirements for essential and open business under the Governor's Executive Orders. For more information, see "Identifying risks for COVID-19 exposures in the workplace: Agriculture."
Reach out
Please contact me at schuhmar@msu.edu or 517-264-5309 with questions, concerns or to schedule a field visit. I have the ability to visit fields on a limited basis.
Great Lakes Vegetable Producer's Network
The Great Lakes Vegetable Producer's Network is a live weekly roundtable discussion during the growing-season for commercial vegetable producers in the Great Lakes and Midwest region. It is broadcast live via Zoom at 12:30 ET/11:30 CT every Wednesday from the first week of May to the first week of September. Listen live or later. If you have a pressing vegetable production issue that you would like discussed, simply email it, along with your phone number, to greatlakesvegwg@gmail.com.
Next week will focus on cleaning and sanitizing post-harvest equipment.