Southeast Michigan vegetable update – June 13, 2018
Insects are active and heat is on the horizon.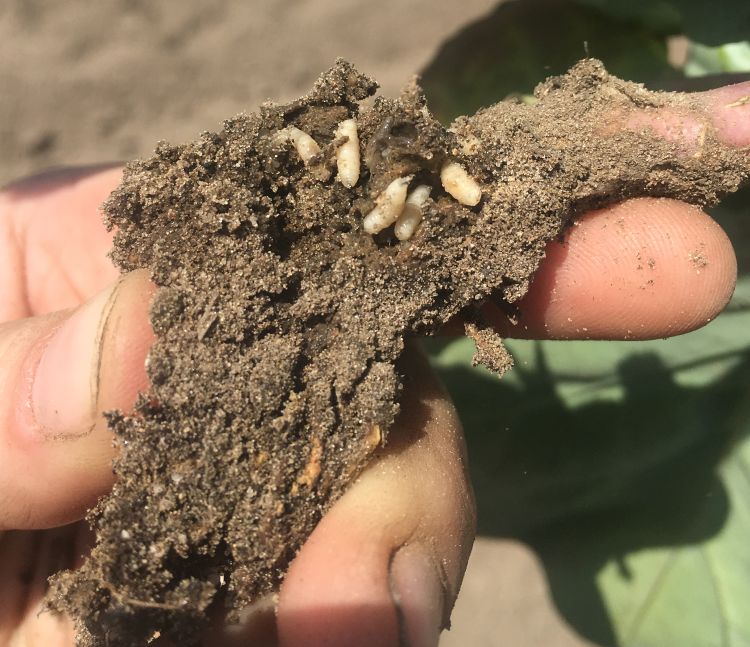 Weather
A cold front is moving in today, June 13, bringing with it high winds. Hot weather is in store for the weekend (think 90s), with a limited chance of scattered showers. Things will shift early next week and cooler, more seasonable conditions are likely to return.
The table below presents rainfall (in inches) for the Michigan State University Enviroweather stations in southeast Michigan, as well as growing degree-days (GDD) calculated using the Baskerville-Emin Method. Degree-day average for Commerce and Hudson is over five years, while Deerfield is over two years. Rainfall is in inches, with parenthesis indicating change since last Wednesday.
Rainfall and GDD totals as of June 13

Station

GDD (base 42)

GDD (base 50)

Historical GDD average (base 50)

Rainfall since April 1

Commerce

1,069

668

481.9

7.93 (+0.35)

Deerfield

1,188

758

612.6

9.18 (+0.52)

Hudson

1,108

691

543.8

9.79 (+0.78)
General
Across the state, heat stress is being seen in transplants put in the ground during the unseasonably hot Memorial Day weekend. Affected plants can look generally white and limp, with leaves that are burned along the edges. They may have spots on the leaves that are sunken and bronze in color. Fields most likely to be showing symptoms are those that weren't watered or watered enough after transplanting, especially plantings on plastic. In plasticulture, you are more likely to see this in the lower leaves that may have contacted hot plastic directly. All of these symptoms can easily be mistaken for a disease or nutritional issue, though if it is heat stress plants should recover and grow normally with time.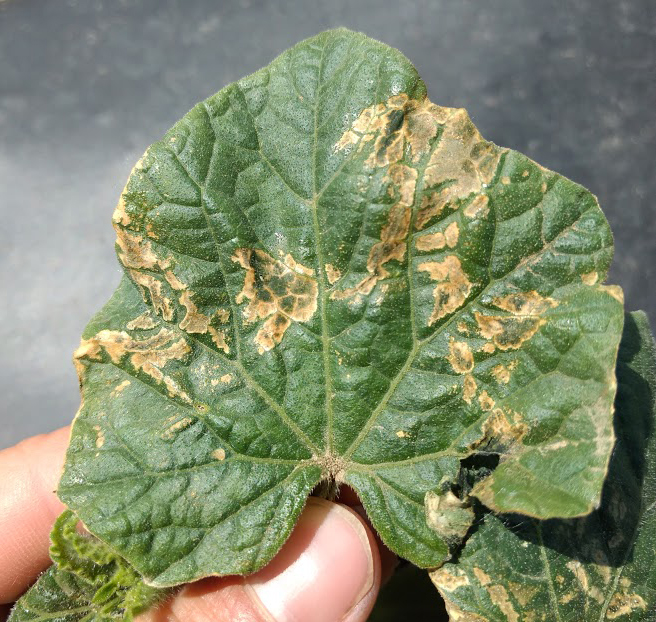 Heat stress symptoms can look like both disease and plant nutrition issues. Photo by Ben Phillips, MSU Extension.
If you are thinking about Food Safety Modernization Act (FSMA)-compliant water testing, see MSU Extension's "Find the right water testing lab for Food Safety Modernization Act Produce Safety Rule compliance," and for an interactive map of Michigan labs that offer one of the FSMA-allowed testing methods, see the FSMA Water Testing Lab Map.
Crops
Immediately after final asparagus harvest is a key time to control perennial weeds. See "Watch the timing for post-harvest weed control in asparagus" by MSU's Bernie Zandstra for more information.
In cole crops, cabbage maggot is making itself known. At this point, nothing can be done, but this is a good time to evaluate how your control strategies worked this year. On organic farms, row covers have been shown to do a good job of excluding cabbage maggot, but getting them out at the right time is key.
For cucumbers and melons, note that in the next couple of weeks we will likely see downy mildew establish in Michigan, so keep an eye out for it as you are in your fields. Currently, cucurbit downy mildew has established itself in the southern U.S., and Mary Hausbeck's spore traps in the Bay area and west Michigan have caught very low numbers of cucurbit downy mildew spores.
Downy mildew usually arrives in our region around the Fourth of July, but every year is different. Keep an eye out for this disease, especially after strings of cloudy days with high humidity.
Sugar snap peas are being harvested.
Pepper planting has wrapped on some farms.
Look out for potato late blight. There was a high chance of volunteer potato survival this year, and in the central part of the state, the humid weather has created a moderate late blight risk in Ingham County and westward. In the southeast part of the state, risk is still low.
Michigan has registered Echo 720 and Echo 90DF for use on potatoes with 24(c) special local needs labels in response to chlorothalonil shortages. For full information and links to the paperwork, see MSU's new potato pathologist Jaime Willbur's article, "Additional Special Local Needs labels available for chlorothalonil use on potato."
In sweet corn, I've seen low levels of cutworm activity in later-planted fields.
Pumpkins and winter squash have gone in, plants have emerged. Squash vine borer emergence is predicted to begin in the next few days in our region. This day-flying moth is a pest as larvae tunnel into the plant's crown, causing wilting and plant death. I have traps out in Washtenaw and Lenawee counties and will report on catches to help time any control efforts. For more information on this pest and control measures, see "Squash Vine Borer Biology and Management" from MSU Extension.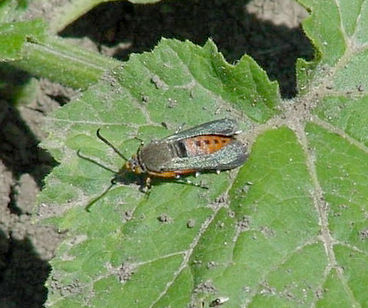 Squash vine borer adults look more like wasps than moths, as they have clear wings, bright colors and are agile daytime fliers. Photo by Jim Jasinski, Ohio State University Extension, Bugwood.org.
Contact me any time at 517-264-5309 or schuhmar@msu.edu with pest identification requests and questions. I tweet about what I'm seeing @SoutheastMIVeg.
Meetings
Registration for the 2018 Weed Tour on June 27 is now open. This on-campus event highlight weed identification and control strategies.
Learn more about vegetable research and management June 28 during the Agriculture Innovation Day: Focus on Fruit and Vegetable Technologies. This year's event is being hosted at the Southwest Michigan Research and Extension Center in Benton Harbor, Michigan. More event details and registration can be found at Agriculture Innovation Day: Focus on Fruit and Vegetable Technologies.
It is never too early to make accommodations to attend Great Lakes Fruit and Vegetable EXPO, Dec. 4-6 in Grand Rapids, Michigan. Hotel blocks are open and tend to go fast. The combination of grower-focused, research-backed presentations and an exhibit hall featuring a diverse set of vendors make it a can't-miss event.