Southeast Michigan vegetable update – June 26, 2019
Conditions allow for field activity, as well as disease development. Be vigilant.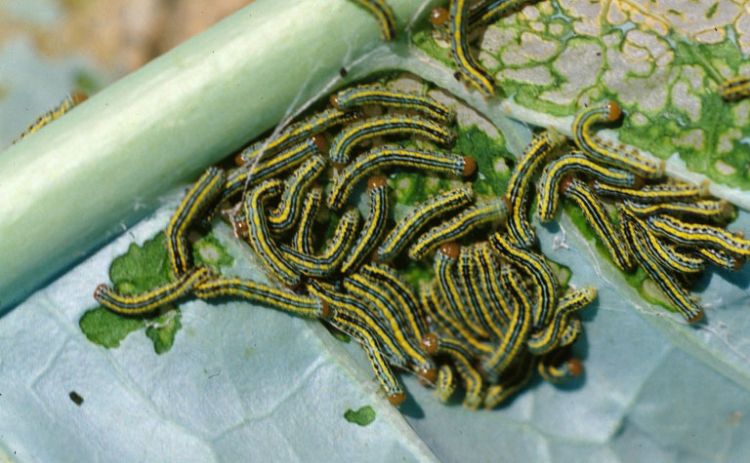 Weather
This week is finally bringing some heat to the region, with high temperatures in the high to mid-80s. There are chances for precipitation scattered throughout the next week. Weather models don't have much to say about what July into September will hold.
The table below shows rainfall totals for the MSU Enviroweather stations in southeast Michigan, as well as degree-days calculated using the Baskerville-Emin Method. Averages for Commerce and Hudson are over five years, while Deerfield is over three years. Rainfall is in inches, with numbers in parenthesis indicating rainfall since the last report. For a refresher on degree-days and how to get this information in your area, see "Accessing growing degree days with Enviro-weather" from MSU Extension.
Rainfall and Degree Day Totals as of June 26th

Station

Degree Days (Base 42)

Degree Days (Base 50)

5-Year Degree Day Average (Base 50)

Rainfall since April 1st

5-year Rainfall Average

Commerce

1194

663

851.7

12.02 (+0.35)

8.75

Deerfield

1358

779

1036.4

13.41 (+1.01)

8.3

Hudson

1246

705

939

11.95 (+0.68)

9.12
General notes
We're currently having great weather for disease development. Potential issues for asparagus, cucumbers, onions and peppers are summarized in Mary Hausbeck's article "Wet, humid weather challenges vegetable disease management." Overall, disease pressure is high; it is not the time to use reduced rates.
As harvest starts on the region's larger farms, note that farms selling over $500,000 of produce annually may be inspected by the Michigan Department of Agriculture and Rural Development (MDARD) for compliance with the Food Safety Modernization Act's Produce Safety Rule. If you want to see where your farm stands with the requirements, you can schedule an On Farm Readiness Review by filling out this form. The program is a free, voluntary, confidential walk through of the farm with reviewers from MSU Extension and produce safety technicians.
Finally, MSU has collected all of its delayed planting articles, videos, podcasts and fact sheets in one place. See the Delayed Planting webpage for info on dealing with this challenging year.
Crop reports
Large-scale cabbage harvest is underway. Kale and broccoli are also being harvested. Some growers have reported issues controlling diamondback moth with pyrethroids. Insecticides with alternative modes of action, such as those found in Besiege and Coragen, can help.
I also received a report of zebra caterpillars. These caterpillars have distinctive yellow striping running down their bodies, and tend to feed in large groups. When they get older they turn a more dull color and disperse to feed individually. Physical removal may be the easiest way to get rid of these guys, but Bacillus thuringiensis (Bt) should also work.
In beets, both Cercospora and Alternaria leaf spot have been found in Michigan sugar beets. These leaf spot diseases both have had conducive weather for their development this year.
Some cucumber plantings are flowering prematurely from stress, either from field conditions or from being held in transplant trays for prolonged periods. Nitrogen applications will help them put on some vegetative growth.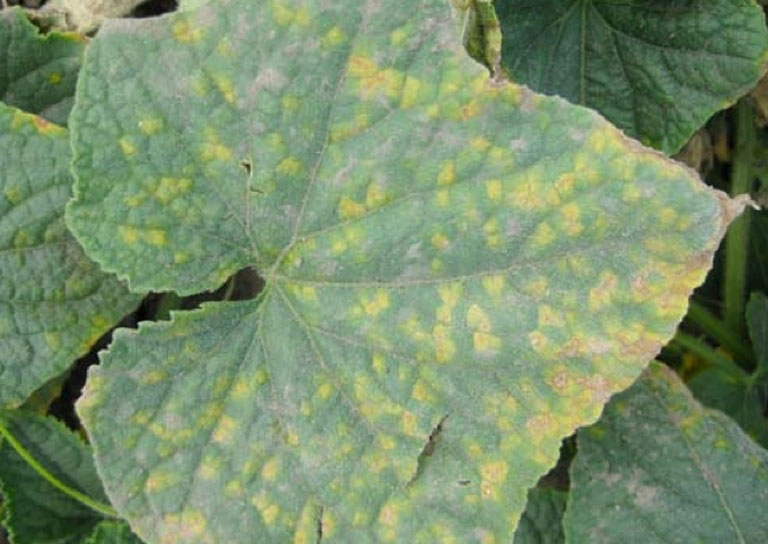 For cucumbers, cantaloupes, and watermelons, no downy mildew spores have been detected in Michigan or the Great Lakes Region. We typically see this disease around the Fourth of July, so be vigilant for symptoms when you are scouting. I can arrange for samples to be quickly taken to campus for diagnosis, so if you have any suspect plants, call me at 517-264-5309. For information on identifying downy mildew and managing downy mildew, visit the MSU Vegetable Pathology Lab Webpage.
Eggplants are experiencing some premature flowering due to stress.
Pea harvest continues.
In potatoes, we are starting to see the summer generation of Colorado potato beetle. We haven't seen late blight in our region but weather conditions have been very conducive, so keep your eyes peeled when you're scouting.
Pumpkins have emerged.
Early sweet corn is starting to tassel. Plants are shorter than they would ideally be, so ear size may be reduced. Some European corn borer damage is being seen in the whorl.
In tomatoes, early blight is starting to be seen. On the late blight side of things, we have had favorable weather for late blight development, though there have been no reported cases in the region and traps in Ontario have not picked up any spores.
Zucchini and yellow squash are being harvested.
Reach out
Contact me at schuhmar@msu.edu or at 517-264-5309 to schedule a farm visit or ask a question.
Meetings
Next month's Young Growers Exchange Bus Tour is designed to allow the next generation of vegetable growers to network with each other while visiting west Michigan farms and is open to all growers in the Midwest. The tour will take place over two half-days on July 17-18. Day one will focus on soil health, showcasing Morgan's Compost and a major potato grower who is part of a soil health initiative. Day two will include another major potato grower plus muck vegetable production. There has been a lot of grower interest, so early registrations in the grower category are filling up fast. We are also offering a single-day option to allow for additional participants to caravan and leave on their own. Please consider registering.
The 2019 MSU Weed Tour has been re-scheduled for July 10.
On July 24 from 6-8 p.m., there will be a program on propagation at the MSU Extension Washtenaw Office. For more info visit the event page.
Start making travel arrangements, the 2019 Great Lakes Fruit, Vegetable, and Farm Market EXPO is scheduled for December 10-12 in Grand Rapids, Michigan. We have great speakers coming in from across the country to address the production, labor, and marketing issues affecting Michigan vegetable growers.