Southeast Michigan vegetable update – Sept. 5, 2018
Everything is being harvested while heat, humidity and rain usher in foliar disease and fruit rots.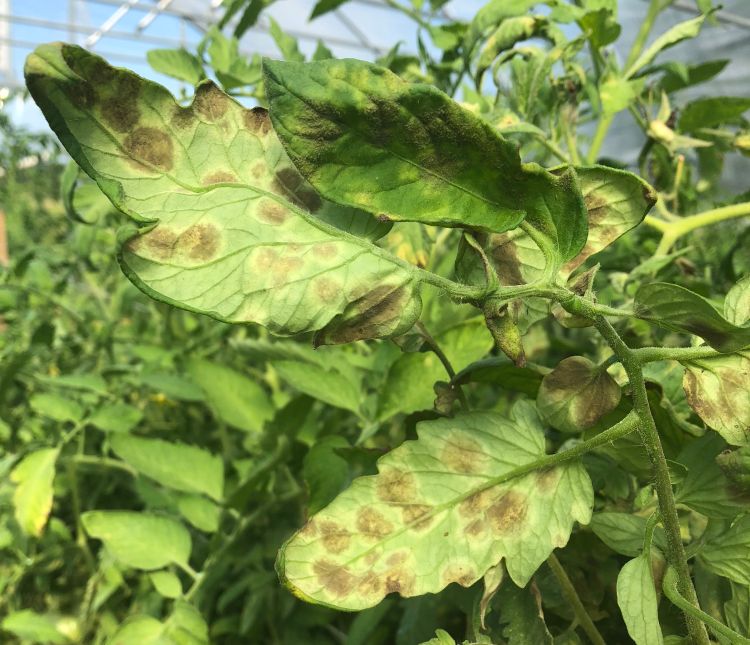 Weather
Abnormally high heat and humidity settled in the region over the last week. Moving into Thursday, Sept. 6, we will get a weather system from the north, meaning cool temperatures. Weather models are predicting a warmer than average September.
The table below presents rainfall (in inches) for the Michigan State University Enviroweather stations in southeast Michigan, as well as growing degree-days (GDD) calculated using the Baskerville-Emin Method. Growing degree-day average for Commerce and Hudson, Michigan, is over five years, while Deerfield, Michigan, is over two years. Rainfall is in inches.
Rainfall and GDD totals as of Sept. 5

Station

GDD42

GDD50

5-year GDD50 average

Rainfall since April 1

Commerce

3,559

2,487

2,154.7

16.93

Deerfield

3,789

2,687

2,559.5

12.48

Hudson

3,583

2,486

2,299.3

17.32
Crops
Basil plants are being found with basil downy mildew. Affected plant will have discoloration on the leaf surface with soft grey spores on the leaf underside. If infection isn't widespread, removing infected plants can slow spread by reducing the amount of spores present.
Carrot harvest continues.
Pepper harvest is ongoing, with the heat making a lot a fruit ready to be picked. Areas of fields impacted by phytophthora continue to expand as we've gotten more rain.
In pumpkins, powdery mildew is starting to take out the vines in some plantings. If you are losing foliage and fruit is orange, it is better to harvest now than to let fruit sit and get sunburned. The fruit isn't going to get any larger, so get the pumpkins harvested and store them somewhere shady and dry until it's time to sell.
Areas that have gotten more rains recently are seeing some fruit rot. If you are in a field with phytophthora that has become more pronounced in recent weather conditions, harvesting is especially important—harvesting is a better control strategy than trying to do a phytophthora spray (even if using a top-of-the-line product). If harvesting to combat this disease, start in the driest, cleanest and least impacted areas, then move into the wetter areas. Keep an eye on the pumpkins as you have them stored, you likely harvested some pumpkins in the early stages of infection that will meltdown post-harvest, which will infect adjacent pumpkins.
In sweet corn, hot weather has pushed plantings along, most fields I've seen have brown silks. If you have fields with green silks, note that late season corn earworm pressure is very high, with traps catching 30-50 moths a night. Keep spray schedules tight (two to three days if daytime temperatures are over 80). The incoming weather system from Canada means we will get fewer corn earworm moths entering the area, though the late season flight has been intense this year, so pressure will likely still remain.
Potato harvest is ongoing.
Tomato harvest continues. Weather conditions are very favorable for late blight development. There have been some reports of bacterial diseases. If you are seeing bacterial spot on tomato, especially on fruit, please contact me (schuhmar@msu.edu or 517-264-5309). Mary Hausbeck is studying bacterial spot, and we would like more information on what strains are present in Michigan. Also note that high corn earworm/tomato fruitworm present in our area.
In hoop house tomatoes, tomato leaf mold is making itself known. This disease causes yellow spots on the leaf surface and on the leaf underside you will find discrete circle of olive green spores. Growers I've spoken with noted these symptoms have been spreading rapidly. It can also cause flower abortions, but won't attack any fruit that's already formed.
Tomato leaf mold thrives in hot humid temperatures, and can reduce yield. The control window for this year has passed, but tomato leaf mold infections will leave behind sclerotia (think spores that act more like a weed seeds) that re-inoculate the hoop house next year. We recommend heavily picking remaining breaker tomatoes then removing and destroying infected plants. This will reduce the amount of overwintering sclerotia.
If this is a perennial issue in your hoop house, choosing resistant variety is the best strategy to deal with this disease. Cornell has developed a list of cherry and slicer type tomatoes that have performed well in New York, though we don't know as much about Michigan populations of the disease to know if these varieties will be resistant to whatever strains of tomato leaf mold we have in Michigan. For an overview of tomato leaf mold and the varieties recommended in New York, see "Leaf Mold in High Tunnel Tomatoes."
There are organic preventative products available, which vary in price but have performed similarly in trails in New York. Products trialed include Champ (Copper Hydroxide), Double Nickle (Bacillus amyloliquefaciens), Oxidate (Hydrogen dioxide), Regalia (Reynoutria sachalinensis extract) and Zonix (Rhamnolipid biosurfactant). Note, only certain copper hydroxide formulations are approved for organic use, including Champ WG and Kocide 3000-O. For more information on product trials, see "Managing Leaf Mold in High Tunnel Production."
Tomato leaf mold symptoms on the upper (left) and lower (right) leaf surfaces.
Contact me at any time at 517-264-5309 or schuhmar@msu.edu with pest identification requests and questions. I tweet about what I'm seeing @SoutheastMIVeg.
Note about the Food Safety Modernization Act
Food Safety Modernization Act (FSMA) Produce Safety Rule inspections will begin next year on the largest farms. Just because you are currently having buyer-mandated food safety audits done doesn't guarantee your farm is FSMA-compliant. To see where you stand in terms of FSMA readiness, you can request an On Farm Readiness Review be done on your farm.
This free, voluntary, confidential program brings personnel from MSU Extension (such as myself) and conservation districts to your farm to do a short (about 1.5 hours) walk-through of your farm and its food safety practices. We will walk through a list of targeted questions and you will come away with the top things to focus on before inspections begin.
To request an On Farm Readiness Review or for more information, contact Heather Borden at 517-768-2038 or bordenhe@msu.edu.
Meetings
Are you an organic grower with questions about insects, soil fertility, cover crops or weed control? Attend the Organic Management Field Day Sept. 19 at the Kellogg Biological Station in Hickory Corners, Michigan, which will feature MSU researchers speaking on their latest organic research results.
The Midwest Mechanical Weed Control Field Day is Sept. 26 at the PrairiErth Farm (2073 2000 Ave, Atlanta, IL 61723). See in-row cultivation tools demonstrated on vegetable crops, a trade show and grower experiences with mechanical cultivation. The field day begins at 9:30 a.m. and wraps up around 4 p.m. The event registration is $20, lunch included. Check out the Mechanical Vegetable Cultivation Facebook page for more information.
For those also producing floriculture crops, there will be a Nutritional Monitoring of Floriculture Crops Workshop on Oct. 4 in Lansing.
Save the date! If you missed out last winter on the Produce Safety Alliance Grower Trainings, which need to be taken for Food Safety Modernization Act Produce Safety Rule compliance, there is one scheduled at the Dundee Cabela's on Wednesday, Nov. 7. This training is also a prerequisite for having an On Farm Readiness Review done. Keep your eye on the MSU vegetable email newsletter for registration.
It's time to start thinking about the Great Lakes Fruit and Vegetable EXPO, Dec. 4-6 in Grand Rapids, Michigan. The combination of grower-focused, research-backed presentations and an exhibit hall featuring a diverse set of vendors make it a can't-miss event.