Southeast Michigan vegetable regional report — 2 May 2018
High temperatures and low relative humidity have dried out top soils, but field prep and planting are finally in full swing.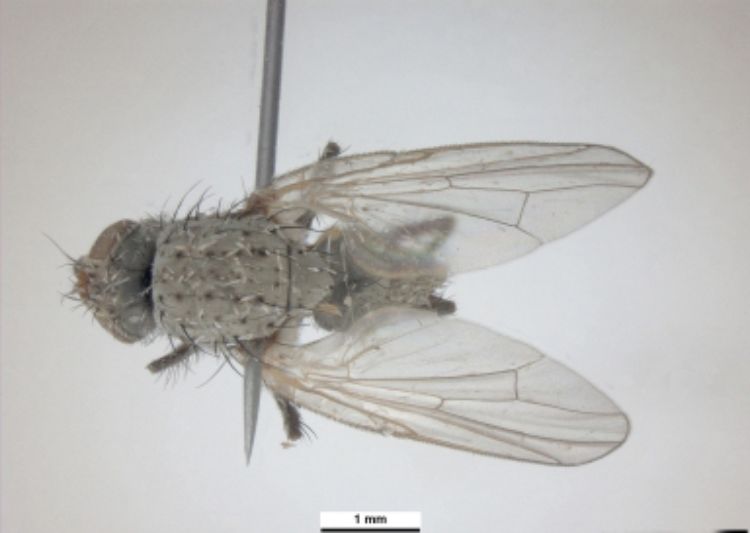 Weather
It feels like we skipped over spring, weather-wise. Temperatures are warm and relative humidity is uncharacteristically low, drying out top soils. Overnight temperatures have also been unseasonably warm. In the next couple of days, we will likely see some severe weather, which will signal slightly cooler temperatures moving in. The wind is still likely to remain strong though, so be mindful as you schedule sprays.
The table below presents rainfall (in inches) for the MSU Enviroweather stations in southeast Michigan, as well as degree days calculated using the Baskerville-Emin Method. Degree day average for Commerce and Hudson are over 5 years, while Deerfield is over 2 years. Soil temperature range in Fahrenheit at 2-inch soil depth, and rainfall is in inches, which parenthesis indicating change since last Wednesday. For a refresher on degree days and how to get this information in your area, see "Accessing growing degree days with Enviro-weather."
Rainfall and Degree Day Totals as of April 25th

Station

Degree Days (Base 42)

Degree Days (Base 50)

5-Year Degree Day Average (Base 50)

Soil Temperature Range

Rainfall since April 1st

Commerce

161

75

108.1

42.2-59.8

2.06(+0.00)

Deerfield

194

88

187.5

39.9-71.3

3.49(+0.35)

Hudson

172

75

125.5

57.3-45.3

3.18(+0.41)
Note for small farms
In my report, I make an effort to report on what I'm seeing on farms of all sizes. If you are a small farm looking for information on what's happening on other small farms across the state, you can subscribe (and even submit) to the Michigan Small Farm Network. To subscribe to this newsletter, which crowdsources reports from small farms across the state, fill out the linked form at the MSU Small Farm Network web page.
Crops
Asparagus has emerged and some light picking is occurring.
Cole crop planting continues. Broccoli, cauliflower, collards, and kale have gone in on black plastic. Cabbage planting carries on. The Enviroweather Cabbage Maggot Model for Deerfield is predicting adult emergence beginning in 128 DD (base 43). This suggests that adult cabbage maggot emergence will likely begin somewhere around 5/8 or 5/9.
Green beans are going in; the earliest plantings are emerging. Note that the Deerfield Enviroweather station model for seedcorn maggot is predicting peak flight emergence and egg laying for May 4. If you are planting over the next couple of days, avoid fields where cover crops have been killed and tilled in the last 2-3 weeks. If planting cannot be avoided, try to plant seeds treated with thiomethoxam.
Onions continue to go in.
Peas have been planted.
Pepper transplants have 3-4 true leaves. To prevent bacterial spot from flaring up, copper and streptomycin can be applied in combination while plants are in the greenhouse. When mixing these products, it is still advisable to use the full label rate of each.
Potato planting is ongoing.
Processing tomato planting will begin in the next week.
Tomato transplants in the greenhouse should continue to be monitored closely for the presence of bacterial diseases. Regular applications copper and streptomycin can be applied in combination while plants are in the greenhouse. When mixing these products, it is still advisable to use the full label rate. For more information on the recognition and treatment of bacterial spot, see Protect greenhouse tomato transplants from bacterial spot.
A cold, wet spring has made transplant management difficult, and with heaters running overtime, extension field staff across the US have seen what we believe is ethylene injury in tomatoes. If you have tomatoes in the greenhouse (either for transplanting or fruit production) and you're seeing curled stems and twisted, distorted leaves, look at their location in the greenhouse. If symptoms are worse near the heating unit, there may be something off with the heater. When heaters aren't combusting fully, a gas (ethylene) is produced and can damage tomatoes. Plants with ethylene injury should begin to grow normally again now that things are warming up and heaters are being turned off for the season. If symptoms persist over the next week in new growth, think of times when herbicide drift or residue may have contacted the plants, and look for evidence of aphids (who spread plant viruses).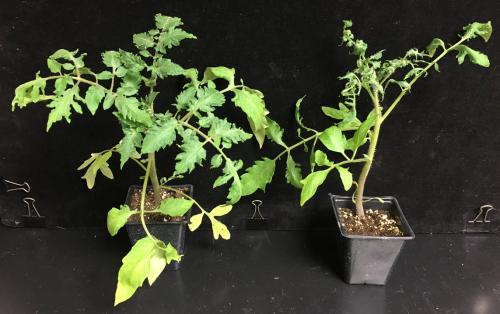 Heated hoophouse tomato fruit is 0.5-3 inches in diameter, unheated hoophouse tomatoes are going in.
Sweet corn planting is ongoing; some plantings are seeing emergence. Note that seedcorn maggot is flying, with Enviroweather models predicting peak emergence and egg-laying on May 4. Use caution when planting sweet corn seeds in fields where cover crops have recently (last 2-3 weeks) been terminated and tilled in, as these fields will be most attractive to egg-laying flies. The faster sweet corn is able to germinate, the less risk there is of damage occurring, so plant into warm (over 70⁰F at 4 inches) and dry soils. With the incoming rain (I've heard up to an inch and a half), cooler soils, and especially if planting into a field with decaying organic matter, planting seeds with a seed treatment is advisable. For sweet corn, thiomethoxam and chlothianidin seed treatments are available and have activity against seedcorn maggot.
Contact me at any time with questions, either at 517-264-5309 or at schuhmar@msu.edu. I tweet about what I'm seeing @SoutheastMIVeg.
Meetings
The 2018 MSU Weed Day is tentatively scheduled for July 27 from 8 a.m. to 3 p.m. on MSU's campus. For more information, see the Weeds Day 2018 webpage.
Have you ever wondered how MSU gets their fruit and vegetable recommendations? Learn more about vegetable research and management June 28 during the Agriculture Innovation Day: Focus on Fruit and Vegetable Technologies. This year's event is being hosted at the Southwest Michigan Research and Extension Center in Benton Harbor, MI. For more details, see "MSU Agriculture Innovation Day: Focus on Fruit and Vegetable Technologies."
It is never too early to make accommodations to attend Great Lakes Fruit and Vegetable EXPO, December 4-6 in Grand Rapids. Hotel blocks are open and tend to go fast. The combination of grower-focused, research-backed presentations and an exhibit hall featuring a diverse set of vendors make it a can't-miss event.