Southwest Michigan fruit update – August 30, 2022
This is the last fruit scouting report of the season. Happy harvests.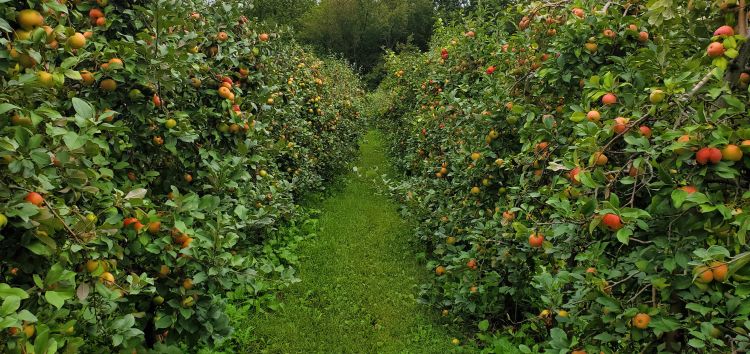 Weather
Last week was a little warmer than the past few weeks. Highs were in the lower 80s to upper 70s most of the week. It got into mid to upper 80s on the weekend. It was a very dry week with the region seeing a half to an inch of rain. All the rain came from a storm front that passed through the area late Monday afternoon and through night. Some areas saw significant winds, with the worst of it reported near the border with Indiana.
This week will be similar to last. Forecast will be in the high 70s and 80s most of the week with Friday being the warmest day. Currently, no rain is in the forecast.
This past week, we picked up a few more degree days than last week, 195 growing degree days (GDD) base 42, 138 GDD base 50.
Southwest Michigan GDD summary from March 1 through August 29, 2022

Station

GDD 42 F

GDD 45 F

GDD 50 F

Benton Harbor (SWMREC)

3509

3077

2399

Lawton (Lawton)


3458

3029

2355

Fennville (TNRC)


3263

2840

2176

Average for the SW region

3428

2999

2328

Average last week

3233

2826

2190
Tree fruit
Harvest of plum, apples, and late season peaches is underway with some interruptions by rain showers. Japanese beetle populations continue to drop. Brown marmorated stink bugs of all life stages are being caught, but the numbers are lower than this time last year. Spotted wing drosophila numbers continue to climb in soft fruit.
Peach and nectarine harvests of Cresthaven, PF28-007, and Gloria are underway. Limb decline due to brown rot moving from fruit to branches is obvious in some orchards. These limb infections often lead to later phomopsis limb infestations next year causing dieback and gumming of branch ends.
In plums, Luisa harvest is underway. Stanley harvest will start in some orchards next week. Spotted wing drosophila can be a problem in plums that are relatively soft (3 pounds pressure or less as measured skin off with a penetrometer equipped with a pear tip).
Bartlett pear harvest is underway in southwest Michigan. Harrow Sweet harvest is about 1 to 2 weeks away.
Apple harvesting in southwest Michigan is focused on McIntosh and Jonathan processing apples for caramel apple production. Gala is the next major variety to be harvested in the area. Fire blight activity following the hailstorm earlier this summer is slowly tapering off. Trap catches for apple maggot have increased over the past several weeks. Codling moth and oriental fruit moth are the primary insect concerns for most orchard. Chemical spray to increase shelf life of harvested fruit are also on growers minds and is summarized in an article by MSU Extension apple specialist Anna Wallis.
Small fruit
Most grape varieties have completed veraison. Most hybrid wine varieties at the Southwest Michigan Research and Extension Center are measuring 15-20 brix. Many vinifera varieties are between 10-15 brix. Picking continues for varieties used in sparkling wine production. Sour rot becomes an issue as brix levels go above 14, especially in tight clustered varieties. When managing this disease, it is important to manage both the disease and the small flies that spread it.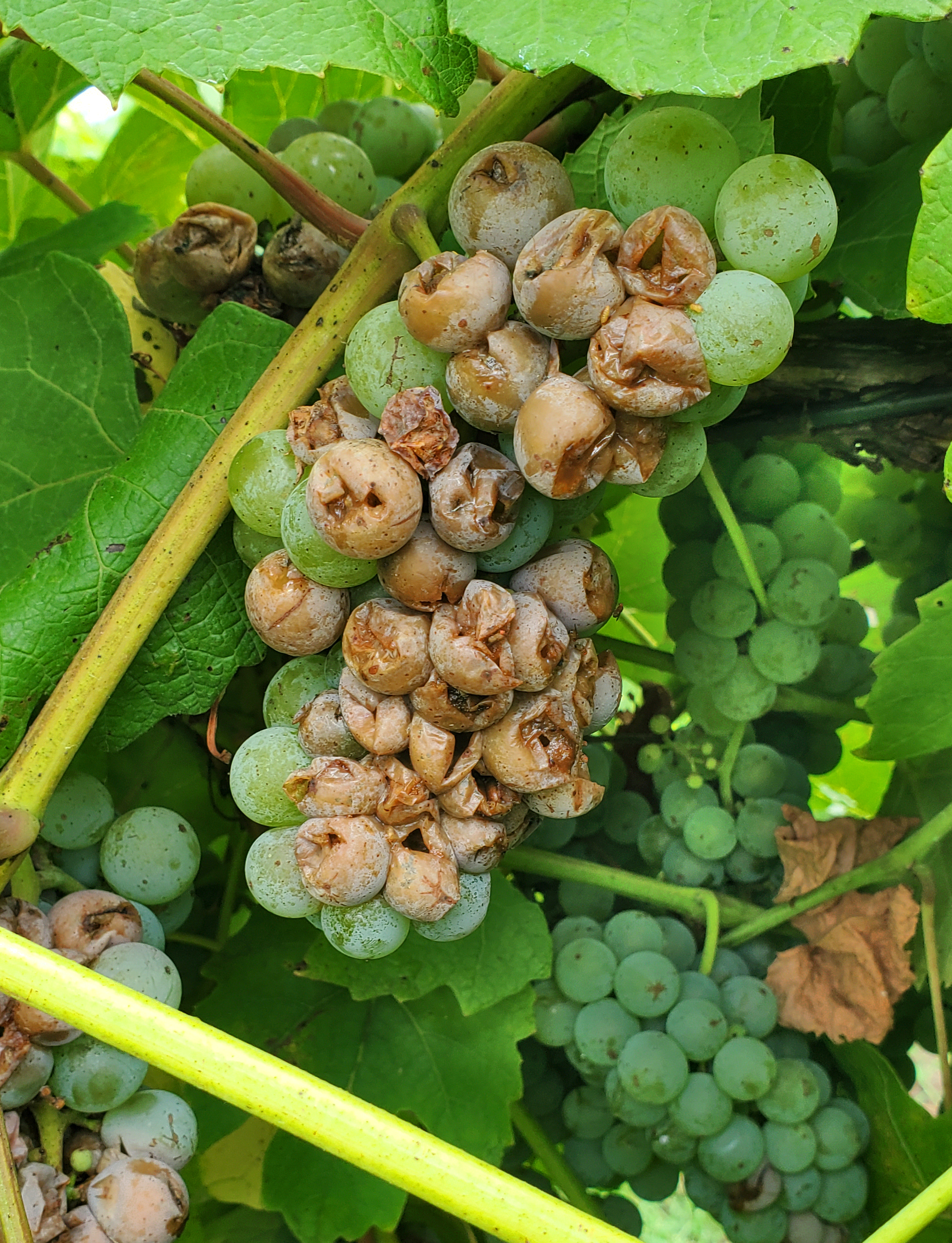 The heavy dews we are experiencing means it is important to maintain protection against downy mildew. Powdery mildew has been troublesome this year at a few sites, likely due to the hot and humid but dry June speeding up development early this year.
We are expecting a fourth generation of grape berry moth this year. Based on the wild grape biofix dates from earlier this year, this last generation should begin early next week for many parts of southwest Michigan. This is the generation that will cause the damage to berries that will lead to cluster diseases as we near harvest.
Spotted lanternflies have recently been found in the southeastern part of Michigan near Pontiac. So far, we have not found any in southwest Michigan. Be on the lookout so everyone can stay ahead of this insect. Read this article about where and how to scout for this insect: "Spotted lanternfly: A colorful cause for concern." Report any finds to Eyes in the Field.
Blueberry harvest is wrapping up. SWD populations continue to increase, both in traps and in fruit.
Bramble harvest continues. The main season varieties of fall bearing and everbearing raspberry and blackberries are beginning to color. Maintain fungicide programs to protect from fruit rots and monitor for spotted wing drosophila so you can stay ahead of the expected population increase coming soon.
Cranberries are continuing to turn color.
Related articles
---
This work is supported by the Crop Protection and Pest Management Program [grant no 2021-70006-35450] from the USDA National Institute of Food and Agriculture.