State Advisory Council helps meet the needs of Michigan communities
Volunteers from across the state act as a bridge between MSU and their communities.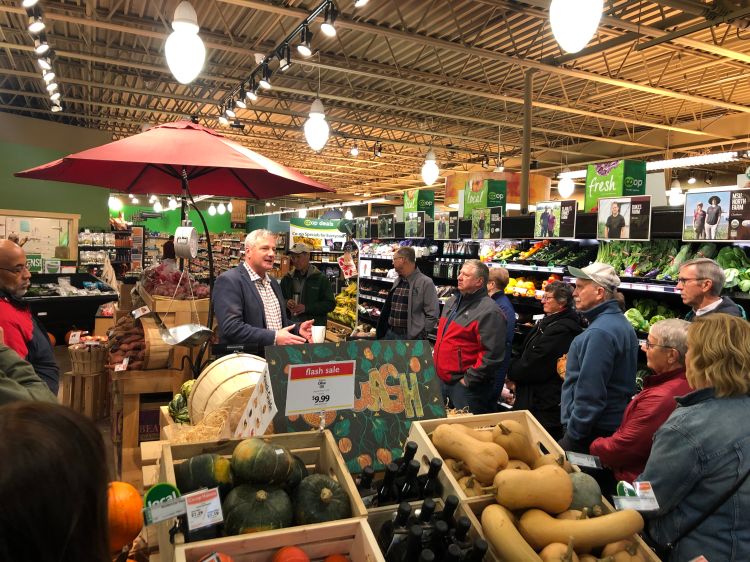 Michigan State University (MSU) has been an instrumental part of cash crop farmer John Mossner's life.
"As a kid, I went through everything Michigan 4-H had to offer me, including Exploration Days on campus," he said. "Because of that, I attended Michigan State for two winter terms in the short course program.
"Then, Michigan State decided to locate the new Saginaw Valley Research and Extension Center (SVREC) a mile from my farm in Frankenmuth. I am fortunate enough to see first-hand its enormous impact on agriculture in the area, my farm included."
Many people across the state have similar stories about the impact MSU has made through its land-grant charge of bringing research and learning into the lives of Michigan residents. But how does a university so large ensure that it is meeting the needs of the people and industries it serves?
MSU AgBioResearch and MSU Extension, the research and outreach arms of the MSU College of Agriculture and Natural Resources (CANR) respectively, created a State Advisory Council to serve as a connection point between communities, policymakers and the university.
"The MSU Extension and MSU AgBioResearch State Advisory Council is an essential part of our team, keeping us connected to our customers and partners throughout the State of Michigan," said Jeff Dwyer, MSU Extension director and CANR senior associate dean of outreach and engagement.
"Their experience in communities, business and agriculture, together with impactful leadership roles in a variety of domains, makes their ideas and advice invaluable as we enhance existing programs and consider new initiatives." Jeff Dwyer
Mossner is one of 20 Michigan residents on the State Advisory Council. He represents the research side of the council and more specifically, SVREC. There are also members who represent MSU Extension districts across the state.
"I used MSU Extension for a really long time and all the Extension services − from teaching materials to gardening and canning information − so I see serving on the council as a way to give back," said Mary Jane Belter, retired teacher and council representative from MSU Extension's District 7 on the west side of the state.
Like Belter, many of the members have stories to share about their connection to MSU Extension and MSU AgBioResearch.
"It is so important to have engaged citizens who are able to talk about why these organizations benefit them and impact their communities," said Dru Montri, CANR director of government and stakeholder relations.
Montri provides leadership to the State Advisory Council and organizes opportunities to learn more about the research and educational programs across the state.
Council members represent diverse interests in research and education. Some represent community partners.
"We support the work of the local MSU Extension office financially and by providing space here on campus," said Christine Hammond, president of Mid Michigan College, a community college located in Harrison and Mt. Pleasant. "MSU Extension collaborates with our community education folks here at Mid Michigan College to provide programming for all ages."
Some members represent industry or commodity groups, such as Mary Kelpinski, CEO of Michigan Pork Producers Association, and pork industry representative on the State Advisory Council.
"We've had a working relationship with MSU Extension and MSU AgBioResearch the entire time I've worked here – over 30 years," Kelpinski said. "The researchers working on swine projects reach out to the pork producers about what research they need to address emerging issues. I think Michigan is truly blessed to have a university that works so closely with commodity groups."
To provide statewide research and education, MSU Extension and MSU AgBioResearch rely on local, state and federal funding. State Advisory Council members share with lawmakers the importance of investing in MSU Extension and MSU AgBioResearch for their communities.
"Back when I was chief deputy director at the Michigan Department of Agriculture and Rural Development (MDARD), I had a conversation with Jeff Dwyer as soon as we started noticing issues with farm stress and farmer suicides," said Gordon Wenk, at-large council member and former MDARD director.
"Jeff took that idea and turned it into outstanding educational programming for farmers, their family members and those who serve farmers. Now that I'm retired and serving on the council, it's one of those things that I talk to my state government officials about to try to get additional funding to expand the programming."
Council members also help lawmakers understand the broad range of programs that are based on the needs of the communities MSU Extension offices and research stations are embedded in. That means that funding is infused directly into Michigan communities.
"MSU Extension provides urban programming and they are in the forefront of community programs like nutrition and cooking, youth development, even Edible Flint," said Omar Sims, representative for MSU Extension District 9 and former Genesee County commissioner. "When the water crisis hit, Extension was in the forefront and stepped up to the plate by providing resources because people already trusted MSU Extension."
Because members of the council represent so many geographical areas, interests and communities, they are able to share feedback from the people MSU is trying to reach.
"I appreciate that MSU has developed this advisory council to be able to listen," said Mossner. "I feel when I go to the meetings, leadership truly listens to what our membership has to say. That is wonderful to be able to communicate and talk about the issues with MSU Extension and AgBioResearch decision makers."
The directors and the dean view member feedback as vital to directing future research and outreach efforts. They host quarterly meetings throughout the year.
"We see increasing value of the advisory council in the coming years," said Doug Buhler, MSU AgBioResearch director and MSU assistant vice president of research and innovation. "Especially as the challenges and opportunities in agriculture and natural resources become more diverse and more complex."
This article was published in Futures, a magazine produced twice per year by Michigan State University AgBioResearch. To view past issues of Futures, visit www.futuresmagazine.msu.edu. For more information, email Holly Whetstone, editor, at whetst11@msu.edu or call 517-355-0123.