Supply-chains, carbon credits, and market outlook headline Michigan Ag Credit conference
Over 80 attendees from Michigan's agricultural banking and credit industry came to East Lansing to attend the event.
The COVID-19 pandemic has created new challenges and uncertainty for both Michigan farmers and their lenders. To help the agriculture industry prepare for an uncertain future, faculty from Michigan State University's Department of Agricultural, Food, and Resource Economics (AFRE) and MSU Extension hosted the 2021 Michigan Ag Credit Conference. The MI Ag Credit Conference invites speakers from AFRE, MSU Extension, the Michigan Farm Bureau and leading experts from outside of Michigan to share their expertise and directly engage with agricultural credit lenders.
This year's conference was held October 26 in East Lansing, MI at the Kellogg Hotel and Conference Center and was attended by over 80 representatives of the agricultural credit and banking industry. Presentations at this year's conference included outlooks on grain, dairy, beef, specialty crops, trade, and policy, as well as the future of carbon credits and opportunities for greater engagement with MSU Extension's Farm Management Team.
For commercial lender, Mark Dingee with County National Bank, this was his 10th year attending the annual conference. Dingee says, "It's good to hear the macro topics on trade and ag and the micro topics too. It's a good opportunity to network with colleagues and professors and it also allows me to bring some value back to my customers and to say here is what the experts think is happening with prices in the industry and that may help them make some decisions on-farm."
Like Dingee, Jennifer Whitford, vice-president of lending for Green Stone Farm Credit Services based out of the Alma, Michigan office, looks forward every year to attending the MI Ag Credit Conference. Whitford says, "The conference gives me an opportunity to learn about a broad variety of industries and what is happening in research. It's just a really good opportunity for me to better help my customers."
For AFRE Assistant Professor and lead conference organizer, Melissa McKendree, experiences like Dingee's and Whitford's get to the heart of the event and the MSU Extension mission to serve stakeholder needs. McKendree says, "After a hiatus in 2020, it was great to be back and to have that opportunity to engage with the attendees. Knowing that the work we are doing brings real value to their businesses and their clients underscores the importance of our extension research program at MSU and in AFRE. Building off the success of this year's event we are looking to extend the reach of the conference in the future and to encourage more stakeholder input to better serve their needs."
Director of MSU Cooperative Extension, Quentin Tyler, added "This conference is an excellent opportunity to strengthen our partnerships and relationships. MSU Extension is all about partnerships, and this is an opportunity to remind folks that we are here and reengage and strengthen those partnerships with our stakeholders."
In addition to the presentations, this year's conference included the newly created Elton R. Smith Poster Competition featuring research posters from AFRE graduate students. The poster competition provided a new opportunity for stakeholders to see the ongoing research projects AFRE and MSU are working on in the state.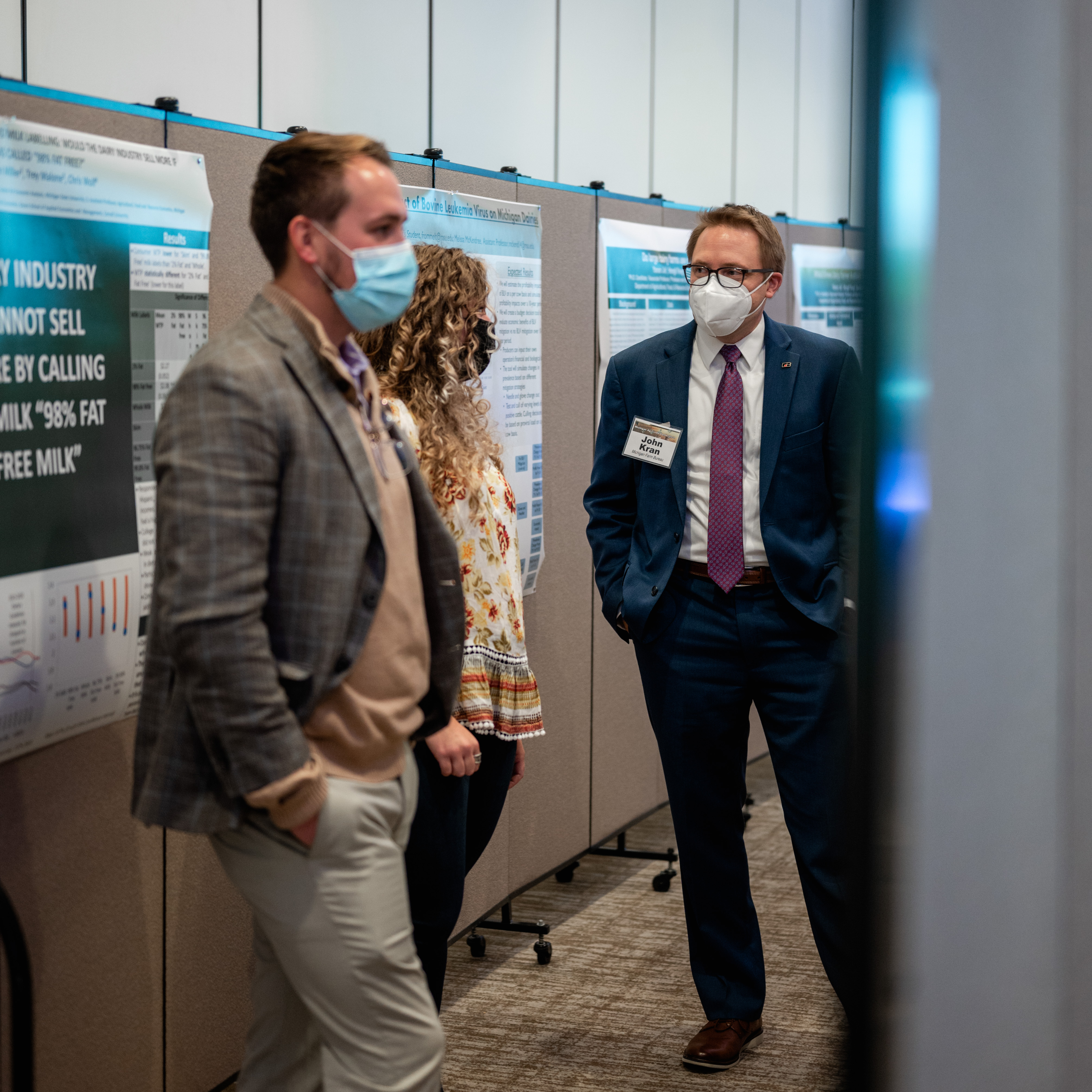 John Kran, National Legislative Counsel for the Michigan Farm Bureau, spoke at the conference on federal policy and helped to judge the poster competition. Kran says, "I was really impressed by the overall quality of the student research projects. It was hard to pick a winner. They covered a broad set of areas, kind of like agriculture here in Michigan, everything from morel mushrooms, to corn, dairy, and antibiotics. We look forward to seeing where these studies go moving forward."
AFRE master's student Oishi Kazi won the award for best poster; Kazi's poster was titled "The Changing Role of Fat Perception in Fluid Milk Labelling: Would the Dairy Industry Sell More if 2% Milk was Called 98% Fat Free?".
If you are interested in attending next year's conference, be sure to follow MSU Extension and MSU AFRE news throughout the year for the latest details.