Team Kicks off Mass Timber Curriculum Development Project at NSF Conference
Faculty members attend the NSF ATE Principal Investigators' Conference October 26-28, 2022 to meet with other grant recipients and their project partners in Washington, DC.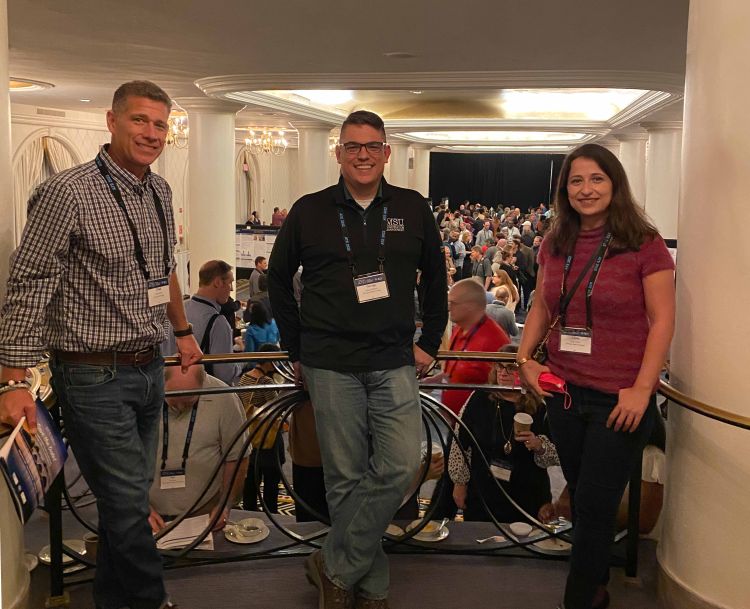 More than 850 National Science Foundation Advanced Technology Education (NSF ATE) grant recipients and their project partners gathered in Washington DC for the NSF ATE Principal Investigators' (PI) Conference from October 26-28, 2022. Drs. George Berghorn and Linda Nubani (Michigan State University - MSU) and Chad Richert (Henry Ford College - HFC) - the research leadership team for Collaborative Research: Enhancing Design and Construction Technology Education Through Context of Mass Timber, recipient of a $648,000 NSF ATE grant - enjoyed talking with other PIs about how these projects can advance technological education. Dr. Nubani provided the following summary of the conference.
Day 1
The team took the early flight on Wednesday morning, grabbed a quick lunch before heading to the first three-hour pre-conference session on how to get started as new grantees. The team heard from members from Mentor-Connect, ATE Central, EvaluATE and the NSF who shared with the audience various resources that grantees could access as they move forward with their projects.
In the evening, the team attended a motivation session over dinner for keynote Scott Barry Kaufman, Cognitive Scientist and Humanistic Psychologist. Dr. Kaufman shared with the attendees tools designed to unlock creativity, innovation and self-actualization and how to build resilience to handle future adversity.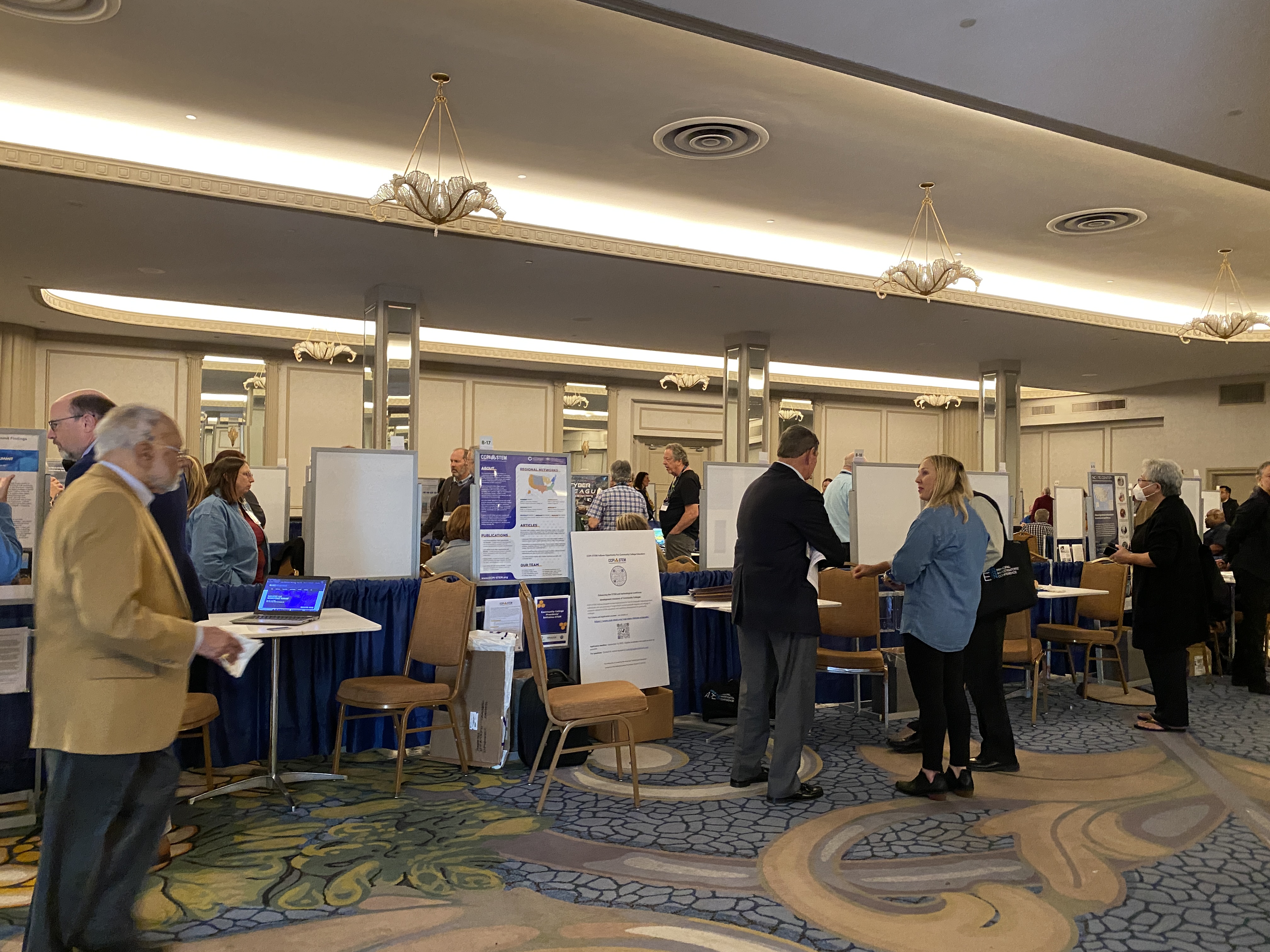 Grant recipients and project partners at the ATE Connect Session.
Day 2
On Thursday, the team attended various sessions and met during the day to debrief and share notes. The morning session featured a panel that shared their Diversity, Equity, Inclusion, and Belonging (DEIB) strategies as a means to broaden participation in STEM fields and to create sustainable curricula that ensure student success.
Of particular interest, the team participated in a virtual reality (VR) experience organized by Purdue University, an ATE grantee. The Purdue team developed the simulation to foster knowledge and expertise in communication skills. In another session, the team experienced how another ATE grantee was using VR in advancing cybersecurity experience. These sections were relevant since VR and augmented reality (AR) technologies will play an important role in the mass timber curriculum developed through the MSU-HFC NSF ATE collaboration.
A session by EvaluATE provided valuable insights into handling data, understanding the type of evaluation surveys NSF used to evaluate ATE projects, and what type of support is available to awardees.
The ATE Connect Session featured an exhibit hall comprising representatives of multiple current ATE project teams and ATE-sponsored programs. The MSU-HFC team had the chance to walk from one table to another and learn from fellow NSF ATE grantees and their partners and exchange contacts for potential collaboration.
Dr. Nubani participating in the virtual reality (VR) experience organized by Purdue University.
Day 3
The highlight of the final day was a keynote speech by Allyson Knox, Senior Director of Education Policy and Programs at Microsoft. Knox emphasized the critical role that community colleges can play in expanding and diversifying a skilled technical workforce and introduced the audience to a student graduate of a similar program who is now in a more senior position at Microsoft.
Before departing the city, the team made quick stops at major landmarks in the Capital. While Dr. Berghorn led a walking tour between the White House and the Lincoln Memorial, the team reflected on key learnings from the conference and discussed the next steps in the three-year mass timber curriculum development process.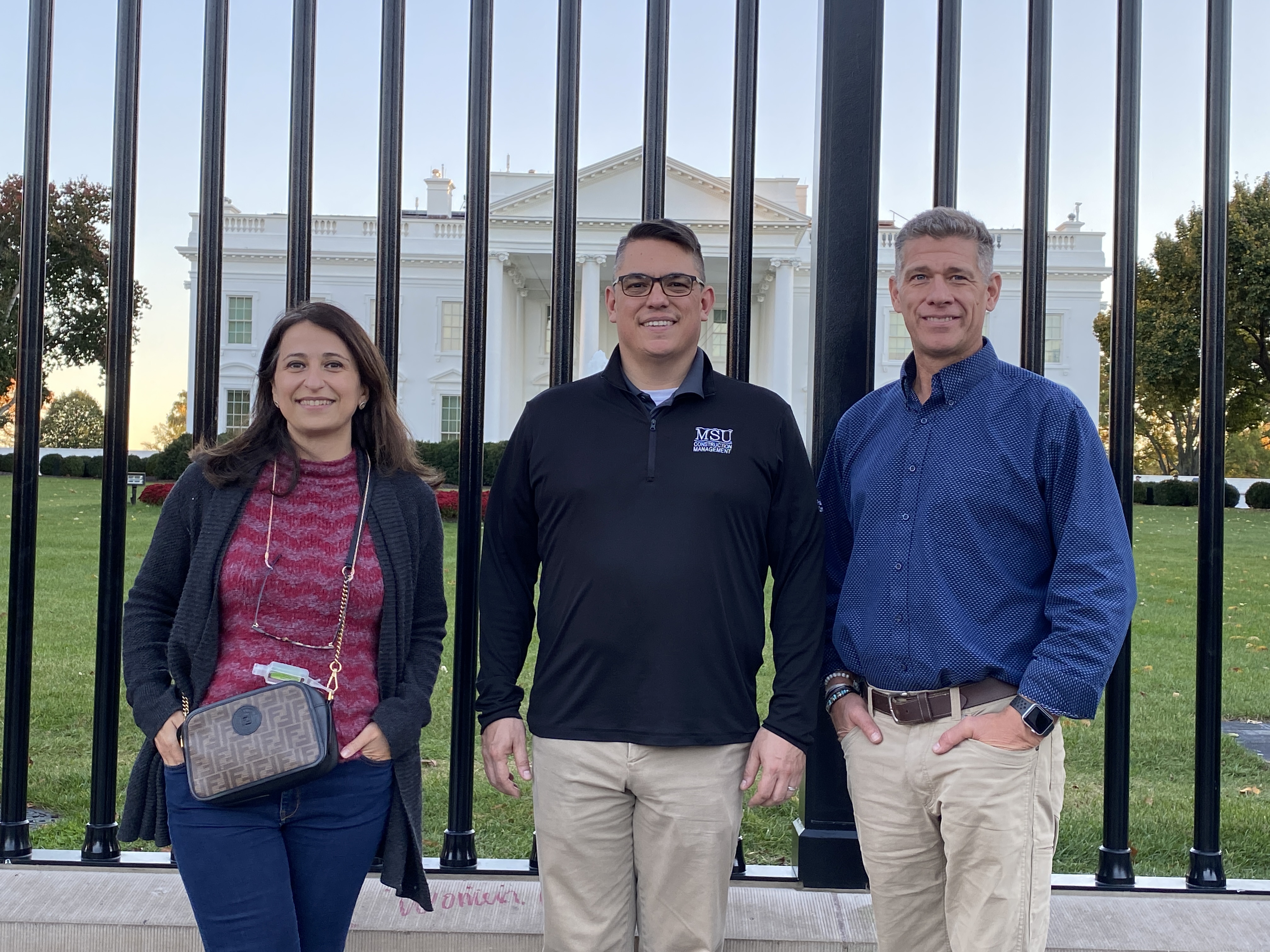 Dr. Linda Nubani, Dr. George Berghorn, and Chad Richert at the White House.
Learn more about the MSU-HFC NSF-ATE project Collaborative Research: Enhancing Design and Construction Technology Education Through Context of Mass Timber.