Thinking about cover crops after corn silage?
New recipes provide an introductory approach to integrating cover crops into a corn silage rotation going to corn or soybean.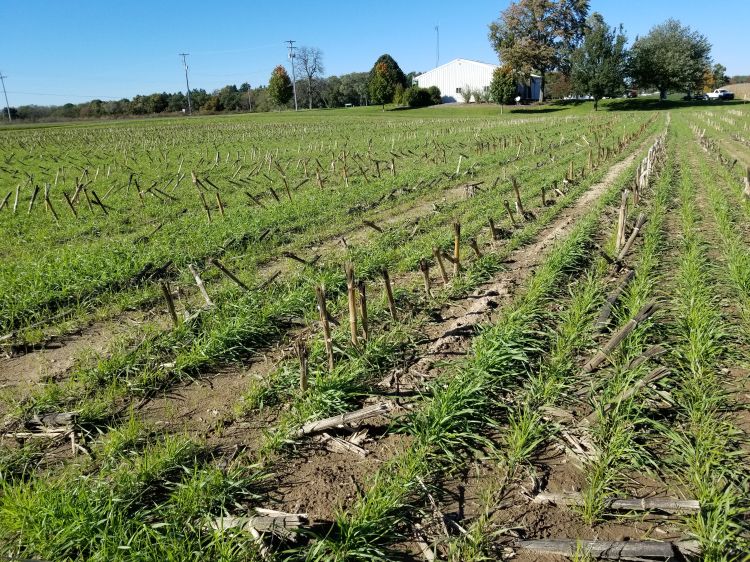 With normal August precipitation and above average temperatures this growing season, farmers are rapidly progressing to corn silage harvest and some have already started. The period after corn silage harvest provides one of the better opportunities to integrate cover crops into your cropping rotation. Now is the time to get started.
To assist growers interested in planting cover crops after corn silage, the Midwest Cover Crops Council in collaboration with Michigan State University Extension have added two new publications to its series of cover crop recipes for new or inexperienced cover crop users: Post Corn Silage Going to Corn: Use Cereal Rye and Post Corn Silage Going to Soybean: Use Cereal Rye. These recipes are intended to provide a relatively simple, low-risk strategy for integrating cover crops into typical cropping systems in Michigan. The recipes include details on the specific cover crops, seeding rates and dates, and termination guidance. The publications should be useful to producers and crop advisors with limited cover crop experience.
| | |
| --- | --- |
| | |
Cover crops can be used to protect soils between silage harvest and the planting of corn or soybeans the following year. In addition, they provide several benefits to soil health by preventing erosion, conserving moisture, adding organic carbon, preventing weeds and reducing compaction. If you apply manure after silage harvest, cover crops can help protect nearby water quality by preventing soil or nutrients from leaving your farm.
Additional cover crop recipes are available for Post Wheat Going to Soybean or Corn, Post Corn Going to Soybean and Post Soybean Going to Corn.
Check out the entire cover crop recipes series.
Cover crop information and resources are available at the websites for MSU Extension Cover Crops and the Midwest Cover Crops Council. For more information, contact Dean Baas or other members of the MSU Extension Cover Crops Team. To view cover crop recipes for other states, visit the Midwest Cover Crop Council's website.
This work is supported by the McKnight Foundation, the Midwest Cover Crops Council (MCCC) and the Crop Protection and Pest Management Program 2017-70006-27175 from the USDA National Institute of Food and Agriculture. Any opinions, findings, conclusions or recommendations expressed in this publication are those of the author(s).