Three AgBioResearch scientists named AAAS fellows
Three AgBioResearch scientists are among six MSU researchers named AAAS fellows by the American Association for the Advancement of Science.
Three AgBioResearch scientists are among six Michigan State University (MSU) researchers named AAAS fellows by the American Association for the Advancement of Science.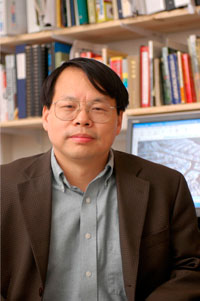 The AgBioResearch scientists are Jianguo "Jack" Liu, professor of fisheries and wildlife; Katherine Osteryoung, professor of plant biology; and Michael Thomashow, university distinguished professor of molecular genetics. Other MSU faculty members honored are Asgi Fazleabas, professor of obstetrics, gynecology and reproductive biology; William Hartmann, professor of physics and astronomy; and Bradley Sherrill, university distinguished professor of physics and astronomy.
In the past two years, 11 MSU faculty members, including five AgBioResearch scientists, have been named AAAS fellows. Because the honors are peer-driven, these prominent awards are worth celebrating, said Ian Gray, MSU vice president for research and graduate studies.
"These scientists have been making significant contributions to their disciplines for some time, so this recognition is well-deserved," Gray said. "Researchers like these, who tirelessly and creatively provide the foundations for great advances in human knowledge, should be celebrated by their peers."
Liu was honored for his pioneering research that integrates ecology, various social sciences and policy to achieve environmental sustainability at local, national and global scales. He holds the Rachel Carson Chair in Sustainability and serves as director of the MSU Center for Systems Integration and Sustainability. He is known around the world for his work on the relationship between human and natural systems and is the principal investigator for the International Network of Research on Coupled Human and Natural Systems (CHANS-Net), funded by the National Science Foundation.
"It is very encouraging to see that the interest in CHANS research has been rapidly growing around the world, and more people are realizing that understanding CHANS complexity lays a foundation for achieving global sustainability," Liu said. "A major purpose of CHANS-Net is to enhance communications and collaborations across the CHANS community worldwide."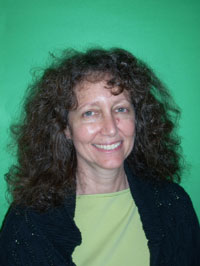 Osteryoung's work focuses on uncovering the network of genes and proteins controlling chloroplast division in plants. By combining the powerful genetic and genomic resources of the model plant Arabidopsis thaliana with the tools of biochemistry and cell biology, Osteryoung and her research group are working to identify the components of the chloroplast division machinery, define their functions within the division complex and discover how chloroplast division is regulated. The long-term goal of Osteryoung's research is to develop a comprehensive model describing the biochemical and molecular processes that govern chloroplast division in plants.
"The division and proliferation of chloroplasts is critical for the life-sustaining process of photosynthesis and is an essential aspect of plant development," Osteryoung said. "I was surprised and honored to be recognized by my colleagues in the AAAS for our work on this complex and fundamentally important problem in plant biology."
Thomashow was selected for his contributions to the field of plant biology, focusing on the identification of stress response pathways involved in freezing and drought tolerance. Stresses, including extremes in temperature and water deficit, are major factors that limit the geographical locations where food and potential bioenergy crops can be grown. Thomashow's overarching research interest is to understand the molecular mechanisms that plants have evolved to tolerate abiotic stresses. His research led to the identification of the CBF response pathway, a stress pathway that is highly conserved in plants and has major roles in freezing and drought tolerance.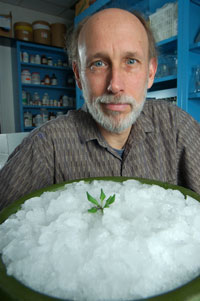 "I have been very fortunate to be a member of the MSU faculty for more than 20 years and to be surrounded by a community of superb interactive scientists," said Thomashow, who is also the director of the MSU-DOE Plant Research Laboratory. "Any success and recognition that my lab has had must be shared with my MSU colleagues."
This year, 503 AAAS members were named fellows on the basis of their scientifically or socially distinguished efforts to advance science or its applications. The new fellows will be honored Feb. 19 during the association's annual meeting in Washington, D.C.
AAAS is the world's largest general scientific society and publisher of the journal Science and other publications. Founded in 1848, AAAS includes some 262 affiliated societies and academies of science serving 10 million individuals. The tradition of naming AAAS Fellows began in 1874.
Photo: MSU AgBioResearch scientists; Jack Liu (top), Katherine Osteryoung, Mike Thomashow

Did you find this article useful?
---