To know a tiger is at least to start tolerating tigers, study shows
Jianguo Liu has published research results about how public perception of protected species like tigers relates to how the public view the worthiness of the conservation effort.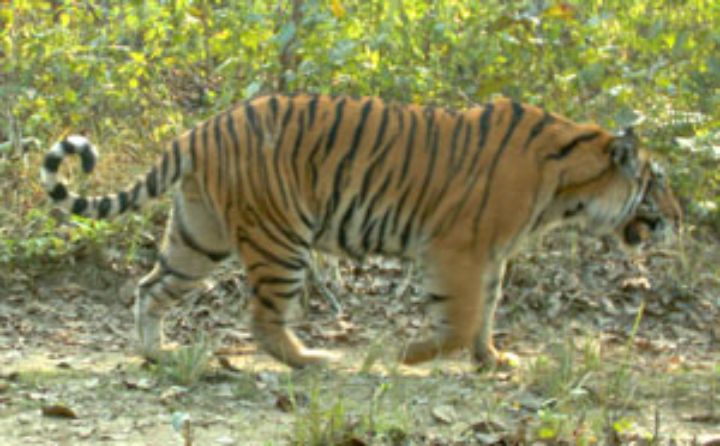 To protect a dangerous and endangered animal, be it a tiger in Nepal or a wolf in Michigan, you really do have to ask people, "How do you feel about your predatory neighbor?"
Effective conservation calls for not only figuring out what protected species need – such as habitat and food sources -- but also understanding what it takes for their human neighbors to tolerate them, according to research by Michigan State University (MSU) doctoral student Neil Carter. Carter, who works with MSU AgBioResearch scientist Jianguo "Jack" Liu, studied tigers in Nepal and found that those feelings can provide critical information on how best to protect species.
The research is unique in that it explores peoples' attitudes about protected animals. Work has been done to understand how people feel about wildlife neighbors such as deer or coyotes. But the relationship with protected animals, especially those that can be dangerous, is more complicated. Issues of fear, risk and control make for a volatile mix, as do the constraints on solutions.
"Wildlife such as tigers and grizzly bears provide many underappreciated benefits to humans," Liu said. "It is essential to find effective ways that sustain wildlife."
Policy and laws aren't enough, Carter said. In Nepal and around the world, people kill protected animals or turn a blind eye to poachers.
Carter, with his collaborators, surveyed 499 people living near Chitwan about how they feel about future tiger population size and factors that may influence preferences, such as past interactions with tigers and beliefs and perceptions about tigers.
"The survey also provided us with a real educational opportunity," Carter said. "People can be shown that tigers regulate the populations of deer and boar, which cause real economic damage to crops. If they don't see the connection, that's a lost opportunity."
A research paper on the results of the study, "Utility of a psychological framework for carnivore conservation," was published recently in Oryx, an international journal of conservation. Co-authors are Shawn Riley, MSU AgBioResearch scientist and associate professor of fisheries and wildlife, and Liu, who holds the Rachel Carson Chair in Sustainability and directs the MSU Center for Systems Integration and Sustainability (CSIS).
The research was funded by the National Science Foundation, the National Aeronautics and Space Administration, and the U.S. Fisheries and Wildlife Rhinoceros and Tigers Conservation Fund. It was part of the Partnership for International Research and Education among MSU, the University of Michigan and seven other institutions in the United States, Nepal and China.
More about this tiger research can be found in the CSIS special report.
Did you find this article useful?
---