Glynn Tonsor spoke at an AFRE seminar last week about livestock producer decision-making and discussed his collaboration with AFRE faculty.
Glynn Tonsor, professor and extension specialist at Kansas State University, spoke on the importance of understanding producer decision-making during his seminar presentation to the department on March 21, 2019. His talk, "Will an Incentive-Compatible Indemnity Policy Please Stand Up?" focused on how livestock producers make decisions regarding investments in biosecurity that may help protect their operation from livestock disease.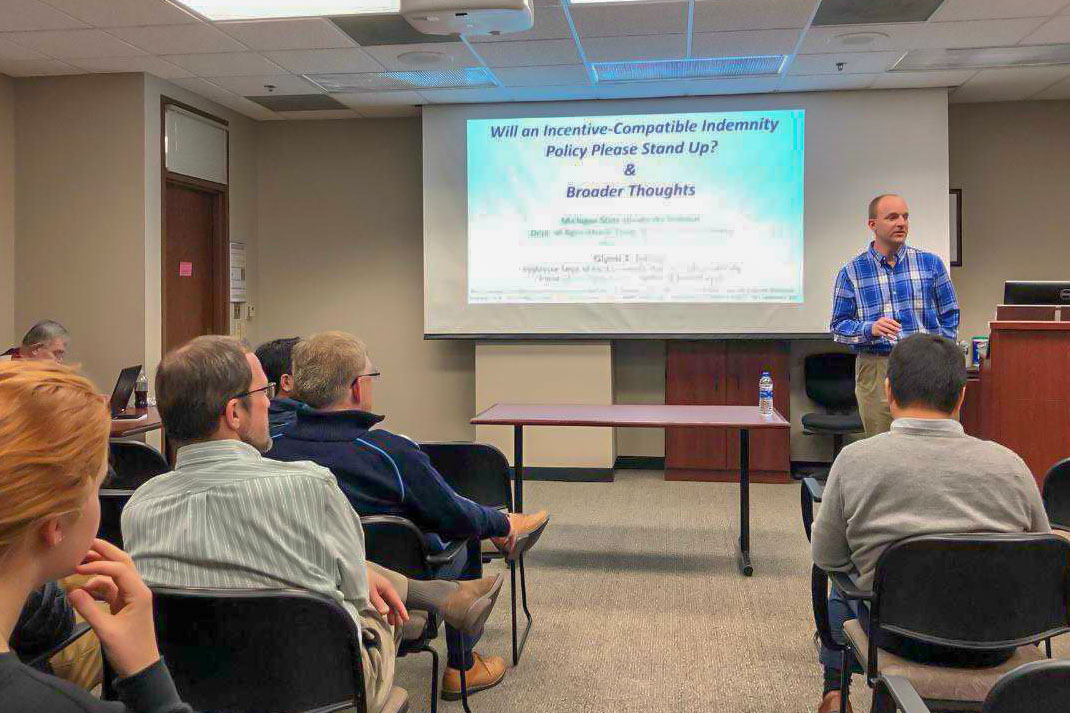 "A big takeaway from this talk is that producers respond to both private-market signals and government policy signals when making these decisions and that adjustments in these incentives may alter proactive effort of producers to mitigate disease risk," said Tonsor. "This ties into my broader effort at conducting applied research and coordinating effective dissemination of core findings to a range of industry, government, and academic stakeholders."
A prominent name in livestock economics, Tonsor started his agricultural economics career at Michigan State University (MSU), and was a faculty member in the Department of Agricultural, Food, and Resource Economics (AFRE) from 2006-2010.
"My time at AFRE provided an excellent launch pad for my career," said Tonsor. "I often note guidance from Steve Hanson as my first Department Chair and diverse interaction with several faculty including Chris Wolf, Roy Black, Bob Myers, and Jim Hilker as key to this. Visiting with several in the department during this seminar trip provided a nice reflection opportunity as well as the ability to push forward ongoing collaboration efforts."
Those ongoing collaboration efforts include multiple projects with AFRE's Chris Wolf, in understanding demand and supply side aspects of ongoing calls for changes in meat, milk, and/or egg production practices, and ongoing collaboration with AFRE faculty member Melissa McKendree, who Tonsor mentored while she was at Kansas State.
"Glynn continues to be a valuable mentor and it was fun having him on campus last week sharing his recent work," said McKendree. "He makes me think about the bigger picture and where my research and extension work fits within the broader agricultural and academic communities."
Tonsor adds, "Chris and Melissa are great examples of my desire to coordinate efforts with others who share a common goal or can make supportive contributions that help me meet my goal of conducting applied research and coordinating effective dissemination of core findings to a range of industry, government, and academic stakeholders."
Continuing in his career, Tonsor hopes to continue to find and work with collaborators, from MSU and beyond, to make significant impacts within the field.
"I encourage everyone to identify what they truly are good at relative to others and focus their energy in effectively employing this comparative advantage," said Tonsor. "If you do that and surround yourself with good people (both personally and professionally), you can meet your goals and contribute more to society than most imagine."
Learn more about Glynn Tonsor and AFRE Seminars.