Two MSU entomologists honored for career achievements
Michigan State University entomologists Ernest "Del" Delfosse and Doug Landis have been named fellows of the Entomological Society of America for their outstanding contributions to entomology and career achievements that inspire other entomologists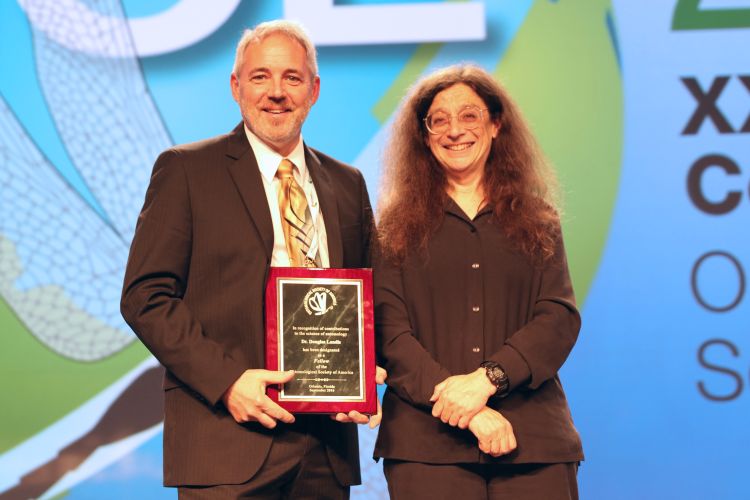 EAST LANSING, Mich. – Michigan State University (MSU) entomologists Ernest "Del" Delfosse and Doug Landis have been named fellows of the Entomological Society of America (ESA) for their outstanding contributions to entomology and career achievements that inspire other entomologists.
They were recognized Sept. 25 in Orlando, Florida, during the International Congress of Entomology Conference, which attracted 6,500 attendees. Up to 10 ESA fellows are named each year. Recipients may be researchers, teachers, or those working in extension/outreach, administration or the military.
"This is a highly unusual achievement for a university to have more than one individual selected as an ESA fellow in a given year," said Bill Ravlin, chairperson of the MSU Department of Entomology. "Both Del and Doug serve as exemplary researchers, teachers and mentors, and are very deserving of this prestigious distinction."
Delfosse and Landis join only two other MSU entomologists to receive the same distinction: Jim Miller in 2015 and Curt Sabrosky in 1941.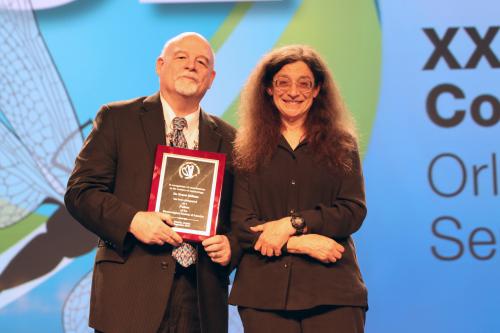 Delfosse, professor and former chairperson of the MSU Department of Entomology, is internationally known for research on biological control, integrated pest management (IPM), risk analysis, science-based biological control regulations and administrative leadership. He has held various administrative positions, including research leader for the Commonwealth Scientific and Industrial Research Organization in Canberra, Australia, director of the National Biological Control Institute in Hyattsville, Maryland, and senior national program leader with the USDA Agricultural Research Service in Beltsville, Maryland.
He has published 114 papers, abstracts and invited book chapters on biological control, IPM, risk analysis and ethics, and edited five books. He received competitive grant funding of nearly $4 million and mentored students in the United States, Australia, South Africa and Europe. He developed the phenology event relatedness testing procedure to clarify physiological versus ecological host range of biological control agents. He has received more than 20 awards for his administrative leadership and research accomplishments, including three citations from the White House.
A former ESA president, Delfosse was also inducted as an honorary member of the ESA in September. This distinction goes to individuals who have at least 20 years of exemplary involvement with ESA. Candidates are selected by a governing board and then voted on by ESA members.
Landis, a professor and former interim chairperson of the MSU Department of Entomology, is internationally known for his research on the role of agricultural landscape structure in shaping patterns of insect biodiversity and in regulating arthropod-mediated ecosystem services. He has served as associate director of the MSU Center for Integrated Plant Systems and has held leadership positions in the Kellogg Biological Station Long-Term Ecological Research project and the Great Lakes Bioenergy Research Center.
Landis and collaborators pioneered the use of landscape structure to explain and predict the impact of shifting land use on ecosystem services, discovering that simplification of agricultural landscapes is associated with decreased pest suppression and increased reliance on insecticidal controls. He has published 135 peer-reviewed papers and 25 book chapters. He has served on the graduate committees of over 100 students. He is also the 2013 recipient of the MSU Beal Distinguished Faculty Award and the Outstanding Alumnus Award from the North Carolina State University College of Agriculture and Life Sciences. He was also awarded the ESA recognition Award in Entomology and multiple educational project awards from the Board Certified Entomologists of Mid-America.