Virtual Learning Takes Shape At Tollgate: Experiential Learning in a Virtual World
Virtual Learning Takes Shape At Tollgate: Experiential Learning in a Virtual World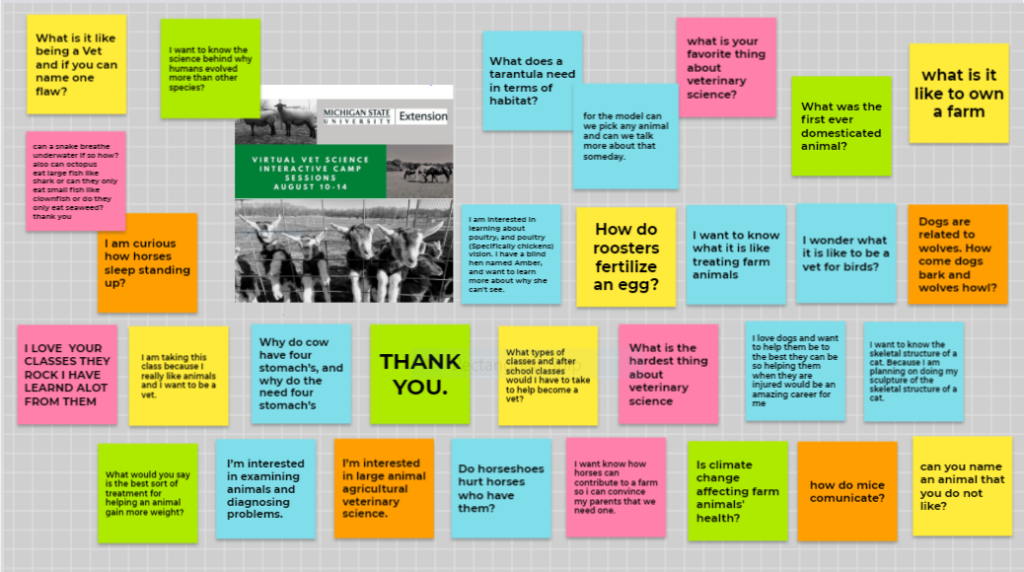 All programs at the farm are rooted in experiential education with the 4-H learning model 'do, reflect, apply' at their core. Learners are not passive recipients of information being provided by a talking head, but rather active participants led by large overarching driving questions that spur investigation and questions of the learners' own imagination. Incorporated are interdisciplinary learning objectives embedded in the paradigm of problem- and project-based challenges and culminating action projects.
Due to COVID-19, this summer our three specialty camps for the slightly older camper took on a new shape. Winged Wonders, Outdoor Adventure, and Vet Science became weeklong interactive learning adventures which included virtual interactive sessions, STEM challenges, recorded and live visits from the farm, virtual visits with animals specialists and experts from other sites, and the use of a variety of interactive virtual tools, all accompanied by a blog filled with background and activities for the camper to explore on their own. 
A collaboration with Kellogg Biological Station and the KBS Bird Sanctuary, MSU Tollgate Farm/KBS Virtual Winged Wonders Camp hosted 49 campers from 8 states and 8 Michigan counties to explore ornithology, birds of prey, backyard birds, biomimicry, and much more. Tollgate's Virtual Outdoor Adventure Camp explored wilderness skills such as shelter-building, fire-building, paddling skills, fishing, knot-tying, and more.
This August, thirty campers ages 10-15 from 5 states and 11 Michigan counties explored the Tollgate barn and pastures virtually as they investigated veterinary science and animal medicine through our Virtual Vet Science Camp. Campers learned about the care of livestock and pets up close and personal, engaged in STEM challenges, and learned about veterinary tools & technology. Daily interactive real time sessions with MSU Tollgate Farm staff, Extension Animal Science educators, and visiting vets and animal care specialists complemented a vast array of interesting and challenging activities on the blog.
The week began by establishing a culture of community with icebreakers and session norms. We explored the overarching theme of veterinary science, animal well-being, and the five freedoms with MSU Extension Educator Melissa Elischer. Tuesday was Horse Day with visits from our horse camp coordinator at her stables and an area horse vet from neighboring farm who showed us how he assesses a horse's health with basic veterinary care. We built models of a stomach as we investigated monogastric, ruminant, and pseudo-ruminant digestive systems.
Wednesday focused on sheep and cattle as Day Camp Coordinator Sara Mund led campers through a design and build cattle chute activity in which campers came up with amazing creative models. Tollgate Farm 4-H club member Susanna Khanuk shared her experiences caring for and showing sheep at the county fair and Nick Babcock, MSU Extension Veterinary Science Educator, visited us from his farm where he raises cattle and sheep to explore parasitology with campers. Thursday, Educational Program Lead Jenny Speyer introduced us to the Tollgate ducks and chickens to explore how they use their external body features to survive and Ms. Ellen helped us investigate embryology as campers engaged in egg dissection.
One aspect of learning about caring for animals is knowing about their various systems. Campers engaged in a Junk Drawer Animal Systems Challenge as they chose one species of animal and one body system to research and represent with a model made of household items. Campers were asked to consider how that one system is nested within the larger system of the body to make up the whole animal and to help develop a learning framework for our challenge. Excitement built throughout the week as campers chose their species and system, and our showcase ensued on Friday with a wide range of systems including the avian respiratory system and the skeletal system of a tarantula and a snake along with systems of cats, ferrets, horses, chickens, and goats. Rounding out the week was a visit with our Toggenberg goats and an exploration of basic genetics with Tollgate Farm staff Sam Stokes.  
Throughout the week, campers eagerly chatted and shared their observations and wonderings which made for an exciting week of learning. They shared about their own livestock and/or pets with the group and participated in our challenges, eour virtual learning tools, and our discussions with gusto. The Virtual Vet Science Series will be available this fall for schools and families learning at home. Additional series available later this fall include Plants and Pollination, The Nutrient Cycle, The Secret Life of Trees, and Harvest Farm Ecology.  For more information or to register, contact Ellen Koehler.