Water levels and surface temperatures up for Lakes Michigan/Huron in 2016
One of the strongest El Nino events on record is now over and Michigan-Huron lake levels are already higher than anytime in 2015.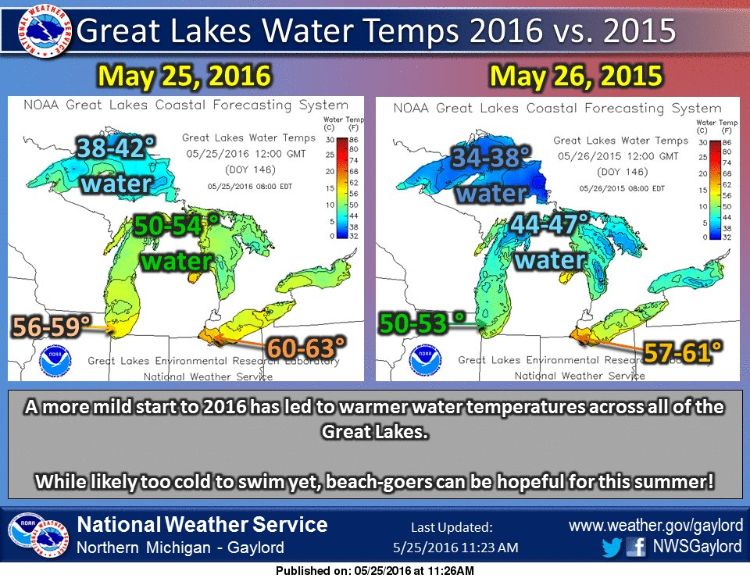 As we head into summer 2016, visitors to the beaches and boat launch ramps will notice both higher lake levels and earlier seasonal warming of the Great Lakes than in the past several years. In fact, the NOAA Great Lakes Environmental Research Laboratory's online Great Lakes Water Level Dashboard shows that Lakes Michigan and Huron are the highest they have been since August 1998, some 18 years! And beach-goers may well notice loss of some beach area due to the corresponding levels.
Many might remember back just a few years to the fall/winter of 2012/2013. Lake Michigan/Huron actually reached the record low level ever recorded in January 2013 in close to 100 years of accurate measurements. NOAA has recently released an info-graphic documenting the record-setting water level rise where Lakes Michigan/Huron had their greatest two-year increase in recorded history.
Where do we get information about water levels and water level forecasts, and what can we expect this year as we look forward to summer? Probably the best information on water levels is the Monthly Bulletin of Great Lakes Water Levels, produced by the U.S. Army Corps of Engineers. The bulletin is available online and provides current information on Great Lakes hydrology and projections that extend six months into the future. Another very interesting page shows weekly projections in tabular form or in graphic form. Most probably, Lakes Michigan/Huron will continue to rise another 2-4 inches to their seasonal peak, typically in July, and then follow the seasonal decline into winter.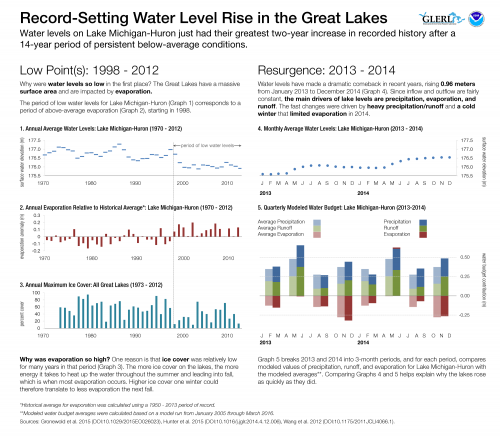 What about the water temperatures? Again, they are well ahead of 2015 and well ahead of long-term average for Lake Michigan. The Gaylord National Weather Service just published a graphic showing water temperatures beginning to rise fairly quickly. NOAA also has some surface water temperature graphs here. The Great Lakes are wonderful, dynamic, living ecosystems; get out and see the coast in 2016.
Michigan Sea Grant, partnered with MSU Extension, helps to foster economic growth and protect Michigan's coastal, Great Lakes resources through education, research and outreach. A collaborative effort of the University of Michigan and Michigan State University, Michigan Sea Grant is part of the NOAA-National Sea Grant network of 33 university-based programs.