West central Michigan tree fruit update – July 20, 2023
Sweet cherry harvest is finishing up, and tart cherry harvest continues. Spotted wing Drosophila populations are being monitored throughout the region. Trap counts remain low for this critical cherry pest.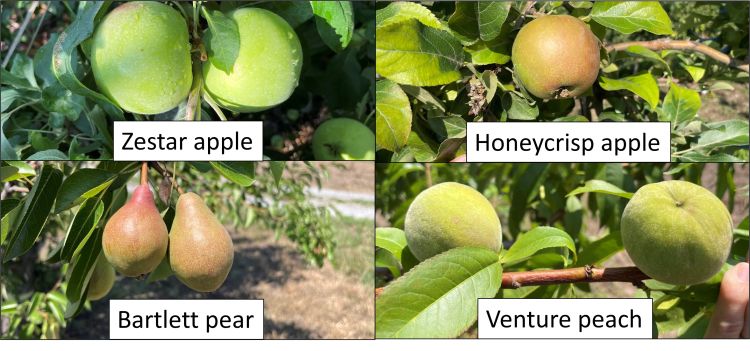 Weather update
The past few weeks have been warm with high temperatures in the upper 70s and 80s F according to the Hart Enviroweather station. Rain has brought some relief to the region with multiple rain events over the past 2 weeks. This week, temperatures have been slightly cooler with highs in the mid 70s F and low 80s F. Based on the Hart weather station for July 19, current DD accumulation is 1881 DD42 and 1189 DD50. Fruitlets continue to grow rapidly across West Central Michigan.
Table 1. Current and 5-year average degree days for base 42 degrees Fahrenheit and base 50 F for weather stations in West Central, MI from Mar 1 to July 19. Numerical integration was used for degree day calculations.

Station

2023 DD Base 42 F

5-yr Avg DD Base 42 F

2023 DD Base 50 F

5-yr Avg DD Base 50 F

Benona / Shelby

1820

1814

1129

1138

Elbridge / Hart

1887

1917

1203

1229

Fremont

2021

2036

1312

1325

Grant

1989

2029

1283

1315

Hart

1881

1897

1189

1208

Ludington

1787

1823

1113

1147

Mears

1845

1906

1158

1207

New Era

1940

1917

1234

1211
Weather data was gathered from Enviroweather https://enviroweather.msu.edu/
According to the Hart weather station, 1.19 inches of rain has fallen from July 1 to 19. Chances of rain are predicted over the next few days. The rain has improved size and fruit quality overall. Growers should continue to irrigate to maintain adequate soil moisture for water and nutrient uptake as needed, particularly for young trees. The 8-to-14-day outlook is expected to be near normal for temperature and rainfall.
Table 2. Rainfall totals from the rain events in July to date, total seasonal rainfall from April 1 to July 19, and 5-year-average rainfall for Enviroweather stations in West Central, MI.

Station

July 1-19 Rainfall (in)

Total rainfall (in)

5-year Average (in)

Benona / Shelby

1.46

7.02

9.58

Elbridge / Hart

1.68

8.70

10.8

Fremont

1.96

7.51

9.84

Grant

2.02

6.97

10.8

Hart

1.19

6.63

9.66

Ludington

1.39

5.53

9.28

Mears

1.37

7.20

9.68

New Era

1.95

8.89

9.84
More information and reports on normal weather conditions and departures from normal can be found on the NOAA Climate Prediction Center website, NOAA U.S. Climate Normals website, NOAA Climate Normals Quick Access Page (which may be searched by region) and Midwest Regional Climate Center website.
Watch the full weather outlook from MSU meteorologist Jeff Andresen.
Crop update
Apple varieties in Oceana County are sizing well. Average fruitlet size for Zestar was 66 millimeters. Empire average fruitlet size was 47 millimeters, and Honeycrisp average fruitlet size was 55 millimeters. Gala fruitlet size was 45 millimeters.
Tart cherry harvest began on July 5 for some growers in the region and is continuing for many growers. Sweet cherry harvest is wrapping up for later varieties. Spotted wing Drosophila trap counts are low throughout the region. It is possible that the rains will enhance populations and SWD activity over the next few weeks. To manage SWD closer to harvest, Exirel and Mustang Maxx are effective and have short pre-harvest intervals. No evidence of SWD resistance to pesticides has been found, but it is important to rotate chemistries to manage resistance. To learn more information about SWD management in cherries, read this MSU Extension article.
Peach fruitlet size for the variety, Venture, averaged 47 millimeters in size at the West Central Michigan Research and Extension Center (WCMREC). Nitrogen deficiency was observed in peaches in southwest and west central Michigan. Rain has helped alleviate N deficiency.
Pear fruitlet size averaged 40 millimeters for Bartlett pear at the WCMREC in Hart. Gem fruitlet size averaged 50 millimeters, and Cold snap fruitlet size averaged 47 millimeters at one location in Oceana County.
Pest and disease update
Pest cycles have generally been delayed this season due to hot dry weather. Recent rains may bring out more pests in the next few weeks. Woolly apple aphids, green peach aphids, and green apple aphids have been observed across the region. If aphids are above economic thresholds, treatment is needed.
Summer pests
Codling moth counts were 2.3 moths per trap on July 10 and 0.7 moths per trap on July 17. This is likely still first generation flight of codling moth. It may be a second group of first generation moths which were delayed by hot dry weather over the past few weeks. If moths are above economic thresholds, consider treating if mating disruption has not been used. The first generation biofix date for Oceana County was set for June 5 according to trap counts. According to Enviroweather for Hart, second generation adult emergence was predicted on June 11, and the start of egg laying was predicted for Sunday, June 16.
Dogwood borer was observed this week with an average of 25 borers per trap on July 10 and 32 borers per trap on July 17.
Obliquebanded leafroller was trapped at 6.7 adults per trap on July 10 and 4.7 adults per trap on July 17 at two Oceana County locations. With sustained catch at the WCMREC, a biofix date has been set for June 26. According to Enviroweather for Hart, peak egg hatch occurred on July 10.
Oriental fruit moth was trapped at 8 moths per trap on July 10 and 10.3 moths per trap on July 17 in Oceana County. According to the Enviroweather model for Hart, peak egg laying for second generation oriental fruit moth occurred on July 4.
Disease update
Apple scab. During the rain event on July 12, 0 spores per rod were counted in Oceana County, but after the rain event on July 15 and 16, 3 spores per rod were counted. Moderate infection risk was predicted for the July 12 rain event, and for the July 15 and 16 rain events, infection risk was none or light because the number of wetter hours was too short. Spore maturity is at 100%, and we are waiting for more rain and the final release of spores this season. I will continue trapping spores until there are two rain events with zero spores. Until then, we are still in primary scab.
Cherry leaf spot risk has been low this season, and there was a moderate infection period reported on July 12. Light infection periods were reported on July 15 and July 16 according to the Enviroweather model for Hart. No cherry leaf spot infected leaves have been reported yet. Yellow leaves with necrotic spots have been observed in some tart cherry blocks, but this is likely due to abiotic stress and extended drought conditions.
For pest and disease management recommendations, please refer to Fruit Management Guide (E-154) for product guidelines.
For more information about regional reports, please visit the Michigan State University Extension website.