West central Michigan vegetable update – May 1, 2019
Rain, rain go away! With lots of field delays this week, consider using free videos to train your workers.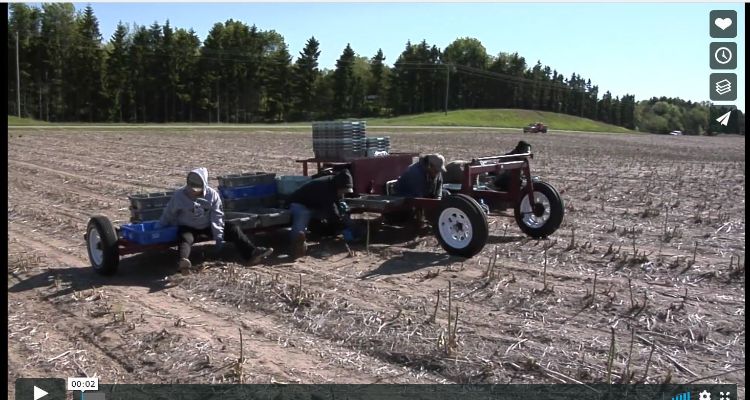 Weather
For the past week, temperatures were 3-5 degrees Fahrenheit below-normal. Soil temperatures at 4-inch depth are generally in the 40s as a result. Rainfall totals varied but many areas had 2 inches. Some locations in southwest Michigan received 2 inches of rainfall again last night.
For the next week, we will see persistence of an active weather pattern. An area of low pressure is moving through, which is bringing today's rain; temperatures will remain in the upper 40s to 50s today. This afternoon, the low pressure system should move on and bring an end to today's precipitation. Late Thursday, another weather system will move in from the southwest, bringing a chance of rainfall tomorrow evening, with chances highest in southeastern Michigan and decreasing to the northwest. Friday through Sunday are looking dry for most of the state with high pressure. Following Friday, the next chance for precipitation will be very late Sunday through Monday with another chance late Monday into Tuesday. Late Wednesday or Thursday will bring the next best chance for significant rainfall.
In the medium term, outlooks call for below-normal temps (40-60% chance) and above-normal precipitation (33-50% chance) for next Monday, May 6, through Friday, May 10. The outlook for May 8-14 calls for below-normal temperatures (50-60% chance) and above-normal precipitation (33-50% chance).
The monthly outlook for May calls for west Michigan to be in a transition zone, with below-normal temps expected to our northwest and above-normal temps to the southeast. Precipitation is predicted to be above-normal (33-40% chance).
Michigan State University's agricultural meteorologist Jeff Andresen stated he could not rule out the chance of another freeze event, but felt the probability of this is low.
Crops
Asparagus harvest had a brief start last week in southwest Michigan, but has not started in Oceana and Mason counties to date. As you train your harvest crews, consider using Michigan Farm Bureau's English or Spanish language harvest training videos. These are viewable online and can also be downloaded for offline viewing.
Cole crop pest activity could begin soon as cabbage maggot emergence is predicted to begin over the next week based on degree days at the Hudsonville Enviroweather station. Verimark tray-drenches (no sooner than three days before planting) or transplant-water treatments have proven to be effective for cabbage maggot control in cabbage, and offer an alternative to chlorpyrifos. Consider trying this on a small area while chlorpyrifos is still available.
Need to train your workers this week during the rainy weather?
Worker Protection Standard training videos are available and downloadable online. There is one video for workers and another for those who handle pesticides. Someone qualified as a trainer needs to be present; if you hold your pesticide applicator license, you are a qualified trainer. Keep a record of the training on file. Posters for the central posting site are also available for download.