Who is talking climate and hydrofluorocarbons?
Annual BBC reports summarize climate change and international actions to reducing a leading greenhouse gas.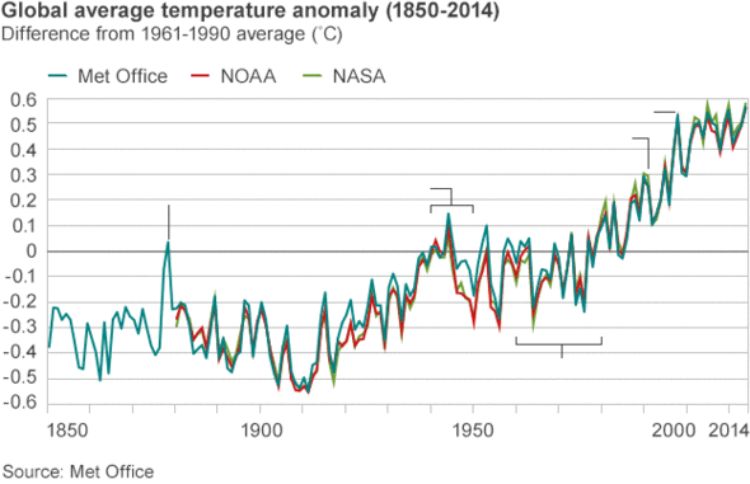 In the last few weeks of 2014, the British Broadcasting Corporation (BBC) published several articles about climate change and the steps being taken to raise awareness and mitigate it.
Most recently, a report published on the BBC stated:
This year is in the running to be hottest globally… since records began, early estimates show.
In the first 10 months of 2014, global average air temperature was about .57 Celsius (33 Fahrenheit) above the long-term average.
If this year's current global trend continues for the next two months (December 2014 & January 2015), the previous years of 1998, 2005 and 2010 will be overtaken by a narrow margin.
In late 2014, India, China and other developing countries agreed to talks around eliminating hydrofluorocarbons, or HFCs- a major greenhouse gas responsible for contributing to global warming. HFCs came into common use shortly before the early 90s after chlorofluorocarbons (CFCs) were eliminated due to their direct link to enlarging the ozone layer. While the depleted ozone layer, a major global issue of the latter half of the 20th century, has been restored, HFCs, even though were designed to replace CFCs, are gases now said to "trap up to a thousand times more heat than carbon dioxide when released into the atmosphere", according to ThinkProgress.org.
While strategies for mitigating and adapting to climate change remain unclear for most of the world as to who will do what and by when, one certain thing is changes in the climate are happening. Challenges rest between both developed and developing countries as to who should reduce their carbon offsets first and who is financially responsible for the current and future problems linked to climate change.
Michigan State University Extension and MSU Campus Faculty have created the Climate Variability Action Team to address some of the challenges Michigan currently faces and will need to address in the near future. For more information, please visit the MSU Extension website.