Winter beef cow diets with low quality forages
Supplementation may be necessary to achieve desired calf development and subsequent lactation.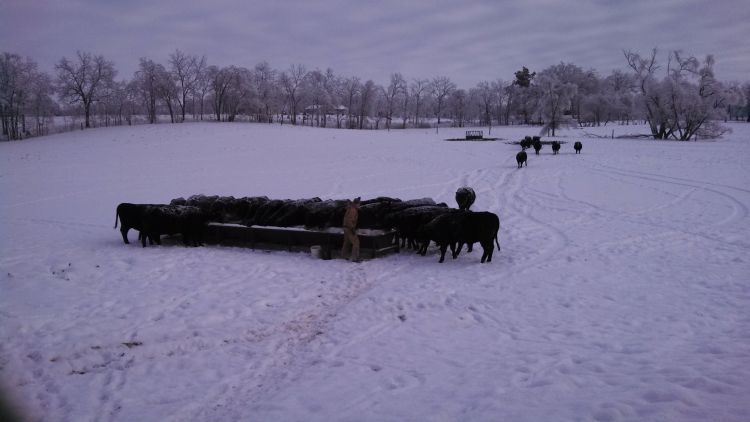 Michigan producers were blessed last summer with excellent moisture conditions across the state for the majority of the forage growing areas. In some areas, putting up dry first and second cutting was challenging and we have a significant amount of over mature hay and some that was rinsed off by frequent rains. In those cases, knowing the forage quality and feed value is critical. Accurate ration work is only possible with accurate information. The only way to know the feed value is to have it tested, for more information on forage testing, see the article written by Michigan State Univeristy Extension educator Phil Kaatz.
For cow-calf producers looking at ample supplies of low quality feed this winter, supplementation may be necessary to achieve desired calf development and subsequent lactation. Rick Funston, reproductive physiologist with the University of Nebraska discusses the importance of fetal programming in the short video posted below, also for quick reference, you can view beef cow nutrient requirements during the four stages of production at the following links:
When feed analysis and rations call for supplementation, the work then begins. Supplements need to be delivered timely and in a way that allows all cows to access the appropriate quantity. For this reason, producers may need to invest in some portable bunk systems or develop a fence-line feeding option for supplementation. Options may include energy or protein sources available in your area and should be fed at least every 48 hours to insure proper rumen function. If protein is limiting, supplementing will increase the digestibility of lower quality forages and help maintain or improve body condition.
Cost is always a concern but in the marketplace today, we have some of the lowest energy and protein prices since 2008. Cattle price had dropped off significantly since the highs of 2014 but economical feed resource and balanced rations should be evaluated annually to achieve production goals and manage the bottom line.
For more information on developing beef cow ration with changing feed resources, contact your local Michigan State Extension Beef educator or visit the MSU Extension beef website.