Ebenezer Offei Ansah PhD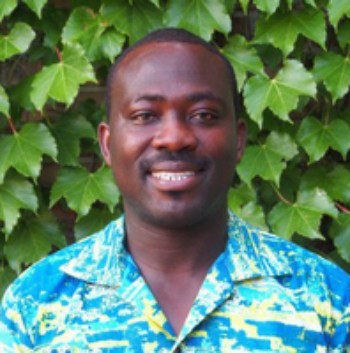 CSUS - Agricultural and International Development
Hometown: Ahwerase-Akuapem, Ghana
Advisor: Michael Kaplowitz
Before enrolling in the PhD program in Community Sustainability, Eben graduated with an MS Degree in the same program through the MasterCard Foundation Scholars Program. He focused his Master's Degree on the economics and sociology of food and agriculture. His thesis research empirically examined farmer participation in and stakeholder assessment of cocoa certification programs in Ghana, specifically on topics relating to the validity of compliance verifications. The research also examined factors that encourage or limit farmer participation in cocoa certification programs.
Eben is generally interested in agricultural problems that transcend geographical and cultural boundaries and so warrant the attention and intervention of agents that are external to any particular setting. This interest is mainly informed by his personal, academic, and professional experiences with rural livelihoods, which are usually agriculture-based/related and are confronted by issues of global interest. Eben's PhD (focused on agricultural and international development) is designed to improve his knowledge of existing theories and concepts regarding the individuals/firms/entities, places, and institutions within the food and agricultural system of the world. His potential dissertation research would examine issues fueling debates on agricultural input subsidy programs in Sub-Saharan Africa with a comparative study of input subsidy programs in cash and staple crop production systems.
Eben finds joy in any opportunity to participate in making the everyday life for the average person in society better of. He most importantly appreciates the ability to identify his contributions to societal problems and how to eliminate or alleviate them. His ultimate goal is to get better at personalizing societal problems and be able to encourage others to do same or at least appreciate why its important to do so.