Orion Ulrey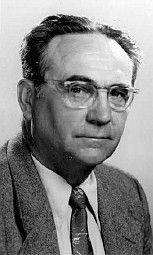 Department of Agricultural, Food, and Resource Economics
Professor Emeritus
AEC/AFRE Faculty, 1928-1972

Deceased
Degree:
Ph.D., 1934. Cornell University
B.S., 1923. University of Illinois
---
Bio-Info
Professor Emeritus Orion Ulrey was born on a farm near Martinsville, Illinois.
In 1967, he was Associate Professor in Agricultural Economics in the Department. His assignment was in the research and teaching areas primarily, in areas of cooperatives—the group approach, and rural development. Major interests included: prices received and paid by farmers; cooperatives; the group approach; rural development; and adult education.
Proffessor Ulrey was on leave as a Social Scientist with BAE, USDA, Washington, D.C., 1945-46; He was awarded Fulbright Professor of Agricultural Economics, University of Peshawar, W. Pakistan, 1954-55; He was also an Agricultural advisor with University of Missouri, United States - AID (Agency for International Development) team at Ranchi Agricultural College in Bihar State, India, 1958-62. He was invited by the Government of Mauritius to participate in celebrations of the "Fiftieth Anniversary of Cooperatives on the Island" in 1963.
Professor Ulrey initiated the M.S.U. Employees' Credit Union in 1937, and served as its president for the first 8 years. Students of Ulrey's with his assistance started the Farm House Fraternity at the College in 1932; and the Mens Cooperative Houses at the College beginning in 1938.
Honors: Alpha Zeta and Sigma Xi honor fraternities.
Students
Students Mentored
Pubs Online
Notable Docs/Pres
MSU Credit Union Video About Professor Ulrey's Contribution to Establishing the MSU Credit Union
List of Written Reports Notes, Comments and Talks. 1958. by Orion Ulrey, TCM, University of Missouri, Agricultural College Ranchi, Ranke, Bihar, India.
Report on Two Years in Bihar and India. 1958. by Orion Ulrey, Michigan State University
Foreign Educational and Professional Experiences of Members of the Department of Agricultural Economics at Michigan State University before and After Joining MSU. 1966. by Orion Ulrey
Preliminary Paper on the Cooperative Project of the Pakistan Academy for Rural Development, Comilla, East Pakistan. 1963. by Orion Ulrey and Edgar Schular.
Historical MSU Extension Bulletins by Orion Ulrey (click for a list of downloadable documents)