Jinhua Zhao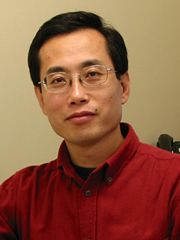 Department of Agricultural, Food, and Resource Economics
Professor
Telephone: 517-353-9935

Room 205A Old Botany
East Lansing MI 48824 USA
Area of Expertise:
Environmental & Resource Economics
---
Degree:
Ph.D, University of California at Berkeley
MSc. University of Guelph
B. Eng., University of Science and Technology Beijing
---
Publications on Google Scholar
Professor Jinhua Zhao held joint tenure system appointments in the Department of Economics and the Department of Agricultural, Food, and Resource Economics. He was a member of the AFRE faculty from 2008 to 2021. He also served as Director of the Environmental Science and Policy Program at Michigan State University. He is a member of the Environmental Economics Advisory Committee of the US EPA's Science Advisory Board. He was a co-editor of the Journal of Environmental Economics and Management and served on the editorial councils of JEEM the Review of Development Economics, and is on the editorial committees of Annual Review of Resource Economics and Frontier of Economics in China.
Professor Zhao conducts research in the broad area of environmental and resource economics, with special interests in global climate change, energy economics, technology adoption, dynamic decision making under uncertainty, and applied microeconomics in general. He has conducted research on climate change adaptation, international climate negotiations, emissions trading, soil carbon sequestration, renewable energies, and the long-run relationship between international trade and the environment. His publications have appeared in, among others, International Economic Review, Journal of Economic Theory, Journal of Public Economics, JEEM and American Journal of Agricultural Economics. His research projects have been funded by NSF, USDA and US EPA.
Research and Outreach Interests
The economics of global climate change
International environmental agreements
Biofuels
Information and decision making
Technology adoption and diffusion
Teaching Experience
Economics of Climate Change, Topics of Advanced Microeconomics, Undergraduate Environmental and Resource Economics, Graduate Environmental Economics, Graduate Resource Economics, Graduate Microeconomics (PhD core), Experiments with Microeconomic Principles
SMEP Bio: