News
November 2019:
Sustainable Materials (SusMat) Group has been awarded a grant of $24,847 from US Environmental Protection Agency to develop A planet-friendly and scalable approach towards 100% recyclable water- and oil-resistant paper.
Sustainable Materials (SusMat) Group has been awarded a grant of $38,000 by advanced Grant Proof of Concept Fund/MSU for developing Food safe water- and oil-repellent paper substrates for food packaging.
Dr Rabnawaz has been nominated again for the prestigious Moore Inventor Fellowship by MSU.
April 2019:
A demo of our latest coating technology:
March 2019:
Dr. Rabnawaz has been nominated for the prestigious Moore Inventor Fellowship by Michigan State University

Dr. Rabnawaz Research Team has been awarded a TSGTD grant of $100,000.

Dr. Rabnawaz and Dr. Aliakbarian have been awarded a TSGTD grant of $51,800.
August 2018:
Congratulations to Vijay Pandian for completing his Master's Thesis Defense!
July 2018:
June 2018: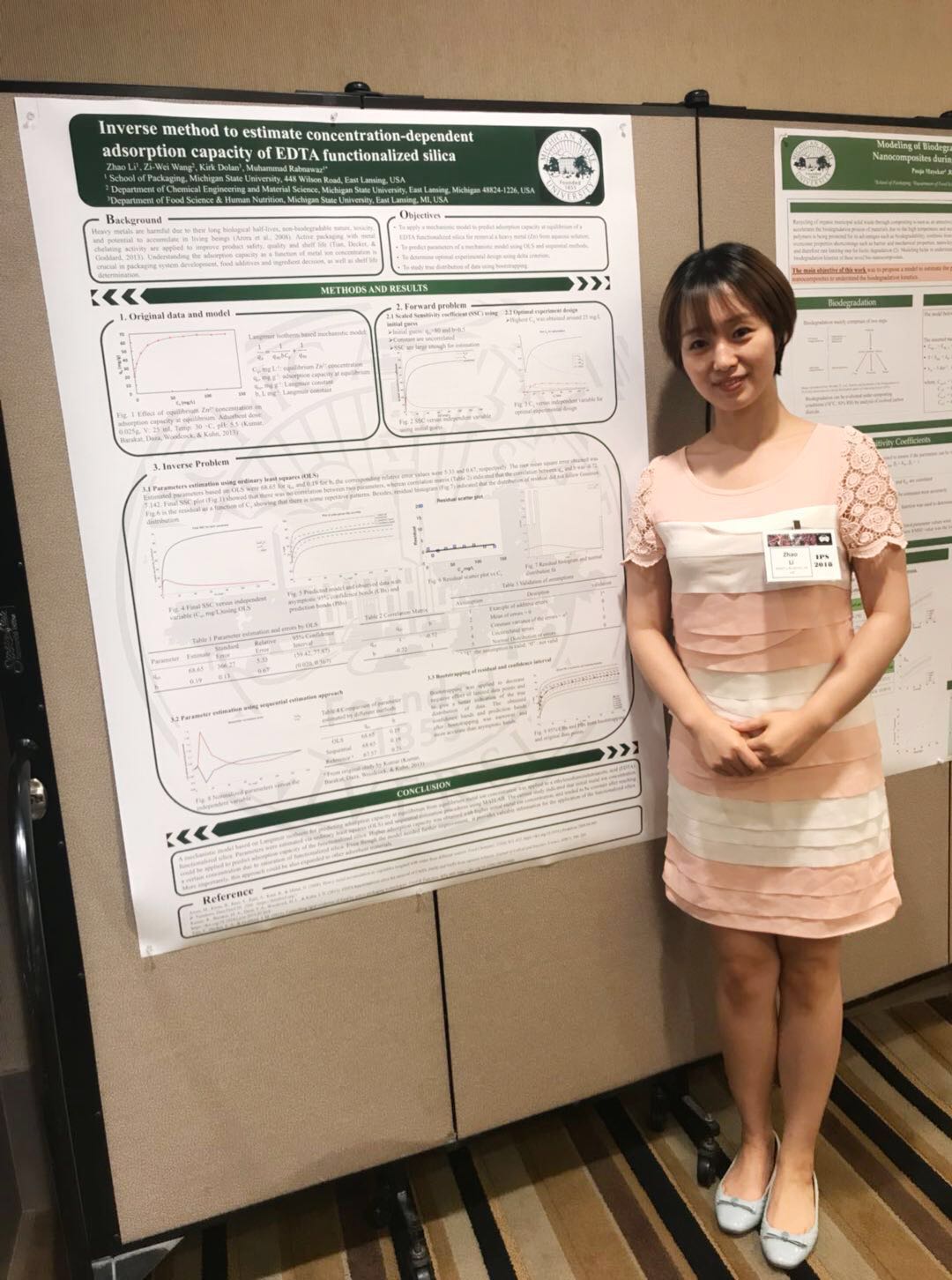 May 2018:
Congratulation Dr. Rabnawaz (Packaging) and Dr. Blanchard (Chemistry) for receiving a TSGTD grant of $100,000!

Congratulations to Dr. Rabnawaz's group on receiving $68,000 in M-TRAC funding!
April 2018: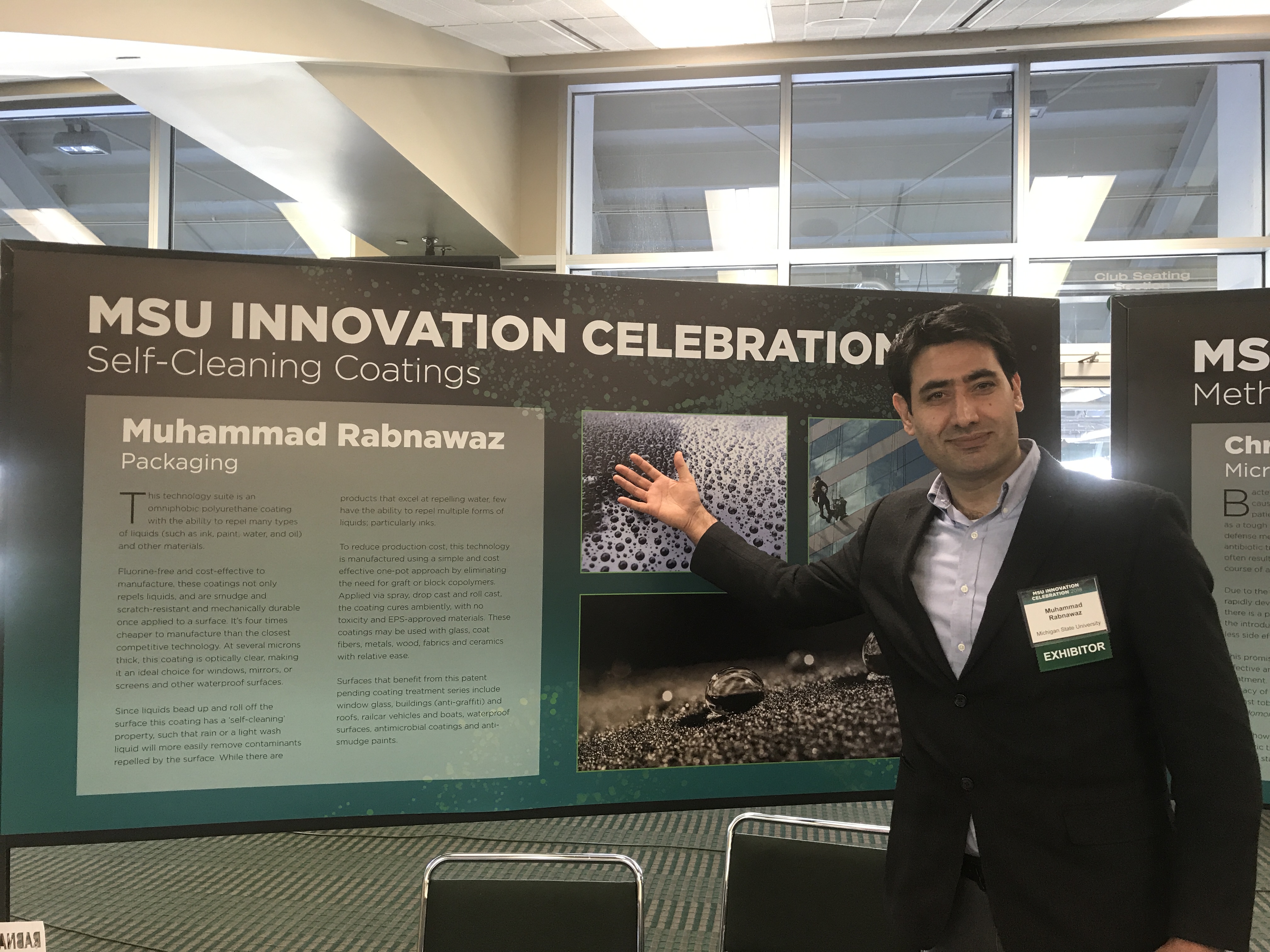 Spherification demo was presented to students from King's High School who visited MSU on 4/17/18

Our group welcomes a new PhD student Zhao Li!
March 2018:
Dr. Rabnawaz's article, "Encapsulation of catalyst in block copolymer micelles for the polymerization of ethylene in aqueous medium," has been published in Nature Communication. Follow this link for the article: https://www.nature.com/articles/s41467-018-03253-5
Krystal and Nazim present a demo on spherification at Girls' Math and Science Day, hosted by the MSU chapter of Graduate Women in Science (GWIS)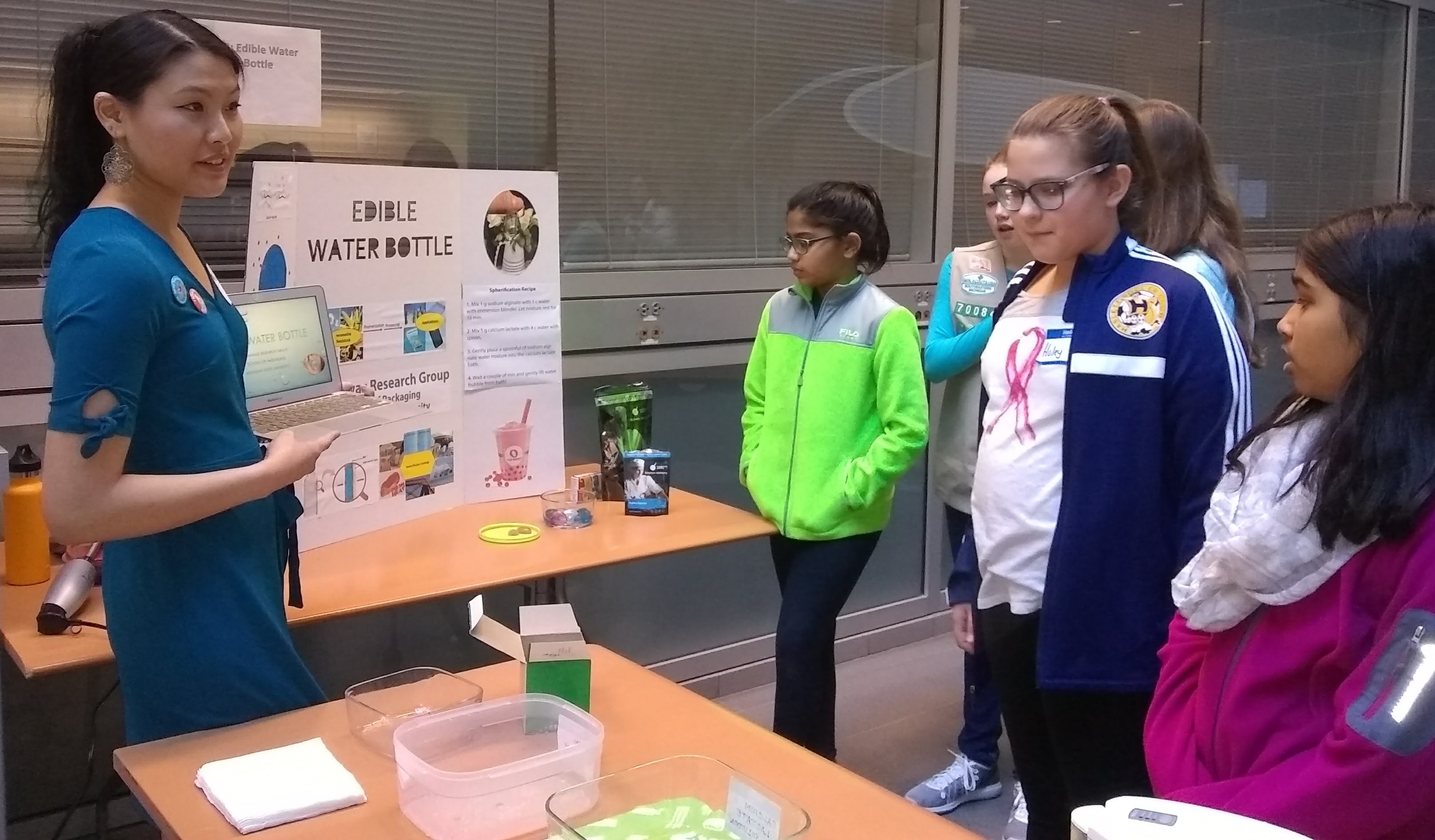 February 2018:
There is an open position for a Research Associate in Rabnawaz's Research Group.
Position Summary
The research position will be focused on the synthesis of monomers and polymers especially from renewable feedstock. Strong candidates will have an excellent track record of productivity in areas relevant to polymer and organic synthesis as well as proven expertise in the analytical techniques such as NMR, MALDI, GPC, etc.
Application and more info can be found here: http://careers.msu.edu/cw/en-us/job/498684/research-associatefixed-term
January 2018:
Dr. Rabnawaz group has been awarded MTRAC Tier II award for the development of high barrier plastics.
December 2017:
November 2017:
A postdoctoral research associate position is available in the School of Packaging at Michigan State University in the research group of Professor Muhammad Rabnawaz. The research position will be focused on the development of functional polymer coatings with emphasis on epoxy and polyurethane coatings. This position will also involve the development of spray, cast and dip coating methodologies for the epoxy and polyurethane coatings. Also, the candidate is expected to conduct properties (mechanical, adhesion, abrasion, and surface tensions) assessments for these coatings. The position will begin January 1, 2018.

http://www.careers.msu.edu/cw/ en-us/job/498174/research- associatefixed-term​
Our latest article in Journal of Molecular Structures
Student visit from ​Reeths-Puffer school. We did polyurethane based experiments to show the school kids how important and significant science is and how packaging plays a major role in our environment

A new Master's student has joined our research group. Welcome aboard Krystal.
October 2017:
​​Dr. Rabnawaz's interview with FOODLINE RADIO related to "The current and future in plastic packaging" Please click the link to listen to the radio interview http://www.coopradio.org/content/foodline (10/16/2017)

We have filed our 6th invention disclosure in 2017.
September 2017:
Our article in Green Chemistry