Saginaw
The federal government redlined Saginaw in August 7, 1937. Consistent with the requirements of the government Underwriting Manual, the redlining specifically targeted residents of color, deeming their neighborhoods as "hazardous" to investment because they had residents of color or were even near residents of color. The original redlining map is below. We also have a map overlaying the original HOLC boundaries on 2019 segregation, which starkly show the continued effects of these racist practices.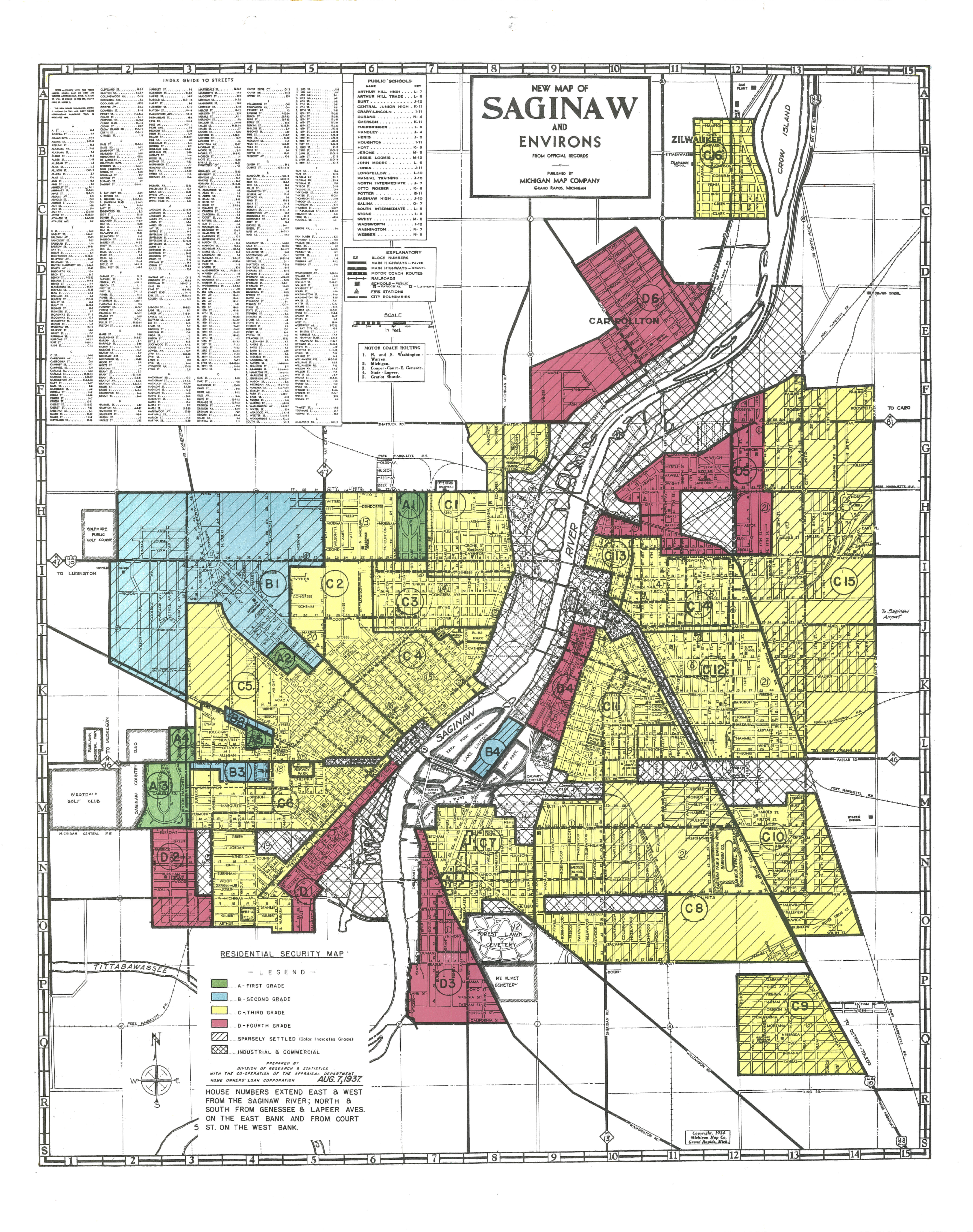 Saginaw Neighborhood Grading Justifications
The racist language and explanations below are quoted from the "Area Description Files" filled out by government appraisers. The language and justifications are coarse and offensive. Nonetheless, it is important to remember our past in all of its coarseness is offensiveness to fully understand the context that we confront today, especially when developing equitable housing policies.
Redlined neighborhoods
Blockbusting and wealth extraction from the Black community is described for the northern (east of Saginaw River) neighborhoods: "When negroes started coming into the neighborhoods, many houses were bought at high prices for rental to them. This rental is for 3 or 4 families per house."
The northern-most neighborhood (now Carrolton Township) was sparsely settled with "Polish, etc." inhabitants and did not have "city facilities, transportation, etc."
Southern neighborhoods had old homes with "Russian, Bohemian, etc." inhabitants living in "A collection of shacks and very poor and dilapidated dwellings."
Yellow-graded neighborhoods
Eastern neighborhoods (near the Cathedral District), despite having "Some fine old homes" and "a number of large houses of good size," government appraisers rated the neighborhoods as yellow because there was a "Threat of negro invasion" and "possible negro encroachment."
Western neighborhoods (Old Saginaw City, "Union Park," "Davenport," etc.) had "Native white" "[s]killed mechanics and laboring class," but were relatively low income.
In the southwestern neighborhoods (between the Saginaw Country Club and the Saginaw River) "property is being accumulated by owners thereof with a view to having it become a restricted neighborhood; eventually, it may even deserve an 'A' grade." Without these restrictions, government appraisers gave the neighborhoods a yellow grade.
Blue-graded neighborhoods
The only blue neighborhood east of the Saginaw River (between Ojibway Island and Hoyt Park) had "[w]hite collar - native whites" with high incomes and was "[c]lose to Park, Lake, etc.," but was "[s]urrounded by poor neighborhoods."
The western neighborhoods had new development, but were adjacent to poorer areas.
Green-graded neighborhoods
The northern (Northmoor) and western neighborhoods were occupied by "Native white; white collar; executives, etc." and had sufficiently racially restrictive deeds, covenants, or zoning, as to prevent "infiltration."
The Legacy of Redlining in Saginaw
We overlay the historical HOLC "redlining" map on present-day demographic data to show the persistence and continued relevance of these racist policies on present-day segregation. We mirror the racist HOLC color gradation to help visualize the continued segregation, as a lasting impact of redlining.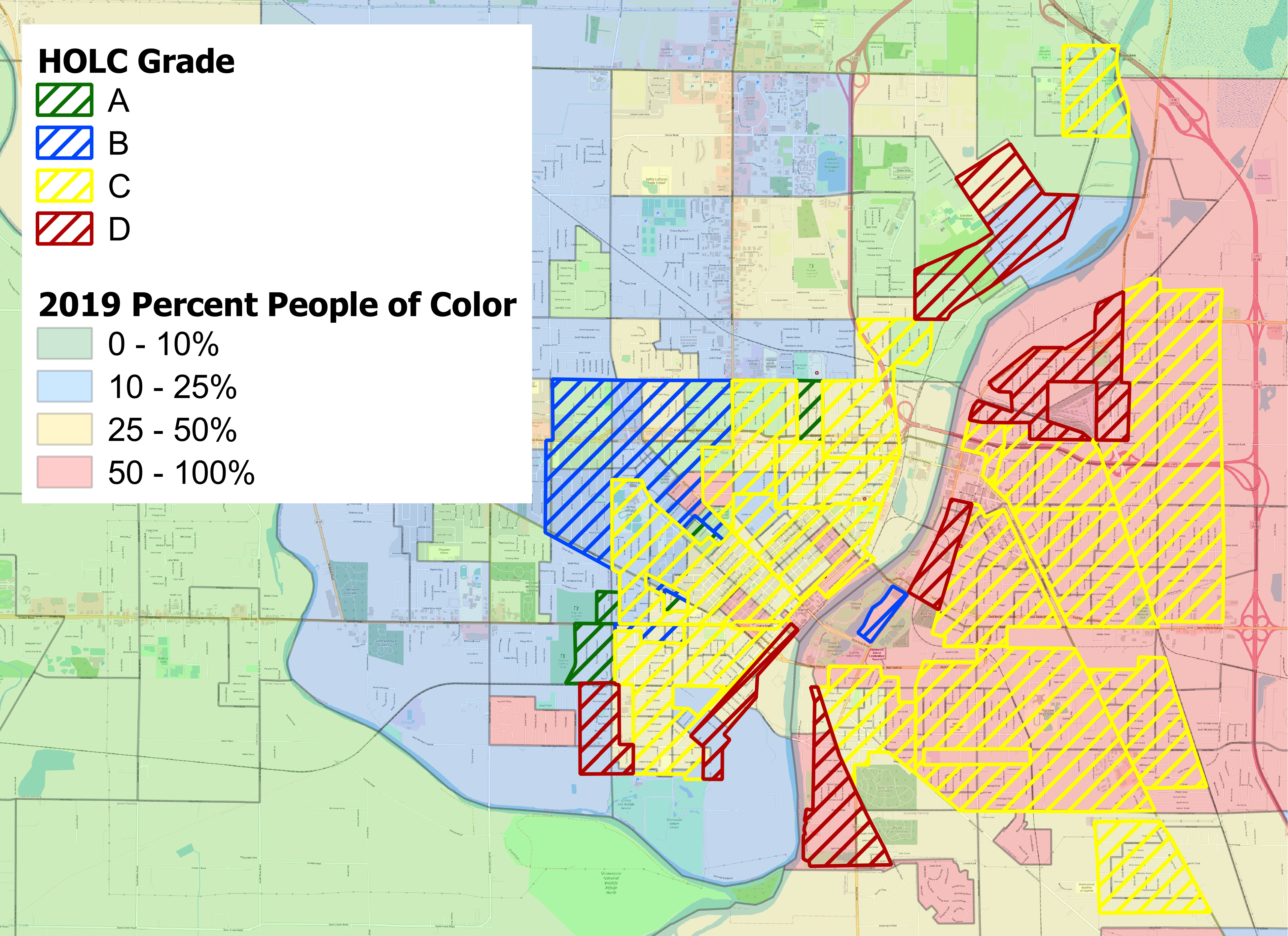 Higher segregation is associated with lower incomes, lower educational attainment, more crime, worse health outcomes, and higher inequality. But segregation is not the only lasting impact of redlining in Michigan Cities, or in Saginaw. Researchers have shown that redlining also directly reduced many of these outcomes.
---
This research was conducted by Michigan State University Assistant Professor and Extension Specialist Craig Wesley Carpenter, Ph.D. (@DrCWCarpenter or cwcarp@msu.edu).