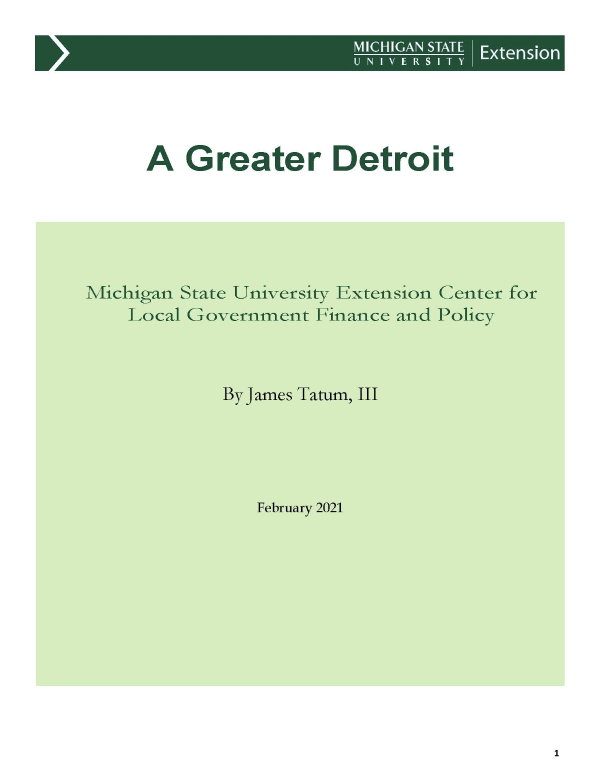 A Greater Detroit
DOWNLOAD FILE
February 19, 2021 - Author: James Tatum, III
To date, research on municipal insolvency and urban decline has been focused on the population loss and deindustrialization that befell urban centers such as Cleveland, St. Louis, and Detroit. Far less attention has been paid to the far more numerous small cities that border those urban centers: Ferguson near St. Louis, East Cleveland adjacent to Cleveland, or Ecorse, Hamtramck, and Highland Park located in and around Detroit.
Between 1986 (when Ecorse was taken over by court order) and 2020, a 35-year time span, the three small cities have spent a collective 29 years under state control: Ecorse (10 years), Hamtramck (10 years), and Highland Park (9 years). In each case, the state takeover resolved the respective city's immediate insolvency, at least temporarily. But troublesome indicators are not hard to find. Ecorse ran deficits in FY 2015 and FY 2016. Hamtramck and Highland Park have been able to reduce their indebtedness since receivership, but both ran deficits in FY 2019 (the latest fiscal year for which audited financial statements are available). Moreover, state receivers often laid off staff and contracted out services to save money. As a result, an ability to pay debts as they became due came at the cost of an ability to provide robust services.
If Ecorse, Hamtramck, and Highland Park dissolved and consolidated into Detroit, the residents of these cities might understandably fear that their voices would be drowned out by the 670,031 citizens currently living in Detroit. However, while these citizens would lose political power (or at least lessen its potency), they would obtain access to more substantial resources. Losses in political power are not absolute either. Currently, Ecorse, Hamtramck, and Highland Park collectively send three state Representatives and two state Senators to the state Legislature. Detroit sends 10 state Representatives and five state Senators to the state Legislature. The residents of Ecorse, Hamtramck, and Highland Park would have a better chance to have their concerns on state matters (and likely federal matters too) heard and answered were they to join the Detroit bloc.
If the state wished to properly incentivize dissolution and consolidation, it would earmark additional resources for the entity that will receive the citizens of dissolved entities—above and beyond what would have come from the population boost alone. That policy could also answer, at least partially, any fears that these unions are a detriment to the urban center. If residents of Detroit currently have access to $1,672 on a per capita basis, those resources would fall to $1,574. There should be some effort by the state to lessen this effect. Additionally, the state should contribute resources to the now Greater Detroit for public improvements and require that those resources be spent in the territories that sacrificed their independence.