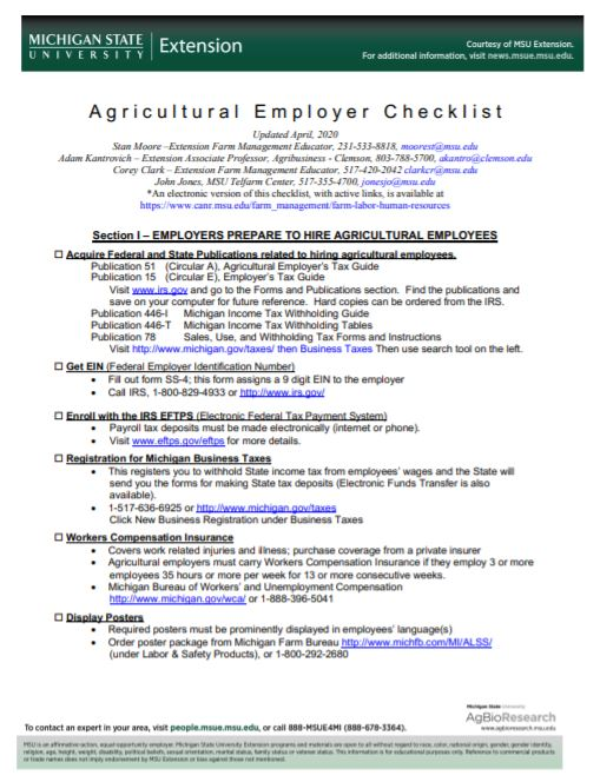 Agricultural Employer Checklist
DOWNLOAD
September 13, 2020 - Author: MSU Extension Communications
Agricultural Employer Checklist
Updated April, 2020
Stan Moore –Extension Farm Management Educator, 231-533-8818, moorest@msu.edu
Adam Kantrovich – Extension Associate Professor, Agribusiness - Clemson, 803-788-5700, akantro@clemson.edu
Corey Clark – Extension Farm Management Educator, 517-420-2042 clarkcr@msu.edu
John Jones, MSU Telfarm Center, 517-355-4700, jonesjo@msu.edu
*An electronic version of this checklist, with active links, is available at https://www.canr.msu.edu/farm_management/farm-labor-human-resources
Section I – EMPLOYERS PREPARE TO HIRE AGRICULTURAL EMPLOYEES
o Acquire Federal and State Publications related to hiring agricultural employees.
Publication 51 (Circular A), Agricultural Employer's Tax Guide
Publication 15 (Circular E), Employer's Tax Guide Visit www.irs.gov and go to the Forms and Publications section. Find the publications and save on your computer for future reference. Hard copies can be ordered from the IRS.
Publication 446-I Michigan Income Tax Withholding Guide Publication 446-T Michigan Income Tax Withholding Tables
Publication 78 Sales, Use, and Withholding Tax Forms and Instructions Visit http://www.michigan.gov/taxes/ then Business Taxes Then use search tool on the left.
o Get EIN (Federal Employer Identification Number)
Fill out form SS-4; this form assigns a 9 digit EIN to the employer
Call IRS, 1-800-829-4933 or http://www.irs.gov/ o Enroll with the IRS EFTPS (Electronic Federal Tax Payment System)
o Enroll with the IRS EFTPS (Electronic Federal Tax Payment System)
Payroll tax deposits must be made electronically (internet or phone).
Visit www.eftps.gov/eftps for more details. o Registration for Michigan Business Taxes
o Registration for Michigan Business Taxes
This registers you to withhold State income tax from employees' wages and the State will send you the forms for making State tax deposits (Electronic Funds Transfer is also available).
1-517-636-6925 or http://www.michigan.gov/taxes Click New Business Registration under Business Taxes o Workers Compensation Insurance
o Workers Compensation Insurance
Covers work related injuries and illness; purchase coverage from a private insurer
Agricultural employers must carry Workers Compensation Insurance if they employ 3 or more employees 35 hours or more per week for 13 or more consecutive weeks.
Michigan Bureau of Workers' and Unemployment Compensation http://www.michigan.gov/wca/ or 1-888-396-5041 o Display Posters
o Display Posters
Required posters must be prominently displayed in employees' language(s)
Order poster package from Michigan Farm Bureau http://www.michfb.com/MI/ALSS/ (under Labor & Safety Products), or 1-800-292-2680