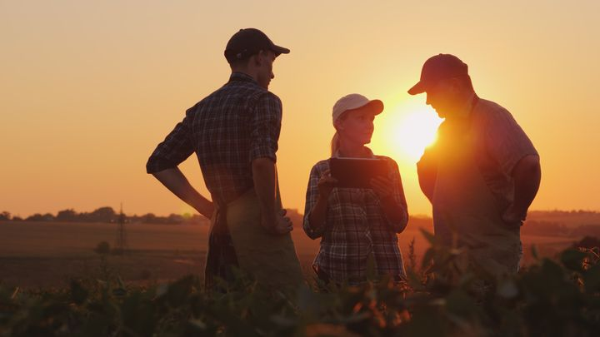 Legacy of the Land
November 4, 2022 - Author: Remington Rice, Michigan State University Extension
We know farming can be tough. That is why we are committed to helping.
Whether you or a farmer you work with needs support, Michigan State University Extension can help. Michigan farmers, farm families, and other agricultural professionals can learn more at extension.msu.edu/farmstress or reach out to farm stress specialist Remington Rice at riceremi@msu.edu.
We offer:
Teletherapy. MSU Extension has partnered with Pine Rest Mental Health Services to better support farmers, farm families and workers in the commercial fishery industry who are experiencing stress and mental health concerns. Through this teletherapy referral program, farmers and commercial fishers are connected to online counseling services with therapists who understand the agricultural community and farming. Financial aid is available on a first-come-first-served basis. For more information, or to refer yourself, a friend or a loved one for help, visit extension.msu.edu/teletherapy.
Educational presentations. MSU Extension offers four different educational presentations, ranging from 20 minutes to two hours. Presentations can be requested for in-person or virtual events. The materials are designed for farmers, farm families, agricultural professionals, industry partners, agriculture advisor councils, and other stakeholders. The presentations aim to improve knowledge, awareness, and skills in agricultural audiences of farm stress issues, stress management strategies, and mental health resources. Of the people who have seen the presentations, 98% reported they had improved their understanding of the warning signs of suicide and 100% reported an increased awareness of the signs of stress. Additionally, 98% percent of participants reported improved confidence in how to ask open-ended questions, which is important for trying to reach out to someone undergoing a mental health crisis.
Farm financial analysis. Through current grants, we can supply a limited number of subsidized enrollments in Michigan State University's TelFarm program, which supplies accounting and financial analysis support to farmers across Michigan. This program aids bookkeeping in both PCMars and QuickBooks Desktop, as well as farm financial analysis and yearly check-in services such as tax planning strategies.
Business management strategies. MSU Extension's team of farm business management educators perform yearly farm financial analysis and check-ins, and they work with farms to better understand their business and analyze their business management strategies. Farmers can request consulting meetings with Extension professionals to bring new planning tools or data into decisions, as well as to get assistance with facilitated discussions regarding farm-level decisions. The goal is to increase management skills and use of new or additional risk management tools. During the last two years of this funded project, MSU Extension has worked with 65 farms, and each farm business received an average of 8.5 hours of support.
Other farm stress resources. Taking care of crops and animals is hard on farmers and agribusiness professionals. Caring for your own health and wellness in this high-stress profession is often overlooked but is just as critical as caring for your farm business. For more information on available resources, upcoming trainings, and opportunities to connect, visit MSU Extension's Managing Farm Stress website (msu.edu/farmstress) or reach out to Remington Rice at riceremi@msu.edu.
Rural Resilience — a free, online self-paced course open to the public. In this course (available at canr.msu.edu/courses/rural-resilience-open-online-course), you learn to recognize the signs and symptoms of stress and suicide, ways to effectively communicate with people under stress, and how to reduce stigma related to mental health concerns. What you learn in Rural Resilience can help your friends, family, neighbors, and community during stressful times. Recognizing the high levels of stress affecting America's farmers and ranchers, USDA's Cooperative Extension System, Farm Credit, American Farm Bureau Federation and National Farmers Union have worked together to bring this course online for the public. The content in this course was created by Extension professionals at Michigan State University, University of Illinois, University of Wisconsin, Montana State University and South Dakota State University. Development for the course was financially supported by the national partners. Combining agricultural knowledge and evidence-based behavioral health approaches, this course better equips farmers, their families, and the agricultural community with tools and resources to help in time of need.
Mental Health First Aid. This evidence-based training that teaches participants how to recognize the signs and symptoms of a mental health crisis and help someone who may be experiencing one. Grounded in messages of hope and recovery, this program helps break down the misinformation surrounding mental health and helps trainees understand how they can play a role in the "first response" to mental health issues. Mental Health First Aid for Adults is currently offered free of charge by Michigan State University Extension for the Michigan agricultural community. ​ If you work in agriculture, or work closely with someone who does, go to extension.msu.edu/mhfa, search for upcoming events, and use the coupon code "miagriculture" at the time of registration. The course is free with no credit card information required.
To have an MSU Extension educator contact you about these opportunities, please fill out this brief survey.