Rural Resilience Open Online Course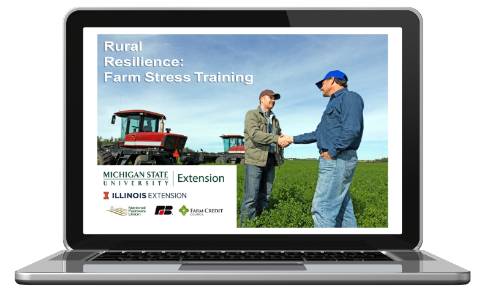 Course Overview
In this course, you will learn to recognize the signs and symptoms of stress and suicide, ways to effectively communicate with people under stress, and how to reduce stigma related to mental health concerns. What you learn in this course can help your friends, family, neighbors and community during stressful times.

Recognizing the high levels of stress affecting America's farmers and ranchers, USDA's Cooperative Extension System, Farm Credit, American Farm Bureau Federation and National Farmers Union have worked together to bring this course online for the public.

The content in this course was created by Extension professionals at Michigan State University, University of Illinois, University of Wisconsin, Montana State University and South Dakota State University. Development for the course was financially supported by the national partners. The course brings together the knowledge of agriculture and evidence-based approaches in behavioral health to help people recognize the signs of stress. The course better equips farmers, their families, and the agricultural community with tools and resources to help in time of need.

Course Format
Self-paced Course
Price
Free
Register (follow the three steps below)
STEP #1: Create your Michigan State University Guest Account by selecting the Create Your MSU Guest Account button below. (For detailed instructions visit the following web page: Instructions: Creating Your Guest Account.) Once you have created your guest account, close your browser and return back to this page.
STEP #2: Click on the button below to login to the registration system with your Guest Account (your email) and Password. Upon registration you will receive an email with instruction on how to login to the course.
Register For The Rural Resilience Course
STEP #3: Once you are registered you may login to the course.
More Information
For more information, please contact Remington Rice riceremi@msu.edu or Tanner Derror derrorta@msu.edu.
Technical Assistance
If you have any technical problems, please contact the Michigan State University IT Service Desk from 7am-12am Monday through Friday and 10am-12am on Saturday/Sunday, any day that the University is open.
Phone: (517) 432-6200
Phone (toll free): 1 (844) 678-6200
Frequently Asked Questions
What is my username/NETID?
Your username (or NET ID) is the email address you used to create your account during registration (you use the same email address/password for registering and for taking the course).
What URL do I go to for logging into the course?
Go to: https://d2l.msu.edu/. You will see the Michigan State University at the top of the page. Login with the email address and password you set during the registration process.
I received a "not authenticated" response when trying to login – what do I do?
A "not authenticated" message is typically an issue with a password not being entered correctly.
I forgot my password – where can I reset it?
If you need to reset your password at any time go to https://auth.msu.edu/ and select the option for "Need help Signing in."
---
Instructors