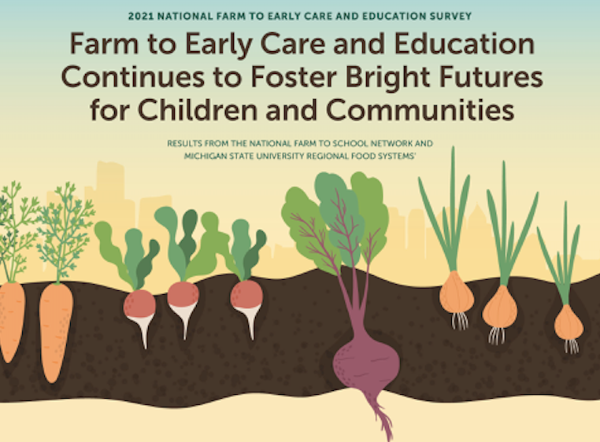 All Briefs from 2021 National Farm to ECE Survey Now Available
September 22, 2022 - Author: Sophia Bopp Riemer, Meagan K Shedd
All 2021 National Farm to Early Care and Education Survey Resources Now Available
The National Farm to School Network and Michigan State University Center for Regional Food Systems have released the final briefs in their series of findings and recommendations from the 2021 National Farm to Early Care and Education Survey.
Of the total 2,914 survey respondents, the survey shows 81% of sites are already doing farm to ECE activities and another 14% are ready to start.
The final briefs focus on local purchasing practices, including barriers and financial support, and the impacts of COVID-19 on farm to ECE.
The full series of fact sheets, listed below, can be found here.
Background and Methods
Farm to ECE Reach
Participation and Practices
Why Farm to ECE
Local Purchasing
COVID-19 and Farm to ECE
Farm to ECE practitioners, partners, and supporters can use these resources, as well as this infographic and fact sheet, to start conversations about farm to ECE in their networks. The sharing toolkit has suggestions for how to share these resources and raise awareness of farm to ECE.
State-level data from the 2021 survey is also available.