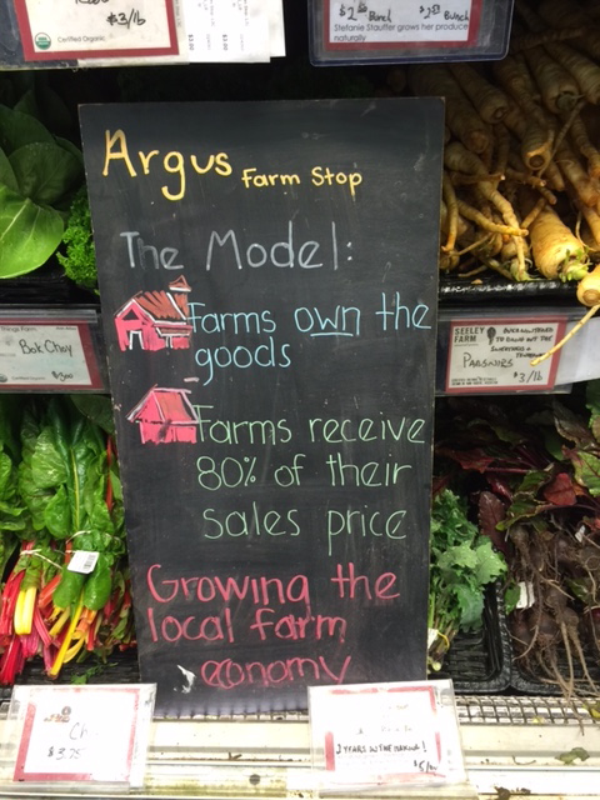 Argus Farm Stop
DOWNLOAD
Another Success Story: Argus Farm Stop
Michigan's small-farm agriculture scene is vibrant and growing. As the state of Michigan encourages farms to be innovative, and expand, farmers need places to sell their products.
Kathy Sample and Bill Brinkerhoff's family have long been customers of farmers markets and CSA's (Community Supported Agriculture) because they are committed to buying quality produce that is grown locally. After visiting a store called Local Roots in Wooster, Ohio that was connecting customers year-round with seasonal and sustainable foods and crafts from around the state they wondered why every town couldn't have a store like that. They decided to make it happen in their town of Ann Arbor andArgus Farm Stop has been open since August 2014 and provides a year-round, every-day marketplace connecting producers and consumers of local products.
The model for Argus Farm Stop is designed to give producers a robust outlet for their produce and a better profit margin than traditional markets. The farms set their own prices and receive 80% of the price they set. The consumer buys directly from the farm and Argus Farm Stop handles the transactions. The market is popular with an audience that cares about buying local and understands the benefits, and builds on the already-robust farmers market in the area.
The Argus Farm Stop business model has a three-fold purpose:
To provide local farmers an outlet at margins that encourage them to increase production, ultimately growing the local food economy in the area.
To provide consumers who are unable to visit weekly markets or accommodate a CSA into their lifestyle a channel where they can buy locally grown, naturally grown produce from farms that they recognize.
To encourage community and education about the benefits of buying food that is produced locally.
An abandoned 1939 gas station on the edge of the west side of Ann Arbor was converted into the market, along with a café. Argus Farm Stop now represents about 170 producers including meat and dairy farmers, cheese makers, egg producers, and a vast variety of other locally produced goods such as jam, maple syrup, pasta and salsa. The market also sells Michigan lakes seafood and shrimp produced in Okemos. Argus is committed to re-introducing items often forgotten in the age of processed foods like paw paws, ramps and other interesting foods.
As a community gathering space where local food is the common denominator, Kathy says that they have been very pleased with the way the Argus Farm Stop has exceeded expectations from the beginning. In their first full calendar year of business, Argus sold over $800,000 worth of locally produced goods, in addition to café business. This surely helped grow the local food economy. With the financials to validate this model and a very positive response from their producers, Bill and Kathy would like to see others start up similar markets. They are currently working with a number of individuals who want to do this in different parts of the country and Argus intends to be an open-source model to help others with a similar passion and commitment.
"We have been working with the Product Center from the beginning, even though our model does not actually involve manufacturing a food product. We have a great reciprocal relationship in that we are constantly referring new entrepreneurs to the Product Center and they send new or potential producers to talk with us," states co-founder Kathy Sample. "If I have a question about how something works, our counselor can always find the answer."
"The Making it in Michigan conference is great as it allows us to see what is happening with locally made foods, and it gives us the opportunity to make a lot of connections," says Sample. "We also carry a number of products that we encountered at the trade show."