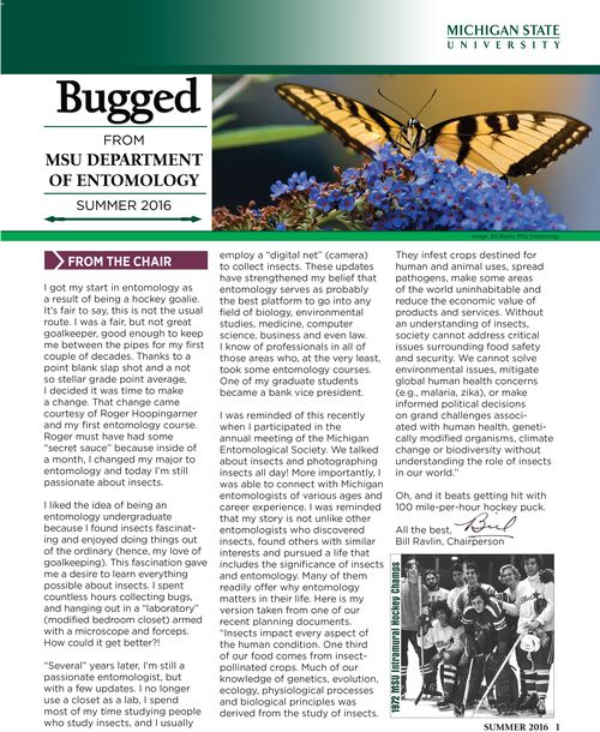 Bugged - Summer 2016
DOWNLOAD FILE
August 8, 2016
Why do people study entomology? Where will an entomology degree take you? Most entomologists have been asked these questions. In this Summer 2016 issue of Bugged, you'll read the stories that reflect the range of work where our Department of Entomology is excelling:
David Mota-Sanchez's research spans from Michigan to Mexico to help ensure the survival of the monarch butterfly.
Chris DiFonzo's skillful leadership of the Sustainable Tropical Agriculture Systems in Sri Lanka study abroad program has been recognized by the MSU College of Agriculture and Natural Resources with its H. Paul Roberts award.
The Central Asia IPM project led by Karim Maredia exemplifies using successful Michigan-based research and experience to foster food security with partners in Kyrgyzstan, Tajikistan and Uzbekistan.
Christie Bahlai and Doug Landis caught the attention of The Economist with their creative application of passive crowdsourcing to capture pollinator visitation rates to flowers of different species.
Alumnus Dan Lawson shares his experiences and credits stepping outside of his comfort zone as a key to his success as a scientist and business executive.
Why wouldn't you study entomology?