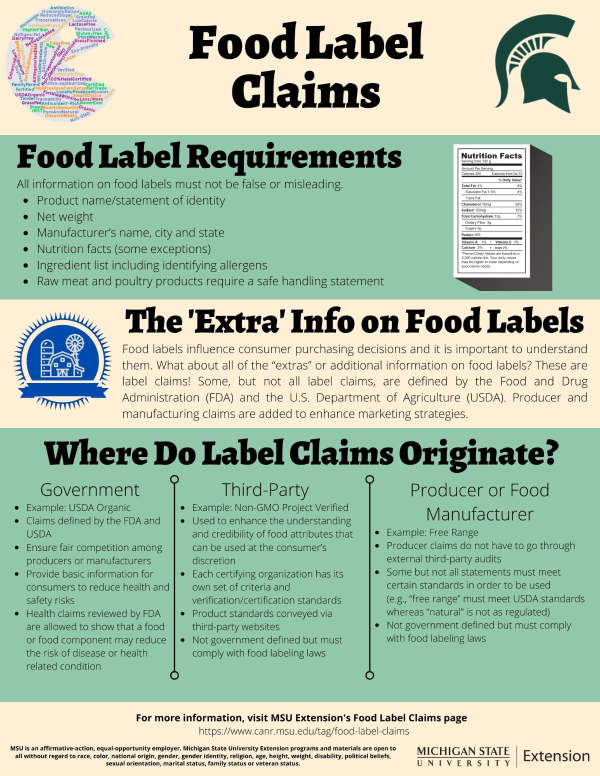 Food Label Claims
DOWNLOAD
April 6, 2021 - Author: Mary Dunckel, Jeannine Schweihofer & Ashley Kuschel, MSU Extension
Food Label Requirements
All information on food labels must not be false or misleading.
Product name/statement of identity
Net weight
Manufacturer's name, city and state
Nutrition facts (some exceptions)
Ingredient list including identifying allergens
Raw meat and poultry products require a safe handling statement
The 'Extra' Info on Food Labels
Food labels influence consumer purchasing decisions and it is important to understand them. What about all of the "extras" or additional information on food labels? These are label claims! Some, but not all label claims, are defined by the Food and Drug Administration (FDA) and the U.S. Department of Agriculture (USDA). Producer and manufacturing claims are added to enhance marketing strategies.
Where Do Label Claims Originate?
Government
Example: USDA Organic
Claims defined by the FDA and USDA
Ensure fair competition among producers or manufacturers
Provide basic information for consumers to reduce health and safety risks
Health claims reviewed by FDA are allowed to show that a food or food component may reduce the risk of disease or health related condition
Third-Party
Example: Non-GMO Project Verified
Used to enhance the understanding and credibility of food attributes that can be used at the consumer's discretion
Each certifying organization has its own set of criteria and verification/certification standards
Product standards conveyed via third-party websites
Not government defined but must comply with food labeling laws
Producer or Food Manufacturer
Example: Free Range
Producer claims do not have to go through external third-party audits
Some but not all statements must meet certain standards in order to be used (e.g., "free range" must meet USDA standards whereas "natural" is not as regulated)
Not government defined but must comply with food labeling laws