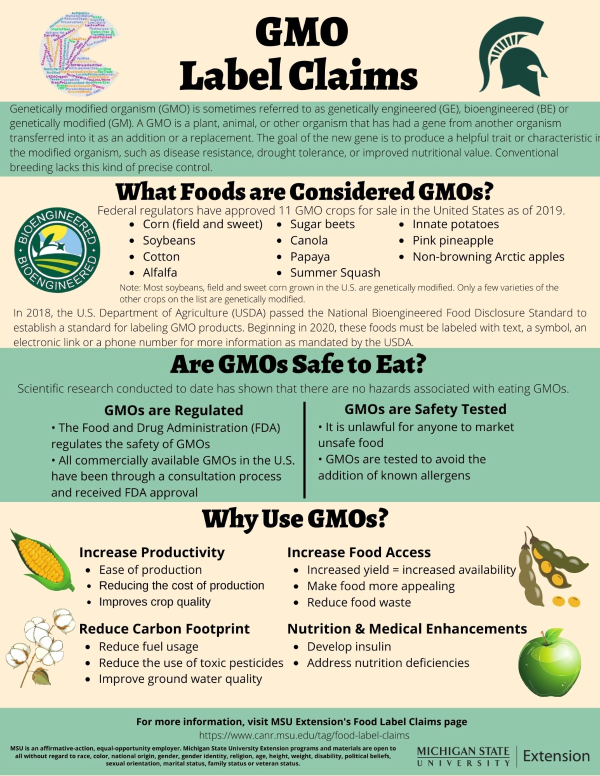 GMO Label Claims
DOWNLOAD
April 6, 2021 - Author: Mary Dunckel, Jeannine Schweihofer & Ashley Kuschel, MSU Extension
Genetically modified organism (GMO) is sometimes referred to as genetically engineered (GE), bioengineered (BE) or genetically modified (GM). A GMO is a plant, animal, or other organism that has had a gene from another organism transferred into it as an addition or a replacement. The goal of the new gene is to produce a helpful trait or characteristic in the modified organism, such as disease resistance, drought tolerance, or improved nutritional value. Conventional breeding lacks this kind of precise control.
What Foods are Considered GMOs?
Federal regulators have approved 11 GMO crops for sale in the United States as of 2019.
Corn (field and sweet)
Soybeans
Cotton
Alfalfa
Sugar beets
Canola
Papaya
Summer Squash
Innate potatoes
Pink pineapple
Non-browning Arctic apples
Note: Most soybeans, field and sweet corn grown in the U.S. are genetically modified. Only a few varieties of the other crops on the list are genetically modified.
In 2018, the U.S. Department of Agriculture (USDA) passed the National Bioengineered Food Disclosure Standard to establish a standard for labeling GMO products. Beginning in 2020, these foods must be labeled with text, a symbol, an electronic link or a phone number for more information as mandated by the USDA.
Are GMOs Safe to Eat?
Scientific research conducted to date has shown that there are no hazards associated with eating GMOs.
GMOs are Regulated
The Food and Drug Administration (FDA) regulates the safety of GMOs
All commercially available GMOs in the U.S. have been through a consultation process and received FDA approval
GMOs are Safety Tested

It is unlawful for anyone to market unsafe food
GMOs are tested to avoid the addition of known allergens
Why Use GMOs?
Increase Productivity
Ease of production
Reducing the cost of production
Improves crop quality
Increase Food Access
Increased yield = increased availability
Make food more appealing
Reduce food waste
Reduce Carbon Footprint
Reduce fuel usage
Reduce the use of toxic pesticides
Improve ground water quality
Nutrition & Medical Enhancements
Develop insulin
Address nutrition deficiencies