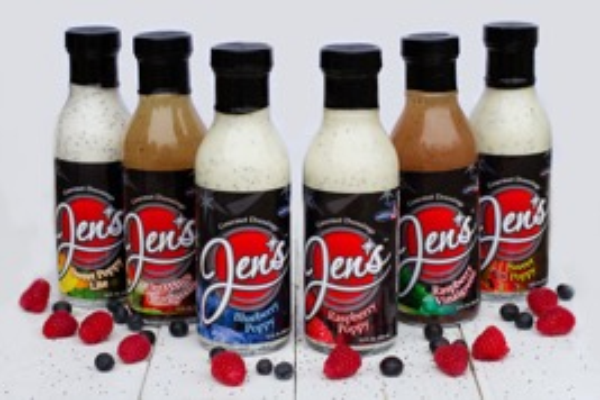 Jen's Gourmet Dressings
DOWNLOAD FILE
Another Making It In Michigan Success Story: Jen's Gourmet Dressings
The inspiration for Jen's Gourmet Dressings started a decade ago as a dessert idea. Jen Bordeau has a professed sweet tooth, loves baking and was originally trying to come up with a topping that her dinner guests would enjoy with their dessert. One of the first ingredients that she experimented with was poppy seeds so she created a sweet poppy dressing and served it drizzled over a fresh bowl of mixed berries and melon and found that her guests loved it. The idea expanded when friends started adding it as a topping to cheesecake, ice cream, pancakes, waffles, cottage cheese, yogurt, and of course, salads.
Her friends and family eventually convinced her to bottle the dressing and, with a long-term desire to own her own business and a background in the food industry with her family's Coney Island restaurants, she jumped at the chance. After a few tweaks with the dressing, she created what is now the original Sweet Poppy flavor. Since then, she has expanded the flavors to include a Sweet Poppy Lite, Raspberry Poppy, Blueberry Poppy, Raspberry Vinaigrette and Red Wine Vinaigrette.
Jen's large batch dressings are produced in Ferndale with Great Fresh Foods and the small batch runs are produced out of Culinary Studio in Southfield.
Jen's Gourmet Dressings are currently carried in approximately 200 store locations in Michigan, Illinois, Indiana and Pennsylvania. Her future plans include the addition of more stores in states served by her current distributor as well as national expansion through Kroger. She also plans to add fresh products to the line.
"We could not have launched our business without the MSU Product Center," states Jen Bordeau, CEO. "We found the Product Center online when we were thinking about bottling the original Sweet Poppy flavor. We were put in touch with an Innovation Counselor who guided us through the process and was Instrumental in allowing us to go from concept to store shelves."
"The Making It In Michigan shows allowed us to showcase our fresh dressings to the larger grocery store chains."