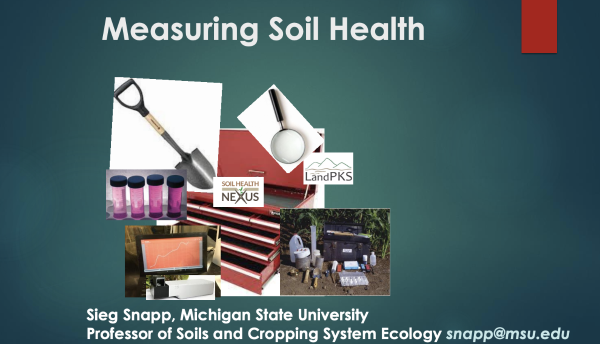 Measuring soil health
DOWNLOAD FILE
April 8, 2020 - Author: Sieglinde Snapp, Michigan State University Extension
Top soil health challenges
Erosion
Nutrient management
Soil compaction
Poor crop emergence, disease
Poor water infiltration, moisture
Poor pore structure (no tilth)
Soil Health
Soil health is defined as the ability of a soil to function
Crop yield over time and high response to inputs (fertilizer, seeds)
Healthy root systems  Nutrient supply for crops
Conservation:

Minimal nutrient losses through leaching or volatilization
Minimal erosion, resilience to loss from intense rainfall,

Water management:

Infiltration fast, water doesn't pond
Water storage high, crop resilience to dry spells
Soil organic matter and soil carbon
Soil organic matter is closely related to soil organic carbon
Soil organic matter also includes hydrogen, oxygen and nitrogen and is commonly measured by ignition in a very hot oven (loss = burned up organic material)
Soil organic carbon = Combustion or Walkley Black hot acid method Multiply soil carbon X 1.72:
Organic matter (%) = Total organic carbon (%) x 1.72
Soil monitoring LAB: goals and timeframe
What is the primary goal?
Crop health?
Conservation of soil water and nutrients, efficient use of inputs?
Environmental protection?
What is the timeframe?
Soil organic matter (organic carbon) requires five or more years to measure change accurately!
Crop yield varies with weather and may take five or more years to detect trends, increasing or decreasing
Pests and diseases: variable occurrence
Monitor your soil: make a plan
Observe crops above and BELOW ground
Notice how crops respond by zone not just the field
Test your soil the same time each year
Set goals and build your soil
Soil health: sample consistently & dig deep
Sample at the same time of year, use same tests over time
Less frequent, many samples better practice (once every ~four years comprehensive and include deeper soils, fence rows and multiple zones)
Combine five or more samples - shovel or auger samples in a bucket per zone sampling, mix well and subsample
Take samples from plow layer, plus deep subsoil samples
Dig a pit and make observations, or use a fence posthole
Rules of thumb for measuring soil health
Set your goals (nutrient supply, root health, soil organic matter, which is most important?)
Be Consistent (sample same zones, same time of year spring or fall, use same soil health tests, same laboratory)
Be Patient (often takes four or more years)
Use Benchmarks (fence rows, natural areas)
---