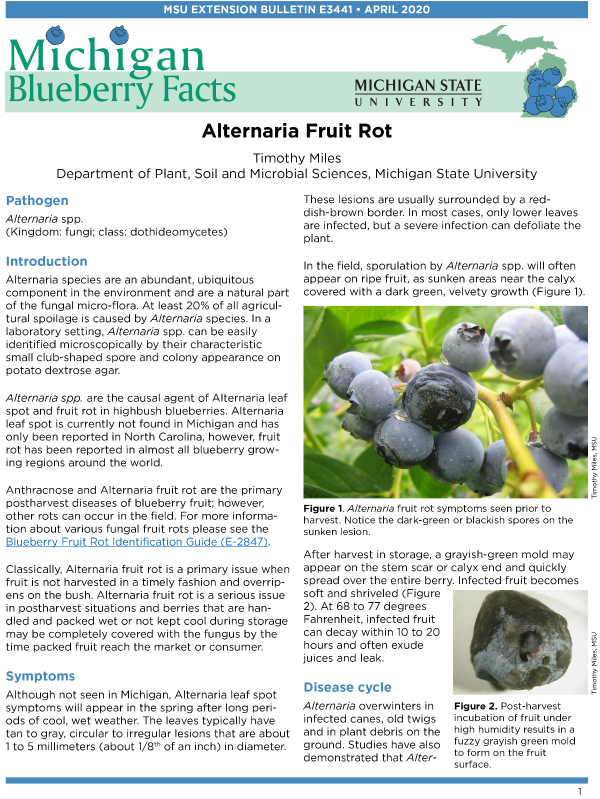 Michigan Blueberry Facts: Alternaria Fruit Rot (E3441)
DOWNLOAD FILE
April 18, 2020 - Author: Timothy Miles
Alternaria species are an abundant, ubiquitous component in the environment and are a natural part
of the fungal micro-flora. At least 20% of all agricultural spoilage is caused by Alternaria species. In a laboratory setting, Alternaria spp. can be easily identified microscopically by their characteristic small club-shaped spore and colony appearance on potato dextrose agar.
Alternaria spp. are the causal agent of Alternaria leaf spot and fruit rot in highbush blueberries. Alternaria leaf spot is currently not found in Michigan and has only been reported in North Carolina, however, fruit rot has been reported in almost all blueberry growing regions around the world.
Anthracnose and Alternaria fruit rot are the primary postharvest diseases of blueberry fruit; however, other rots can occur in the field. For more information about various fungal fruit rots please see the Blueberry Fruit Rot Identification Guide (E-2847).
Classically, Alternaria fruit rot is a primary issue when fruit is not harvested in a timely fashion and overripens on the bush. Alternaria fruit rot is a serious issue in postharvest situations and berries that are handled and packed wet or not kept cool during storage may be completely covered with the fungus by the time packed fruit reach the market or consumer.