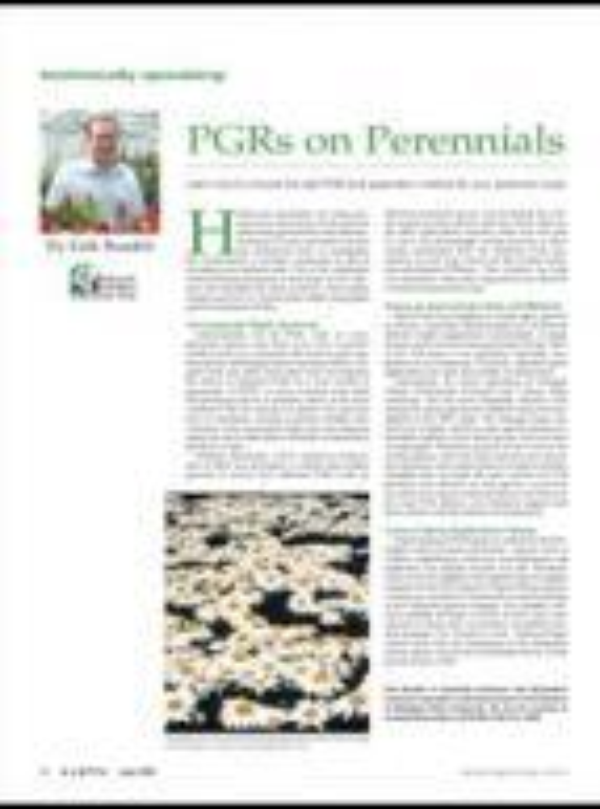 PGRs on perennials
DOWNLOAD FILE
June 18, 2008 - Author: Erik Runkle
PGRs on Perennials
Learn how to choose the right PGR and application method for your perennial crops. By Erik Runkle
---
Herbaceous perennials are being produced now more than ever by growers both inside greenhouses and outdoors. In the past 15 years, university research has determined how to manipulate the environment to produce perennials in flower for spring and summer sales. One of the challenges with perennial production is that many of the selections are naturally tall when in flower. This usually requires growers to control plant height using plant growth retardants (PGRs).
Choosing the Right Chemical
Unfortunately, not all PGRs work on every perennial species, and there is no way to predict whether and how a chemical will work on each crop. Researchers at Michigan State University (MSU), Virginia Tech and other universities have investigated the effects of different PGRs on a wide variety of perennials. At MSU, we have screened more than 100 perennial species to identify which of the most common PGRs are effective as sprays. The goal has been to determine whether a product inhibits stem extension when moderately high rates and frequent sprays are used, rather than to identify recommended products or rates.
Matthew Blanchard, a Ph.D. student in floriculture at MSU, has developed a website that enables growers to review how different PGRs work on different perennial species. He developed the website using research photos that have been taken by the MSU floriculture research team over the past 12 years. The photographs enable growers to more clearly understand how the different PGRs performed on each crop. Check out the website at hrt. msu.edu/floraoe/PGRinfo. This website can help you determine what active ingredients are effective on different perennial crops.
Using an Appropriate Rate and Method
Most PGRs can be applied as a foliar spray, sprench or drench. Generally, repeated sprays are needed for effective height suppression of perennials. A single drench can be used on many perennials, but the effect of the PGR may be too persistent, especially once planted in the landscape. Therefore, repeated spray applications are safer and usually recommended.
Uniconazole, the active ingredient in Sumagic (Valent Professional Products) and Concise (Fine Americas), was the most frequently effective PGR among the perennial species studied using the rates applied in the MSU trials. The Sumagic spray rate used was 15 ppm, which in some species produced a desirable response yet in other species was excessive or inadequate. Therefore, growers need to review the website photos, talk with other growers and university educators, and conduct their own trials to identify desirable rates. In nearly all cases, at least two PGR products were effective on each species, so growers are advised to choose which product to use based on the crop, PGR efficacy, cost, technical support and their comfort with the different PGR products.
Correct Spray Application Timing
Proper timing of PGR sprays is critical for effective height control of many perennials. Species such as achillea, delphinium, echinacea, leucanthemum and rudbeckia can quickly become too tall. Therefore, PGRs need to be applied when plants begin to rapidly elongate for the best response. Proper timing requires a sharp eye, attention to detail and an understanding of how different species elongate. For example, echinacea initially develops a rosette of leaves and, after exposure to long days, can produce an inflorescence that elongates 3 or 4 inches a week. Without height control soon after the beginning of the elongation period, plants can become undesirably tall in a short period of time.